@kyliecosmetics
https://www.instagram.com/p/CNAoGEAH6zH/
https://www.instagram.com/p/COc66iXnvhj/
Could Kylie Cosmetics be rebranding?
The billion-dollar beauty brand has sent Twitter into a tailspin after wiping their entire online presence clean on May 4th.
Founded by Kylie Jenner in 2014 with a range of signature lip kits, Kylie Cosmetics is a case study in the power of influencer marketing. For years the reality TV star promoted her brand solely to her 200+ million Instagram followers, turning Kylie Cosmetics into one of the most-followed beauty brands on social media and selling out products within minutes of launch. A study by BrandTotal found Kylie Cosmetics generated the most social media engagement among cosmetics brands in 2019 while spending nothing on paid social ads.
Despite its staggering social media stats, Kylie Cosmetics has struggled to maintain relevancy as beauty trends have evolved over the years, leading to a downturn in sales and controversy surrounding the brand's valuation.
After being named the world's youngest self-made billionaire in 2018 for the success of her namesake makeup brand, Kylie and her team spent much of 2020 battling claims that they forged documents and inflated earnings reports to make Kylie Cosmetics appear more lucrative than it is.
Suspicions rose back in May 2020 when Forbes published a scathing article titled, 'Inside Kylie Jenner's Web Of Lies— And Why She's No Longer A Billionaire,' wherein the publication painted the Kar-Jenners as desperate to appear wealthier than they are, writing, "[The family] has spent years fighting Forbes for higher spots on our annual wealth and celebrity earnings lists."
In their pursuit of said image, Forbes makes some wild accusations about Kylie and her momager, Kris Jenner— namely that the cosmetics queen has inflated her net worth, falsified income statements and tax returns, and publicly lied about the size of her business, Kylie Cosmetics, all to trick Forbes into naming Kylie the world's youngest billionaire.
Shortly after the piece was released, Kylie Cosmetics' CEO Christoph Honnefelder quit and parent company Coty Inc. was sued by shareholders for allegedly purchasing the celebrity brand without doing their proper due diligence.
Now, it seems Kylie Cosmetics is attempting to leave the controversy behind, teasing a total rebrand to their millions of followers.
After wiping their Instagram feed clean, the brand uploaded a single photo of Kylie donning a wig and a pink two-piece set with the caption, "something is coming".
Similarly, the brand's website has had an overhaul, wiping everything except a stand-alone landing page that also reads, "SOMETHING. IS. COMING." Interestingly, the header has been rebranded from "Kylie Cosmetics" to "KYLIE," indicating that perhaps the 23-year-old is launching a beauty brand umbrella. This would explain the trademark she filed back in 2019 for Kylie Nails.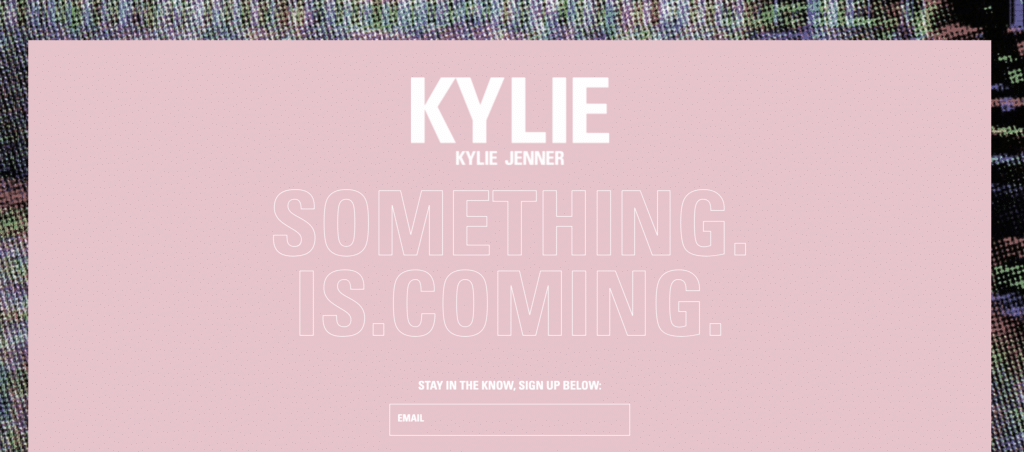 According to Allure, Kylie Cosmetics products have been heavily discounted at Ulta.
Looks like a new era of Kylie Jenner is already well underway.