@jordanliberty
Jordan Liberty is back with a special project.
The celebrity makeup artist returned to his YouTube channel this week after taking a long hiatus to focus on his health, revealing his next move.
In his video titled This Trick Will Change Your Makeup Game!, Jordan thanks his fans for sticking by him while he battled a 2017 cancer diagnosis. He says he took some much-needed time off from social media to put his energy towards healing as well as some professional projects that he's passionate about, like his International Beauty Tour…and a very exciting collaboration with Sigma Beauty!
Though he doesn't give too much away (the official reveal video is yet to come), Jordan explains that he's teamed up with Sigma Beauty to create The Master Artistry Collection— a line of pro waterproof makeup brushes.
Jordan says he's been working on the patented line of brushes for over a year and a half and calls them "the world's best makeup brushes."
According to his Instagram, the brushes are the first-ever 100% waterproof pro brush set. When a fan commented asking him how to clean a waterproof brush, Jordan replied writing, "Every other brush on earth begins to deteriorate in water. These can be completely submerged without any damage. Wash with whatever you like!"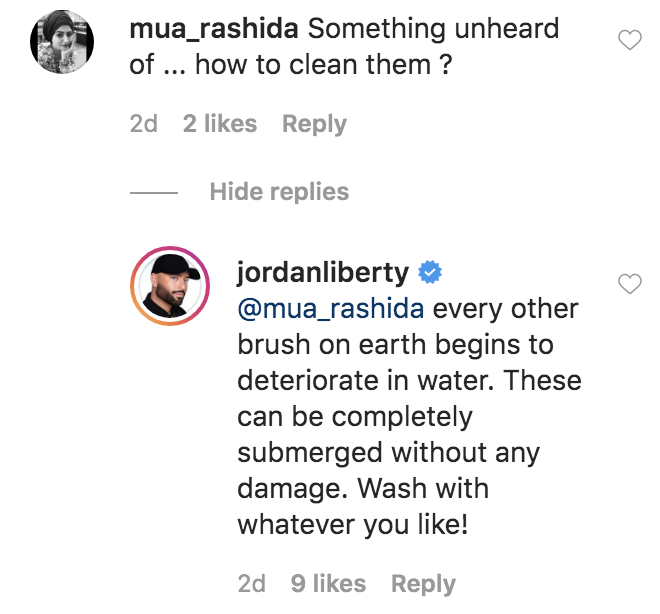 In addition to waterproof, the brush set is vegan-friendly and cruelty-free. Designed with patented double-threaded interlocking ferrules, the brushes are shed-resistant and contain antimicrobial fibers.
While Sigma has used this waterproof technology in the past, this will be the first time that it's used in a pro brush set, along with other features of the collection that are yet to be revealed.
The Sigma x Jordan Liberty Master Artistry Collection will be available March 3rd, 2020.
Check back for updates as more details are revealed.