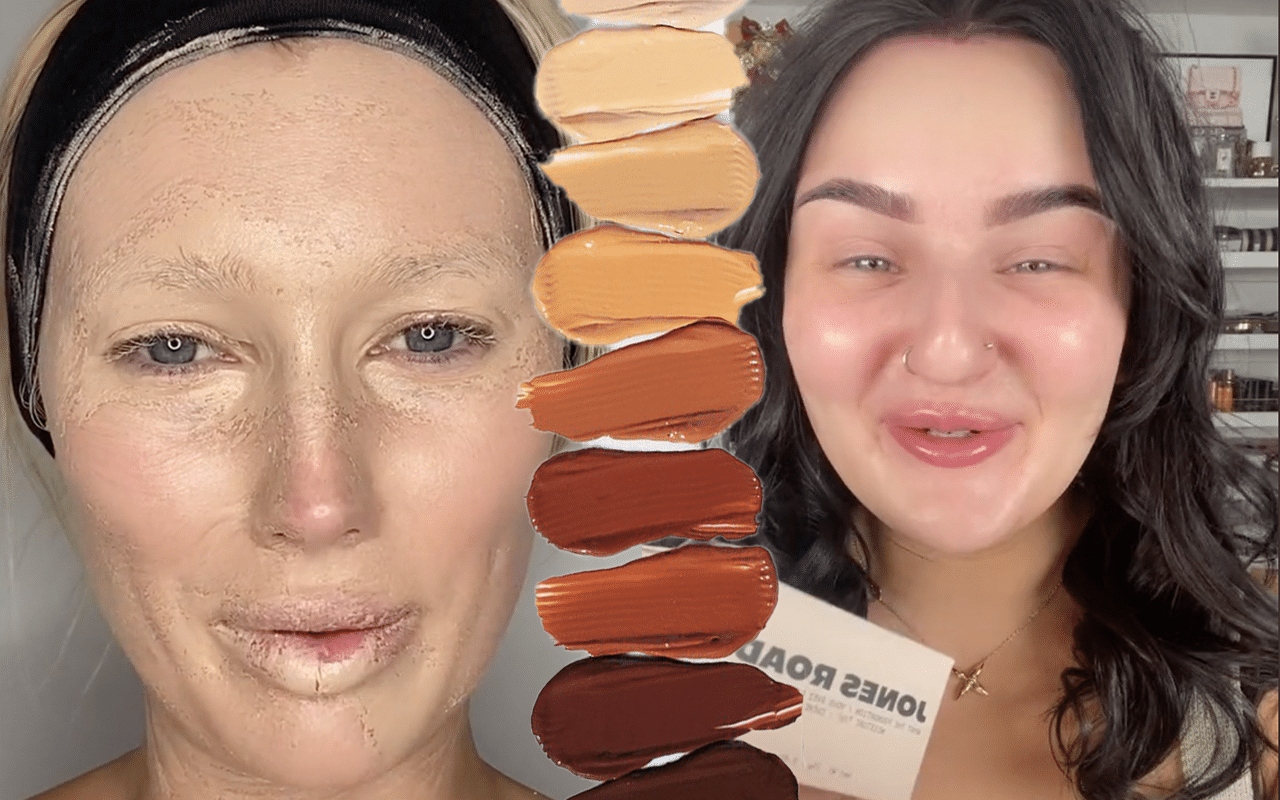 @meredithduxbury / @mikaylanogueira
Makeup TikTok is facing one of its biggest controversies to date with the launch of the new Jones Road Beauty foundation.
It all started earlier this week when beauty creators began receiving and reviewing Jones Road Beauty's new product, What The Foundation.
The brand, founded by iconic makeup artist Bobbi Brown after exiting her namesake company, is built on the ethos that the world doesn't need more beauty products, but rather better beauty products. Think: clean, strategic, and easy to use for all skill levels.
With this in mind, Jones Road Beauty's first base product is a "tinted moisture balm meets traditional foundation" infused with Jojoba Oil and Sodium Hyaluronate. What The Foundation comes in 12 shades and offers "light-medium coverage".
Due to the product's unique formula, it's described as a "first of its kind innovation" in the clean beauty space.
Given Bobbi Brown's reputation, beauty lovers and makeup artists were thrilled to try the new foundation.
As reviews and first impression videos started rolling in, however, the Jones Road Beauty What The Foundation quickly became the most divisive product that TikTok has ever seen.
One of the platforms' biggest beauty creators, Meredith Duxbury, was amongst the first to post a negative review of the product.
Meredith, an NYC makeup artist with 15 million followers, shared her first impressions of the foundation, grabbing two giant scoops of product and attempting to buff it out with a wet Beauty Blender. The 23-year-old creator has built her massive following by creating eye-catching videos where she uses nearly half a bottle of foundation on her face every time she glams.
Given that the balm is infused with skin-loving oils as mentioned above, it separated under Meredith's wet Beauty Blender, leaving her skin a patchy mess.
"It's gonna be a no from me, I really wanted to like this though," she said at the end of the video.
Meredith's review quickly went viral, with users taking to the comment section to insist it was not a "fair review" as she used way too much product and did not take its oil-based consistency into consideration.
The creator went on to post a follow-up review where she applied a small amount of product to half her face. She still gave the foundation a negative review, claiming she saw no difference between her bare skin and her skin wearing the foundation.
Several users disagreed, however, noting that the product gave her skin a glow, blurred imperfections, and reduced redness.
Mikayla Nogueira was the next massive creator to review the Jones Road Beauty What The Foundation, calling it "easily the worst foundation I've ever tried" in her caption.
Though she didn't seem to use an excessive amount of product like Meredith's first attempt, Mikayla said the product was very fragrant and felt like grease on her face.
"You guys, I gotta be honest, I do not like this," she said. "It doesn't look good on me."
These viral negative reviews have copped backlash amid the TikTok beauty community, prompting countless responses from artists and makeup lovers alike.
Licensed Esthetician Tyler Hysko reviewed the foundation, noting that is a "balm foundation" from the jump. He gave it a positive review, saying the product "just feels like a moisturiser" and is very lightweight. He also claims it would work well for those with textured skin as the consistency does not emphasise his texture at all.
"It's glowy, it's blurring, it's buildable," he said.
In a follow-up video in response to the negative reviews on the foundation, Tyler gives some tips on how to make the product look "really good". His tips include mixing the formula first to ensure the oils and pigment are blended together, applying a pea-sized amount to the face and blending like a moisturiser, and using a dry beauty sponge rather than a wet one.
Makeup artist Brit Clarke addressed both Meredith and Mikayla's negative reviews, saying that based on what she knows about both creators' makeup styles and preferences, she would never recommend the Jones Road Beauty What The Foundation to them.
"By the finish of the foundation alone, I knew they were not going to like it," she Brit said. "Little things like this, are things that you should always consider when watching your videos. What's your skin type? What's your preference as far as what kind of coverage do you like? What kind of finish do you like? Espeically when it comes to complexion."
Makeup perferences aside, the controversy surrounding the Jones Road Beauty What The Foundation highlights some of the downfalls in how beauty content has evolved with the rise of TikTok, as the app's short-form video style does not allow for much context nor an in-depth review process.
Rather, TikTok's content style lends itself to hot takes and eye-catching visuals— solidifying its place as an entertainment platform over an educational one and putting its creators at risk of being misunderstood and mistreated as a result.
Regardless of the convtroversy, a viral product is almost certainly sure to sell out. So while a few big creators may take umbrage with the foundation for failing to provide the full coverage look they prefer, there's no doubt that Bobbi Brown and her team at Jones Road Beauty are laughing all the way to the bank as the reviews roll in.