@jessicaballinger
Jessica Ballinger has addressed the accusations levelled against her brother-in-law for the first time in four months.
Jessica's husband, Chris, is the brother to disgraced mega-YouTuber, Colleen Ballinger. Amid allegations that Colleen manipulated and groomed her young viewers over the years, one former fan named Ollie came forward saying that Chris and Colleen's brother, Trent Ballinger, used his proximity to his internet-famous siblings to foster an inappropriate relationship with Ollie as a minor.
Trent has been featured on Colleen's channels over the years, most notably in 2018 when Colleen documented his experience getting a cochlear implant for his hearing impairment.
Trent also features on Rachel Ballinger's channel, their youngest sister.
In a lengthy Twitter thread posted on June 8th, 2023, Ollie shared multiple screenshots of alleged messages sent to them from Trent when they were 13-14 years old and Trent was in his 30s. Ollie also included a screen recording to verify the messages.
Ollie now uses they/he pronouns but was using she/her at the time of the messages.
Throughout the messages, Trent discussed Ollie's sexual orientation, got possessive over the minor, and gave Ollie the nickname "peapod." He guilted Ollie over the prospect of them forgetting about him one day and on more than one occasion, he appeared very concerned over Ollie labeling themselves as bisexual and gay.
In one alleged message, Trent told 13-year-old Ollie that they "kinda look like" his last girlfriend and in other messages, tried to coax them into talking about sex.
Ollie shared multiple messages in which Trent seemed to get upset when they were going to sleep for the night or wanted to take a break from Twitter.
Trent often called Ollie "cute" and "pretty", told them multiple times to visit him, and asked Ollie to send him a "special video" just for him. In one message he told Ollie that they would "look good" pregnant and on Ollie's 14th birthday Trent wrote "4 more years and ur 18."
Following Ollie's thread, other former fans of Colleen have come forward saying they also messaged members of the Ballinger family while they were minors.
Some have come to Trent's defense, claiming he has a disability and does not possess the mental maturity of a man in his 30s. Others claim this is no excuse, as he allegedly states in the messages shared by Ollie that he knows he should not be messaging minors but is choosing to do so anyways.
After months of silence from all members of the Ballinger family about Ollie's allegations, Jessica has now acknowledged them on YouTube.
Taking to the Ballinger Family vlog channel, the mother-of-six responded to a series of comments on their most recent video in reference to the allegations that her husband's brother fostered an inappropriate relationship with Ollie.
"I absolutely support anyone with incriminating info to bring it to authorities," she wrote in the comment section of a video titled 'Hollywood, Here I Come!'. "There is personal nuance as to his level of developmental delay (which he has always kept private, but it is much more than is known publicly & I feel awful for sharing even that)".
Jessica went on to say that Trent is "not someone that I have had contact with or will have my kids have contact with since learning about his behavior several months ago."
She claimed she had spoken to her children about Trent's behaviour and none of them experienced anything "similar" to Ollie's experience.
"I think anyone with evidence of any crimes should of course bring it to authorities and be investigated appropriately. I personally do not have that evidence, but from what has been shared I can still use an abundance of personal caution with my kids and make choices accordingly," she wrote.
Jessica finished by saying she is "sad for Ollie" and admitted they "shouldn't have had that emotional burden at that age."

Ollie has addressed Jessica's acknowledgment on X (formerly Twitter). They posted a screenshot of the comment writing "holy shit".
When asked by a user how this comment made Ollie feel, they said "it honestly is so validating."
"y'all have no idea how healing this has been for me, as this is the first time i've gotten any sort of acknowledgement from the family. thank you everyone else for your support too," Ollie wrote.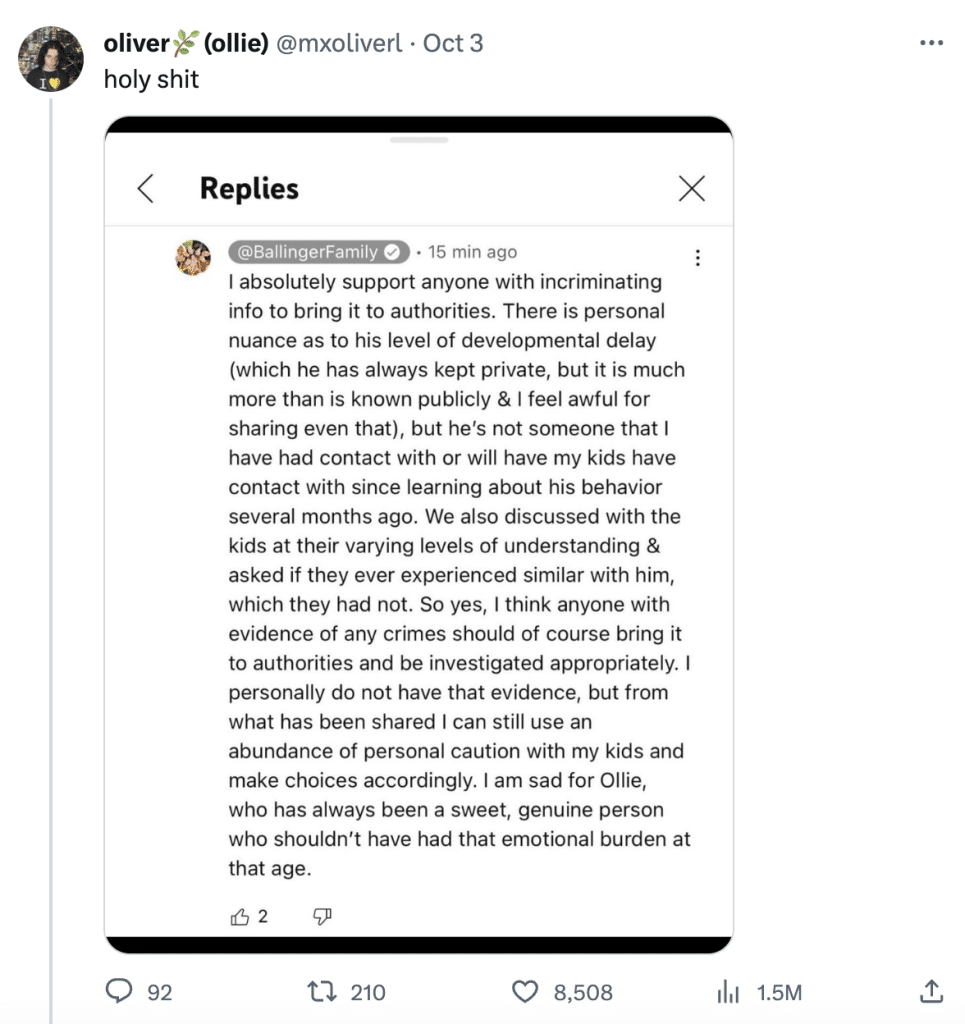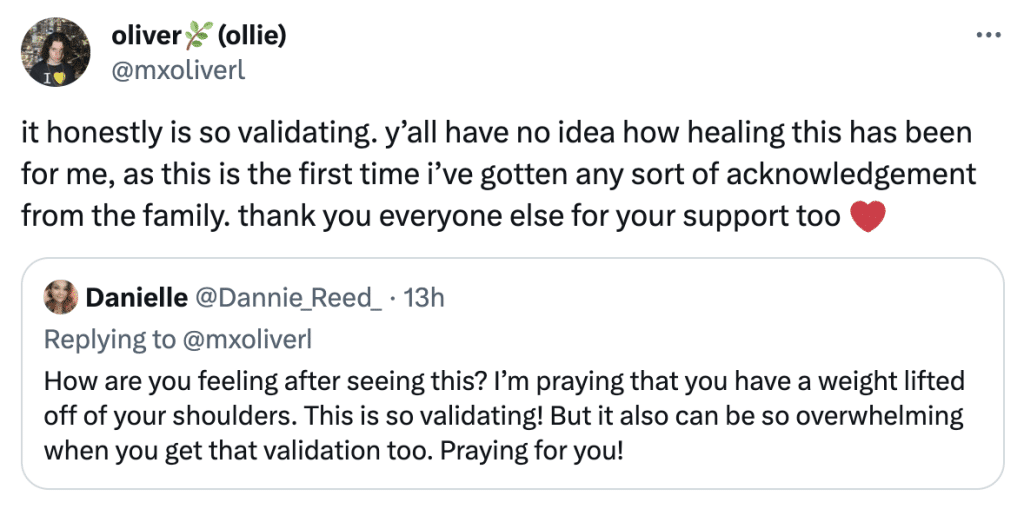 Jessica's comment is still published at the time of writing.
Check back for updates.