https://www.instagram.com/p/CEAqdmWncKn/
https://www.instagram.com/p/CEGD_3LJ8vB/
https://www.instagram.com/p/CDhncZqn2mr/?utm_source=ig_embed
https://www.instagram.com/p/CEGG-b-JIxA/
Lauren Conrad is the latest celebrity to be called out by YouTuber James Charles after announcing her new makeup line.
Last week, The Hills alum revealed her latest project— a makeup brand called Lauren Conrad Beauty. Though LC has remained (relatively) out-of-the-spotlight since her exit from reality television, she's been quietly building a lifestyle empire with best-selling books, multiple blogs, clothing and swimwear lines, a non-profit online boutique, and even a podcast. Of these endeavors, many have been beauty-related, including a 2012 style guide which inspired her new brand name, Lauren Conrad Beauty, and a digital publication in partnership with hairstylist Kristin Ess called The Beauty Department.
With plenty of experience with product testing, reviews, and collaborations under her belt, it's no surprise that the news of Lauren's makeup line was met with overwhelming excitment from both fans and industry professionals. The only criticism was that the queen of winged-liner should've launched this sooner.
That is, until James Charles got his hands on the products.
Not one to keep his opinions to himself, the 21-year-old viral star jumped on Instagram yesterday after receiving the Lauren Conrad Beauty PR package to rant about the delivery.
Without naming the brand, he calls LC out for sending him a box filled with empty components and says Lauren has "no business" starting a makeup brand.
"I just opened a PR package from a 'new makeup brand' from somebody who has no business having a makeup brand and I just wanted to show you guys some of these products okay," he says before revealing empty liquid highlight and eyeliner tubes. "Stop making makeup brands! Stop, stop!"
James' reaction rubbed many fans the wrong way, as it comes just weeks after he publicly called out Alicia Keys for her plans to join the beauty world as well. At the time, James tweeted that "people who do not wear makeup should not be coming out with makeup brands."
The 15-time Grammy winner notoriously announced in 2016 that she would stop wearing makeup. The singer/songwriter has since re-introduced makeup back into her routine in spaces she feels comfortable as a means of self-expression.
James apologised to Alicia Keys after discovering her joint venture with Elf Cosmetics will be skincare, not makeup.
Now, James has issued yet another celebrity apology to Lauren Conrad.
After a barrage of comments and tags, Lauren confirmed that it was, in fact, her brand that sent James the PR package filled with empties.
"For those asking about the empty components sent to James… let me tell you a fun story," the fashion mogul wrote on Instagram. "The woman who put together the girls (it was me) decided to fill a makeup bag full of empty samples to make sure everything would fit inside. When beauty products arrived and it was time to fill all the makeup bags she (again, me) accidentally included the bag full of empties with the orders and it was sent out."
Lauren finished by joking about firing herself over the slip up.
James then took to his stories to publicly apologise to Lauren, saying he was "on the verge of tears" all day which is why he lashed out.
The star claimed his stories were supposed to be funny and admits they came across as nasty. "I was so upset, not with her, but with other things that happened today."
James explained that he and Lauren spoke privately about "the misunderstanding" and they are "both good."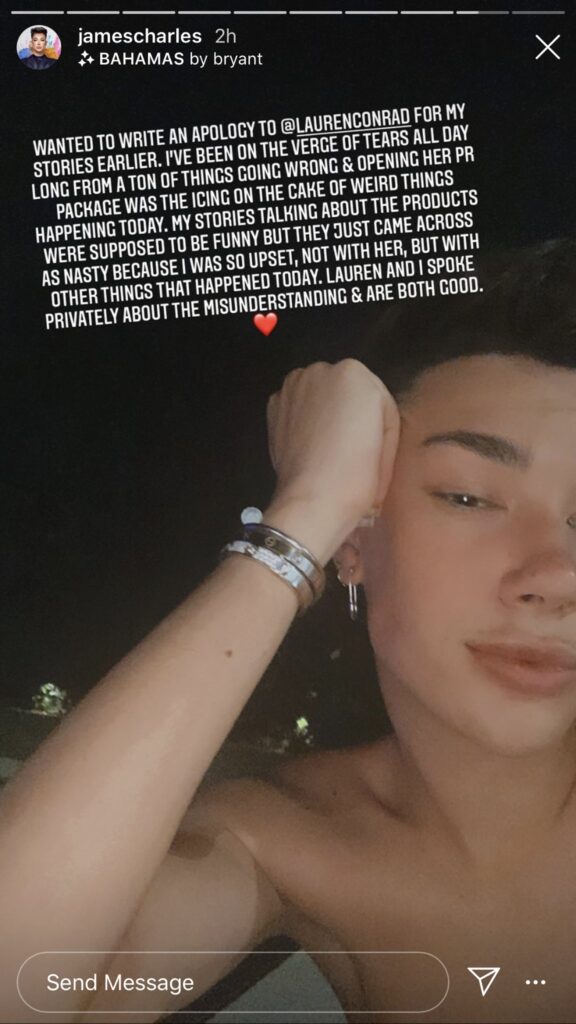 While Lauren probably appreciates the apology, we assume she wants to forgive James… and she wants to forget James.