Alix Earle / Braxton Berrios
The internet is convinced that TikTok's 'it girl' has a new man!
According to online sleuths, Alix Earle is allegedly dating Miami Dolphins receiver Braxton Berrios.
Rumours began swirling about the two back in March when DeuxMoi posted a blind item from a user claiming that Alix and Braxton were "canoodling" at a party.
At the time, Braxton was in a relationship with influencer Sophia Culpo. This led several TikTok users to speculate that Braxton was being unfaithful to Sophia with Alix.
By mid-March, Sophia confirmed she had split from Braxton but remained tight-lipped on the reason. Weeks later, DeuxMoi posted another blind item from an anonymous user who claimed to "have it on good authority" that Alix and Braxton are a couple.
The tip also alleged that Sophia was suspicious of Alix and Braxton right before they broke up.
"Braxton denied everything. But now that they've been spotted together, there is speculation that Braxton cheated on Sophia with Alix," the user wrote. "Braxton also met Alix's sister this weekend."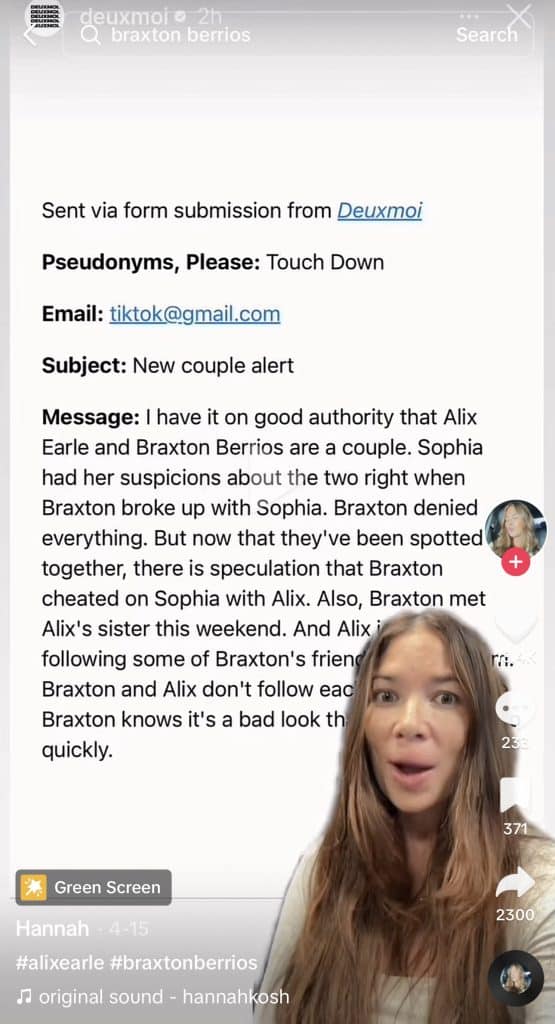 Adding fuel to the fire, Sophia went on to reveal that her relationship with Braxton ended in "betrayal" during an Instagram Q&A posted in late April.
"I haven't addressed this because it's been really hard to come to terms with and process. I'll say that it didn't end well or honestly. A lot of trust was broken. But I have an amazing support system and I appreciate everyone's love & support so, so much. This community never fails to amaze me," Sophia said. "The betrayal in my last relationship just really took a toll on me, but I have the most amazing support system."
Despite some public backlash following Sophia's Instagram story, Braxton attended Alix's University of Miami graduation celebration alongside her friends and family this past weekend, leaving fans even more convinced that the two are together in some capacity.
In content captured during the celebration, Braxton can be seen holding up a poster of Alix in her graduation outfit and posing for photos with several of her college roommates. Fans also found a photo of what appears to be a life-size cutout of Alix wearing his Miami Dolphins jersey.
Alix and Braxton have yet to confirm their relationship at the time of writing, but it has not stopped the TikTok sleuths from putting together a pretty compelling argument.
Check back for updates.