Updated: May 25, 2023.
In a world where influencer podcasts reign supreme, pop culture enthusiasts are excited about 'Oversharing' – a new podcast with Trisha Paytas and Colleen Ballinger.
Yesterday marked the release of the first episode, featuring Trisha and Colleen discussing various topics, including their hopes for the podcast, their lengthy careers on YouTube, and their experience as mothers.
Discussions of a joint podcast started towards the end of last year after Colleen posted a mukbang video featuring Trisha. And finally, after four months of speculation, Trisha and Colleen took to their respective YouTube channels to announce the collaboration last week. While the news has generated excitement among many social media users, some noticed a subtle miscommunication regarding the podcast's future between the two influencers.
In a recent vlog titled "My First Mother's Day!" Trisha took a moment to sit down and talk about her upcoming podcast with Colleen.
"The podcast is called 'Oversharing', and it's going to be with me and Colleen. We are literally just going to be doing it ourselves," they begin.
With Trisha showing the new in-house studio (built by Moses) and urging viewers to subscribe to the podcast's YouTube channel, it's clear that they are excited about the project. According to Trisha, the two were hoping to "get to know each other" through the podcast, with plans to discuss anything from motherhood to musicals.
"I am super excited with the [podcast] with Colleen, we are shooting it tomorrow, and I'm so excited because we are glamming, we're dressing up in costume, and we're going to do TikToks," they go on to say. "Like, you know, we've known each other for so long, but we've never had like super deep conversations – I mean, we have, but it's always just with other people around. This is going to be really like a 'get to know you' podcast."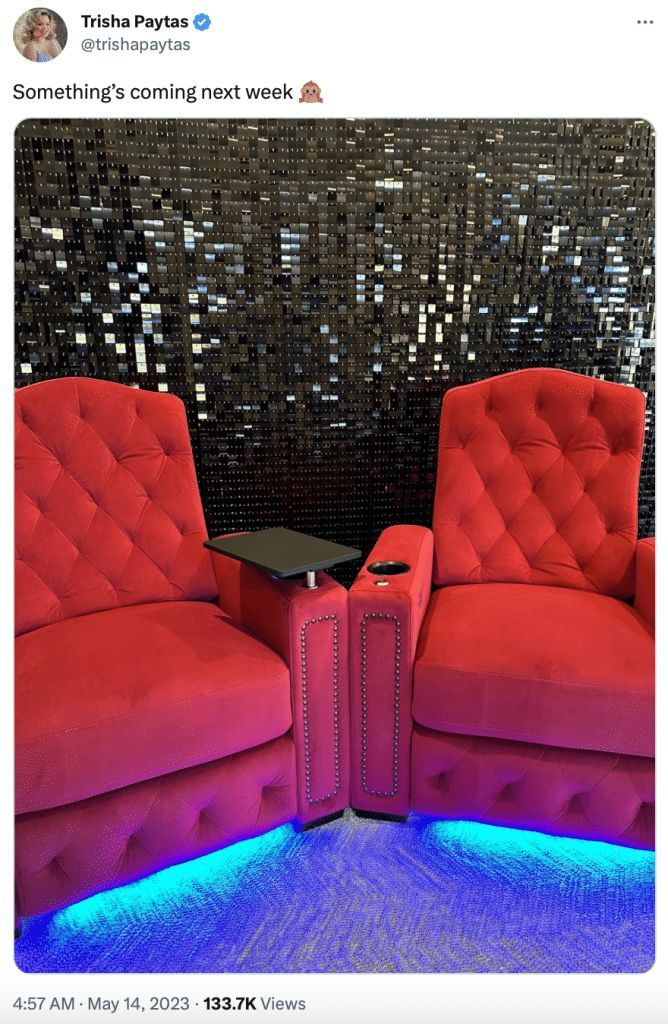 Like Trisha, Colleen also took time out of her daily vlog to share the news about the project. And while Colleen was also enthusiastic about the podcast, she seemed to think that it was a once-off episode.
"I was filming with Trisha today; it was so fun. We had so much fun; literally, we just dressed up and talked about theatre and life," the content creator begins.
She also mentions that she has had on-and-off communication with Trisha regarding a potential podcast since December. On the decision to finally film an episode, Colleen says, "Eventually, we were like, why don't we just literally do it? What if we just get together and film dress up and just talk and have a good time… dressed up and like some ridiculous like Broadway-esque type of costume?"
Since the podcast is not "official" or "with any company," Colleen explains that "we don't know if we'll ever do it again… [but] we are already talking about getting together and doing another full glam because we had so much fun."
Despite the initial confusion, it appears that the podcast will be released weekly, with the 'Oversharing' official account writing that the pair are "filming episode 2 this week" in a YouTube comment.

Having said that, many internet users are surprised that Colleen would choose to collaborate with Trisha on a podcast, particularly in light of the controversy surrounding their departure from Frenemies with Ethan Klein in 2021. Given Trisha's history of tumultuous and controversial behaviour online, these fans are disappointed that Colleen continues to work with them.
"does colleen just not care about how her fans have said multiple times they do not want her associating with trisha and how they are hurt by her actions??" one Twitter user wrote.
Meanwhile, other subscribers wonder how Colleen plans to balance a podcast with Trisha when she already hosts one with her husband, Eric Stoklin.
"idk but I rlly don't think they're making a full on podcast. I think it's trisha's podcast colleen is a guest on it. I don't think colleen would have 2 podcasts," another shared.
Here's to hoping the podcast doesn't end in disaster!