YouTube / iDubbbz
Creator iDubbbz has made a formal apology to Tana Mongeau and the wider YouTube community as a whole for his past problematic content.
The creator, who has amassed over 7.5 million subscribers over his decade-long YouTube career, rose to prominence for his series Content Cop in which he would call out fellow controversial YouTubers.
In one of his most notable episodes of the series, iDubbbz— whose real name is Ian Washburn— targeted Tana when she was 18-years-old.
Their feud started in December 2016 when Tana tweeted at iDubbbz, calling him out for using bigoted language online to his then-three million subscribers. Many fans felt this was ironic as Tana had her own history of using racial slurs.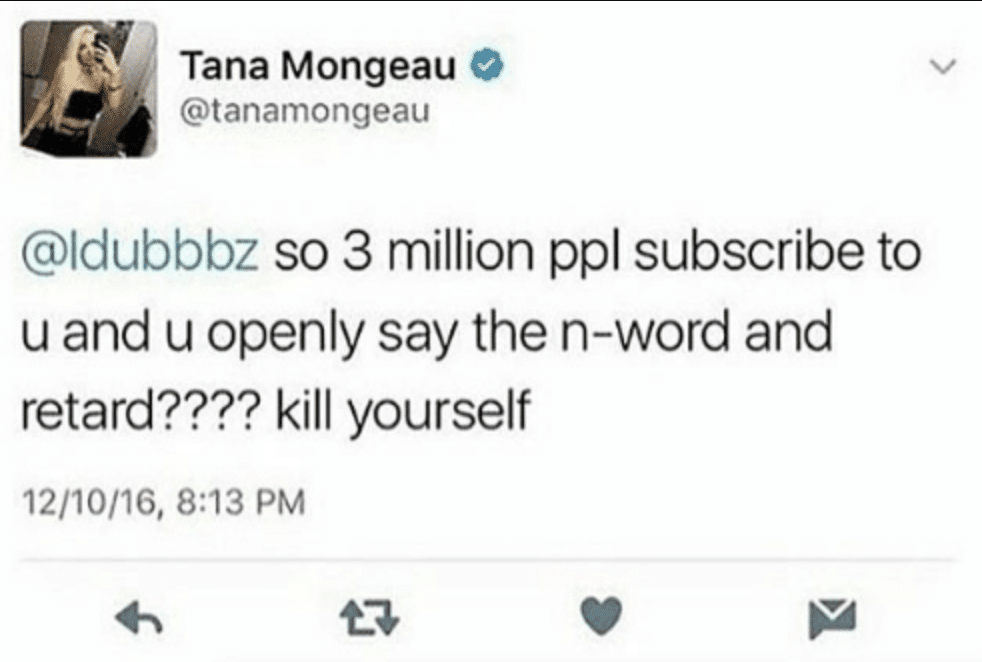 This led iDubbbz to retaliate six weeks later during the teenager's meet-and-greet in San Franciso. The creator turned up wearing Tana's merch, got in position for a photo with her, and rather than saying "cheese" for the snap, he blurted out "say n*****!"
The interaction was captured by his now-wife Anisa Jomha. Tana and iDubbbz went on to have a very public feud and iDubbbz discussed Tana's racist history on Content Cop.
Though the two creators had not addressed the situation in years, iDubbbz took to YouTube on May 18th to apologise to Tana.
"You know, if I'm going to have the balls to go to Tana's fan meet-up and say slurs at her and then make a video about how it's okay to say slurs, I think I should have the balls to make an apology video," he started.
"Tana, I'm sorry. I should have never made that video. I harassed Tana in person and then harassed her online, and that's deplorable behavior. It's so stupid," he said.
He went on to apologise to his audience for "creating a lot of hurtful and damaging content" over his YouTube career. "I've also created a culture of apathy and I know a lot of cruelty as well," he continued.
iDubbbz said he's been doing a lot of empathy work and claimed he knows this apology video "isn't enough."
"I've profited off of this bigoted content for years and I've made a successful career out of it and that's not right," he explained.
The creator finished by thanking his wife for her support over the years and for helping him understand how and why he could be better.
Tana has since responded to iDubbbz's video.
In a quote-tweet from a fan who said they are "eagerly awaiting" Tana's response to his video, she wrote: "cancelled podcast [Tana's podcast name] as soon as possible. crazy times. wonder if he'd ever come on. i have a lot to say, definitely never thought this would happen."
iDubbbz responded to Tana's tweet, saying he would go on her podcast as a guest.
We will be waiting for that explosive episode with bated breath.