With the recent launch of Brittany Broski's new podcast, 'The Broski Report,' social media users are curious about the (alleged) fallout between Brittany and her former co-host, Sarah Schauer.
ICYMI, Brittany and Sarah previously hosted "Violating Community Guidelines" (VCG) together. The pair covered a wide range of chronically online topics, such as the British YouTuber era and the rise and fall of Vine. With both content creators keeping the conversation lighthearted and funny, VCG soon became popular among many avid podcast listeners.
But even before the podcast, Brittany and Sarah were a beloved influencer duo. As roommates, the two collaborated on YouTube frequently, with some of their most iconic content being the "Zillow Gone Wild" series and GRWM-style videos with RuPaul's Drag Race All Star, Trixie Mattel.
However, things have seemingly changed between Brittany and Sarah.
It all kicked off when VCG abruptly came to an end in December last year. In the final episode, which focused on Parasocial Relationships, neither Brittany nor Sarah mentioned the podcast's conclusion. The announcement was only found in the description box and a community post on the podcast's YouTube channel, leaving fans to speculate that the finale was unplanned.
"Well, you made it… the very final episode of Violating Community Guidelines. We want to thank all you weirdos for joining us on this wild ride through the wackiest corners of the internet," the description reads. "Major thank you to @lastmanstanley for doing all of the hours and hours of research for this podcast. The best ever!! to keep up with us next year, follow @brittany_broski and @sarahschauer for more cousin content. Merry Christmas and Happy Holidays!"
At the time, both influencers shared their thoughts on their stories – with many followers noting a difference in how each creator spoke about VCG's end. Brittany posted an Instagram story with the exact message as the podcast description, while Sarah appeared more visibly upset with the decision to conclude the podcast.
"VCG is ending. I'm upset, but there was nothing I could do. BUT I am planning something that hopefully y'all will like," they write. "Idk what else to say right now. Please be patient, and I hope your week gets better."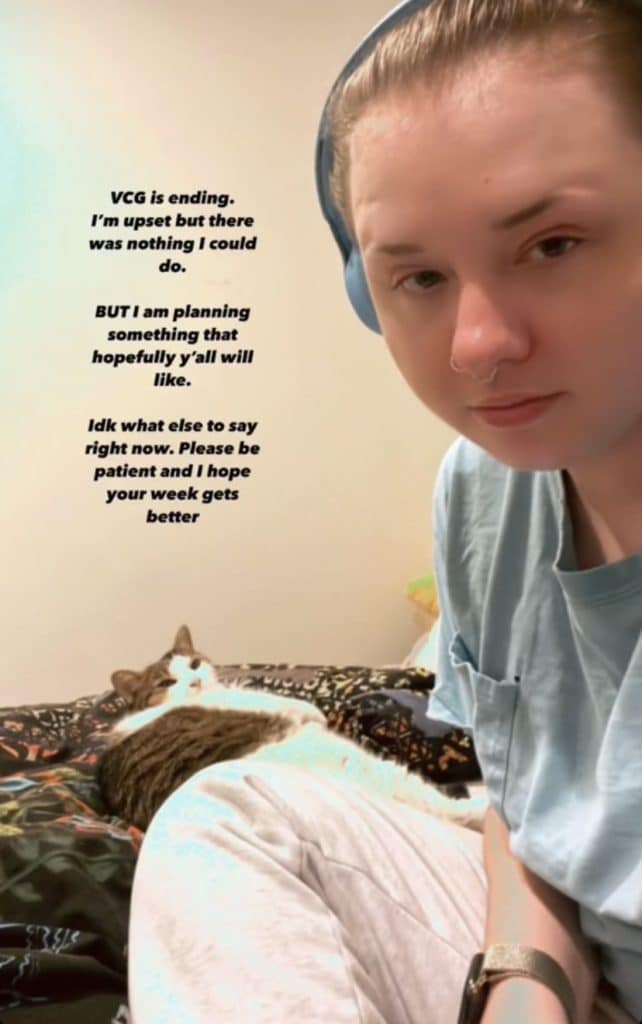 Sarah also took to Twitter to respond to users questioning why the podcast ended, tweeting, "You need to wait a sec to hear why." Given their response, internet users believe something had happened between the two creators, with many speculating whether Brittany had been booked for a bigger project.
While Sarah and Brittany have yet to reveal what exactly went down, internet sleuths are convinced the two are no longer friends, pointing to a crucial moment on a TikTok live as evidence.
Back in January, viewers watched Brittany do a 1920s-inspired makeup look while getting ready for a friend's birthday party. During the Livestream, she called Trixie Mattel for advice on how to install a wig. However, before ending the call, viewers heard Trixie ask "to get tea on Sarah."
Viewers quickly flooded the chat with messages asking about the "tea" with Sarah. Brittany denied any drama, saying Trixie was simply curious about why the podcast ended.
Adding fuel to the fire, users on the r/violatingcommunitygls subreddit have noticed that Brittany and Sarah have barely interacted with one another online since the last episode of the podcast.
"The two are clearly no longer friends. sarah didnt wish brittany happy birthday, shes not liking the announcement of brittany's new podcast," one user posted.
"As much as I agree with a lot of what you said. I think it simply comes down to the fact that, there is bad blood. Sarah only refers to Brittany as their roommate on multiple pods I've listened to, Brittany (or any of her friends) who used to like Sarah's posts don't engage with them anymore," another shared.  

Many fans believe that the lack of interaction between Brittany and Sarah, despite them allegedly still living together, is a bad omen for their friendship. And to make matters worse, it appears that Brittany has plans to move out. Appearing as a guest on Cody Ko's "Insanely Chill" podcast, Brittany revealed that she "want[s] to live alone in the future."
See Also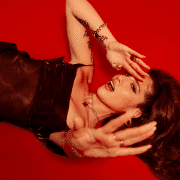 "The goal is to have a studio space to film YouTube and then a different room to have the podcast set in, so when that happens, I'm going to invest more money [in YouTube videos]… three-point lighting, a tripod…" she goes on to say.
That being said, Sarah and Brittany have both launched their own podcasts since the end of VCG.
Now, Sarah hosts "The BCC Club" with TikTok creator Kendahl Landreth. Their new podcast is oddly similar to VCG, with Sarah and Kendahl breaking down specific viral phenomena, like "Lesbian TikTok drama" and Nepo babies.
The BCC Club is also produced by Studio71 – the same media company associated with VCG. Given this connection, internet users are left wondering whether Sarah and Brittany had a contractual obligation to remain involved with the company. If this is the case, the similarities between The BCC Club and VCG begin to make more sense, especially if Brittany decided to leave the podcast – whether it be a result of interpersonal drama or scheduling conflicts.
Meanwhile, Brittany's new podcast follows a 1950s news theme, where she shares her latest obsessions with her audience and explores specific themes and topics every week. The debut episode, "Growing Kelp In My Keurig," was released last Tuesday.
While no one knows exactly what happened between Brittany and Sarah, there is no denying that internet users will continue sleuthing.
Here's hoping that both Brittany and Sarah will continue to thrive in their respective careers.