Unsplash / James Eades
https://www.instagram.com/p/CAqNRgBJsBa/
https://twitter.com/hourIykoo/status/1265857026892185601
https://www.instagram.com/p/CNkyQbJHoWM/
https://twitter.com/Sashawinslowrn/status/1265983327657476096
Updated April 14th, 2021
After the ongoing displays of racism and police brutality in America, social media has erupted once again in outrage. Users express shock ("How is this still happening?!") and demand change ("They should be charged for murder!") behind retweets, trending hashtags, and changing profile pics.
Social media is often where this activism stops, especially for non-Black allies. But this needs to change.
The killing of George Floyd in May 2020 seemed to be the tipping point for a lot of non-Black folk — partly due to the tragic video released of his death. Floyd died at the hands of a white police officer who kneeled on his neck forcefully. Floyd can be audibly heard pleading for his life and begging for his mother as he dies.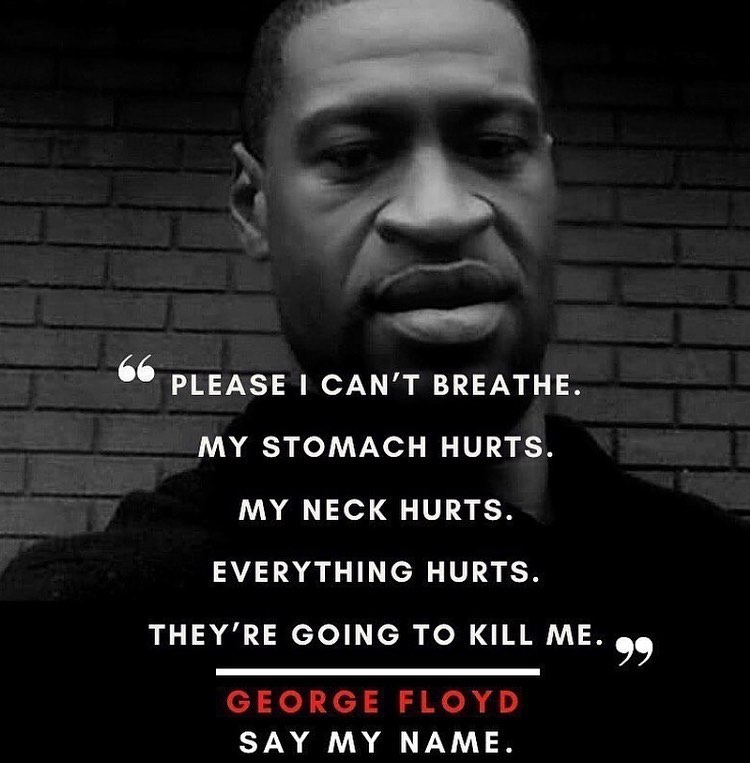 White men killing Black people is not a new phenomenon, nor was George Floyd's death an isolated incident.
Floyd's murder was far from a unique situation. In the past year, America has seen the deaths of Ahmaud Arbery, Breonna Taylor, Nina Pop, Sean Reed, Patrick Lynn Warren Sr., Tony "Tony the TIger" McDade, David McAtee, Carlos Carson, Rayshard Brooks, Dijon Durand Kizzee, Jonathan Dwayne Price, Marcellis Stinnette, Sincere Pierce, Angelo "AJ" Crooms, Casey Christopher Goodson Jr., Andre Maurice Hill, Angelo Quinto, Vincent "Vinny" M. Belmonte, Patrick Lynn Warren Sr., and most recently, Daunte Wright— all Black lives taken by white men.
White women are guilty too, though their displays of racism are often less violent.
The same week as George Floyd's murder, NYC resident Amy Cooper was caught on video calling the police on Christian Cooper (no relation) after he asked her to leash her dog in Central Park. In the video, Ms. Cooper can be heard saying, "I'm taking a picture and calling the cops. I'm going to tell them there's an African American man threatening my life." Ms. Cooper has since been fired from her job.
These attacks on Black lives are far from random. They are targeted and they are racist.
There are no "good cops" and "bad cops." There are no "racists" and "non-racists." This is white people assaulting Black people because of systematic white-supremacy that runs deep within our society.
The notion that any white person could be the next attacker makes us very uncomfortable. This discomfort is called "white fragility" and it prevents us from confronting racism head-on to avoid conflict.
But it's white fragility that holds racism in place.
And we're cautiously optimistic that society is starting to realise this.
Over the last 24 hours, thousands of Twitter users have shared their sadness over Daunte Wright.
After being pulled over for an expired tag on his license plate, 20-year-old Wright was shot and killed by police officer Kim Potter. Potter alleges she mistook her gun for her taser as Wright tried to escape an arrest for an outstanding warrant. Activists around the world believe Wright— a father to a two-year-old son— was racially profiled from the start.
In the wake of Wright's death, many are asking the same question we asked nearly one year ago after George Floyd's murder: What can I do to help?
While dismantling white supremacy and supporting Black communities may feel too big to tackle as an individual, allies have taken to Twitter to share how all of us, particularly gen-z and millennials, can make a difference.
If you want to sign petitions
Twitter user @tpwkhollands shared a thread on how to support Black Lives Matter, directing people to different petitions to sign.
First, she shared a change.org petition for justice for George Floyd. She also shared that you can text "FLOYD" to 55156 to "JUSTICE" to 668366 to sign.
Twitter user @fineworlds linked to petitions you can sign in support of Black Lives Matter and George Floyd.
You can also demand local officials take action against police brutality in your region by visiting here.
If you want to donate
Users are sharing multiple places to donate in support of Black Lives Matter, like @byersfilm.
Others are urging allies to donate to the Minnesota Freedom Fund in Floyd and Wright's honour. The MFF pays criminal bails and immigration bonds for those who cannot afford it.
Wright was also killed in Minnesota.
If you're feeling overwhelmed by all the choices, many users suggest donating directly to Black Lives Matter.
Black Lives Matter is a global network dedicated to the "fight for Freedom, Liberation and Justice" for Black communities around the world. It started as a call to action in response to the 2012 murder of 17-year-old Trayvon Martin and the subsequent acquittal of his killer, George Zimmerman.
Instagram user @holisticheaux is gathering donations for Wright's girlfriend Chyna, who is in need of diapers, 18- to 24-month clothes, shoes groceries, and gift cards. DM the account for drop-off information.
Wright's family and friends have also set up a Go Fund Me where all donations will go to his son and family.
If you want to educate yourself
Regardless of resources, everyone can afford to educate themselves on the history of racism, white-supremacy and how it relates to violence against Black lives.
@byersfilms wrote a lengthy thread on how fellow white people can dismantle our inherent racist biases and best educate ourselves.
MTV's Kamie Crawford took to Instagram stories to explain why staying silent on issues of race means you can never be an ally and the importance of using our non-Black voices to support theirs.
If you want more information
Twitter user @dehyradration made an easy-to-understand Carrd with links to multiple ways you can help. Their information has transcended Twitter, making its way onto Instagram and other social platforms, with thousands of users re-sharing this comprehensive list.
There is still a lot of work to do, but the uproar across social media is giving us a glimpse of hope.
To find out more about becoming a better ally, you can visit Black Perspectives, Black Lives Matter, and read the work of Black authors who speak on these issues such as Michelle Alexander, Angela Davis, Assata Shakur, and Ida B. Wells.
* Please note that being an ally does not involve sharing videos or photos of police brutality. Theses images are triggering and can inflict additional trauma.