Image via YouTube
https://www.instagram.com/p/CX6od-rPuAZ/?hl=en
Another content house has crashed and burned, but fans are still surprised that the seemingly wholesome Ur Mom's House has come to an end.
From alleged jealous best friends to accusations of greedy housemates, here's a full breakdown of what happened with NYC's most beloved content house.
What is Ur Mom's House?
Ur Mom's House was a content house in New York City that started in 2016. Its founding members included YouTubers Elliot Choy, Annemarie Chase, Ashley Alexander (AKA Ur Mom Ashley), and Kelly Wakasa.
With a combined following of over 3.5 million subscribers, their videos felt like an episode of New Girl, reimagined for YouTube. Unlike other content houses, the collective did not seem to have shared business ventures and there appeared to be no group manager.
Each house member made content for their own individual channels, with the roommates frequently making appearances in each other's videos — vlogging their experiences together like exploring NYC, going on trips, and generally doing "what excites" (Kelly's catchphrase).
"Most creator houses pick people that have followings or beneficial collaborations," Elliot said in a Buzzfeed interview, "but we're trying to build something like a family."
While living together in the content house, members Kelly and Ashley became a couple and their content frequently centered around their relationship on their respective channels.
In March 2022, the group started a podcast called & They Were Roommates (after finding out the name Ur Mom's House was already taken by another podcast). The show ran for eight episodes.
The beginning of the end of Ur Mom's House
Despite earning a reputation as the only content house without drama, things started to crumble for the collective after Annemarie announced that she was leaving Ur Mom's House in May of this year.
The crew addressed this sudden news in a short podcast episode, where Annemarie called it a "hard" decision. She then went on to say that the group was moving towards more business-focused ventures together and she did not see herself aligning with the group's direction and "values."
"We're not all in the same spot and so I proactively know that that's probably not the path I want to go so I'm just going to remove myself and kind of do my own thing, let them do their thing, before it gets kind of far down and we're all locked in this thing," she said.
The departure seemed fairly amicable, with Kelly mentioning in the video that they will always stay friends. Annemarie continued to show up in some of Elliot's videos and even videos by Kelly's childhood best friend Luke Eich (who visited the content house often), but fans seem to notice that Annemarie never appeared to hang out with Kelly or Ashley again. This wasn't surprising as both Annemarie and Kelly had mentioned in previous videos that they sometimes found it difficult living together.
Viewers later pointed out that Annemarie, Kelly, and Ashley were all at an event together for Sony, but were not seen interacting with each other. Some people went as far as to say that the reason Annemarie left the group was that Ashley bullied her. Ashley and Kelly have denied these allegations – referring to the fact that, "just because they were the only two girls in the house, does not mean they had to be best friends."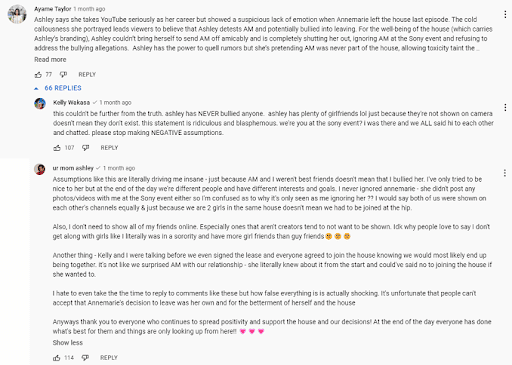 Following Annemarie's departure, new content creators were introduced into the house, including Isabelle Sung, who has been friends with Elliot, Kelly, and Ashley for many years.
Elliot leaves the group
On October 3rd, 2022, Elliot shocked fans when he uploaded a video on his channel titled 'I'm Leaving Ur Mom's House'.
"The first few months of living together honestly were a dream," he started. "I was living with my best friends, our videos were doing well and we were having fun making them. The best part of it all was this feeling that we were a team and we were in this together we really had each other's backs and it felt so good to have a friend group in a new city. We basically hung out all the time 24/7 and the energy of the house was always high. We had a lot going for us and it really felt like we were on top of the world."
He then went on to explain that Annemarie was a huge part of the house and when she left "things began to feel different."
According to Elliot, the group tried to move past this and push forward together, but they struggled. "I started to really think about what went wrong with Annemarie and I realised we were so focused on making videos together that we forgot to focus on what actually mattere– just hanging out and having fun with each other, not just when we needed to film," he said.
He went on to say that the past few months were the worst and he "really started to resent some of [his] best friends," i.e Kelly and Ashley. He came to the conclusion that leaving the house was his only option. "This was not an easy decision for me, this house is like my baby."
Kelly responds to Elliot's video
After Elliot released his video, many fans took to the comment section to share their theories on why the house "really" broke up. Some pointed to Kelly and Ashley's relationship making Elliot feel isolated, which may have led to the house's downfall.
Kelly then took to his own YouTube channel to address "the truth" about why Ur Mom's House was breaking up.
Kelly said that he "was not trying to shade [Elliot] in any way," but that he was just confused, as he, Elliot, and Ashley, had apparently all agreed to announce the ending of the house together on their podcast.
He then referenced the hate comments that he and Ashley received because of Elliot's video, saying, "These comments wouldn't exist if you guys knew exactly what happened."
He went on to say that while he and Ashley stayed quiet during the time when Annemarie left the group, he feels the need to say something now because he wants to protect Ashley as it is not in her nature to "clap back."
Ashley's mother also came to the couple's defense, commenting on Elliot's video: "You shouldn't blame others for your unhappiness."
The videos didn't stop there. Kelly and Ashley decided to release another video together discussing the situation.
Ashley said that throughout their time living together, she "never noticed any resentment [from Elliot] towards Kelly" or herself and that she always tried to be as inclusive as possible throughout this entire situation. However, Kelly shared that Elliot had allegedly told him on numerous occasions that "he hated Ashley".
"He couldn't give any good explanation why he hated Ashley, but it was genuinely because instead of Elliot having me to himself it was more shared time with Ashley," Kelly claimed.
Ashley then went on to say that the house probably felt different to Elliot after Annemarie left, as Kelly and Ashley had to go on preplanned family trips, leaving Elliot alone in the house.
The duo also mentioned that Elliot's video only showed his perspective and that it was very much centered around him leaving the house. In reality, they claimed they had all agreed to leave the house and start over.
Interestingly, Ashley later shared on Instagram that she would be moving in with Kelly, Issa, Luke, and Jed (another roommate that moved in after Annemarie) and the group would essentially be rebranding.
While the group's demise initially seemed to be largely due to a lack of communication, fans were shocked to hear that Elliot allegedly refused to give Ashley equity in the collective's business ventures.
"When going into the house, we tried to set up an LLC," Ashley said in the video. "We had initially agreed we're going to do this split equally– 33.3 percent– very equally between everyone." Ashley claimed that as time passed, she had heard from friends that Elliot thought Ashley did not deserve any equity and "only Kelly and I should have equity in the LLC split 50/50 because this was our baby."
Overall, Kelly and Ashley said that although they are disappointed about how things have transpired, they are grateful for the experiences they had in the house.
"We want you to know no one came in the house wanting to hurt other people and I hope you guys respect, you know, our privacy and the fact that we're all human," Kelly finished.
While some fans are disappointed with Elliot's alleged behaviour, many have come to his defense saying that Kelly and Ashley may be taking his actions the wrong way.
Neither Elliot nor Annemarie have responded to Kelly and Ashley's video at the time of writing.