Amouranth / IndieFoxx
Updated: July 1st, 2021
Streamers are swapping bikinis and inflatable hot tubs for yoga pants and binaural microphones as controversial trends continue to dominate Twitch amid discourse over what is considered sexually suggestive content.
What is the hot tub meta and how did it evolve?
Shooting to the top of the Just Chatting category, hot tub streams quickly became some of the most popular content on Twitch, with creators quite literally sitting in a hot tub or pool— often an inflatable one placed in their living room or bedroom— for hours on end. Female streamer xoAriel credits herself with starting the trend back in December 2020, telling Insider she "really wanted to just sit in some hot water because it was winter." She subsequently saw a 250% increase in her viewership in just three months.
With several of the platform's biggest female creators following suit— including Amouranth and Pokimane— hot tub streams sat at the top of the Just Chatting category for months, creating discoverability issues for other creators and drawing criticism from those who felt this meta cheapened the platform by skimming the line of Twitch's sexually suggestive content policy.
Twitch is available for viewers ages 13+.
According to its Community Guidelines, Twitch allows swimwear "as long as it completely covers the genitals, and those who present as women must also cover their nipples." And while "full coverage of the buttocks is not required" when streaming in swimwear, Twitch does not allow "camera focus" around it. Swimwear and clothing must also be fully opaque when wet.
The Amazon-owned service reportedly received pushback from advertisers who did not want their brand associated with hot tub streams.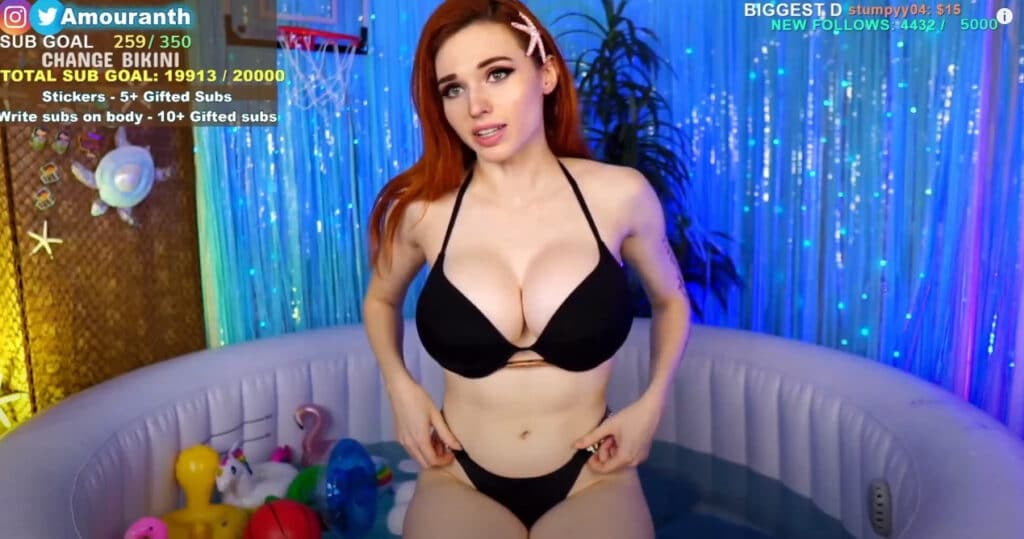 Twitched launched a new category for hot tub streams
In an effort to rectify these issues, Twitch launched a new category in May dedicated to hot tubs, pools, and beaches, allowing advertisers the choice to run ads on these streams.
"First and foremost, no one deserves to be harassed for the content they choose to stream," the company said in a blog post announcing the new category. "Being found to be sexy by others is not against our rules, and Twitch will not take enforcement action against women, or anyone on our service, for their perceived attractiveness."
Twitch also acknowledged that hot tub streamers are far from the only sexually suggestive content on the platform. "Prohibiting every form of content that could be interpreted as suggestive would also result in far more restrictions on the video games and premium content that we currently allow, especially considering the ways that female characters are sometimes objectified or presented in a sexualized manner," they said.
As noted by Jacob Kastrenakes for The Verge, Twitch's decision to remove hot tub and pool streams from the Just Chatting category plays into the misogynistic rhetoric surrounding this content while simultaneously validating it. "Hot tub streamers tend to be women, and they've often faced sexist harassment from men who don't like seeing them or their success on Twitch," Kastrenakes writes. "But it also validates that this type of streaming is allowed and welcomed on the platform."
Though how "welcomed" is still up for debate, as many argue that shunning hot tub streamers to a separate category with restricted ad revenue is just one step away from banning it altogether.
Streamers have now shifted to doing ASMR in yoga pants
Prior to the inception of the new Pools, Hot Tubs, and Beaches category, Twitch disabled ads on streamer Amouranth's channel allegedly without warning. The indefinite suspension, which was lifted days later, meant Amouranth could no longer earn ad revenue from any of her streams, whether they were a hot tub stream or not.
Amouranth is part of the Twitch Partner Program which guarantees exclusivity from the creator in exchange for benefits including a larger percentage split of their channel's ad revenue.
Lesser visibility from the Pools, Hot Tubs, and Beaches category coupled with feelings of hostility towards the platform for its mismanagement of the creators partaking in this trend has pushed many hot tub streamers to abandon this silo in favour of another boundary-pushing meta: yoga pants ASMR.
Defined by the Oxford Dictionary as a "feeling of well-being combined with a tingling sensation in the scalp and down the back of the neck, as experienced by some people in response to a specific gentle stimulus, often a particular sound," ASMR is typically used for relaxation or sleep aid and is not sexual in nature.
While traditional ASMR content involves creating soothing sounds like paper tearing, nail tapping, or tongue clicking, this new Twitch meta has seen streamers, including Amouranth, lay across a bed in skin-tight yoga clothes licking, sucking, and moaning into a binaural microphone.
Many of these streamers offer eye contact, licking, name-calling, and other incentives to fans who pay.
According to Dexerto, the ASMR category jumped from around 14,000 average viewers to over 20,000 in just one week thanks to the introduction of this new meta.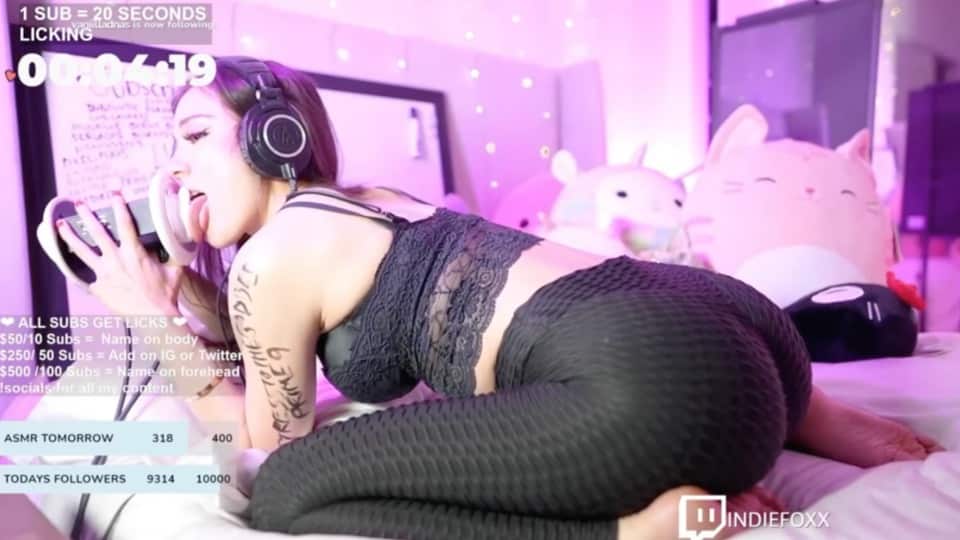 Twitch responds to the rise in yoga pants ASMR with channel bans
With over four million followers combined, Twitch banned streamers Amouranth and IndieFoxx on Friday for their participation in yoga pants ASMR.
Though it's unclear how long the bans will last, both women are directing followers to their OnlyFans for the time being. Critics believe this further indicates that their ASMR content on Twitch is intended to be sexually suggestive and thus violates the platform's ToS.
What does this mean for other streamers?
Though Twitch has attempted to take action against sexually suggestive content, many in the streaming community believe the service is headed for its own 'adpocalypse' similar to that of YouTube's 2017 mass advertiser boycotts.
Following a series of controversial videos by some of the platform's biggest creators and concerns regarding improper children's content, advertisers withdrew their spend with YouTube en-masse back in 2017, forcing the company to prioritise family-friendly channels and implement strict monetisation requirements via an opt-in partner program. These changes resulted in a sharp and significant decline in ad revenue for creators across the platform, with many reporting they could no longer support themselves as a full-time content creator.
Streamer and commentator ShannonZKiller addressed the slippery slope Twitch is headed down with advertisers, tweeting, "if you think a brand exodus aka adpocalypse isn't inevitable with the way this type of content is rapidly evolving then you haven't been paying attention."
Other streamers, including high-profile personality SypherPK, claim that brands have already expressed concerns with continuing to sponsor content and creators on Twitch as a result of these new metas.
On June 29th, Indie Foxx was striped of her Twitch partnership after being suspended for violating community guidelines for the sixth time in multiple months.
Twitch has not yet released information on how it plans to moderate the ASMR category moving forward. Some speculate the company may create a new silo similar to Pools, Hot Tubs, and Beaches while others argue that Twitch brought this problem on themselves by allowing hot tub streams to dominate the platform for so long.