@billieeilish
https://www.instagram.com/p/CPi__Mzrjfg/
https://www.instagram.com/p/CP8kKmvrgFz/
Billie Eilish has found herself at the centre of controversy once again.
Off the back of queer-baiting accusations last week, the 19-year-old Grammy winner has apologised for lip-syncing an Asian slur in a video that resurfaced from years ago.
"This is something that I WANT to address because I'm being labeled something that I am not. There's a video edit going around of me when I was 13 or 14 where I mouthed a word from a song that at the time I didn't know was a derogatory term used against members of the Asian community," she wrote on Instagram stories.
"I am appalled and embarrassed and want to barf that I ever mouthed along to that word."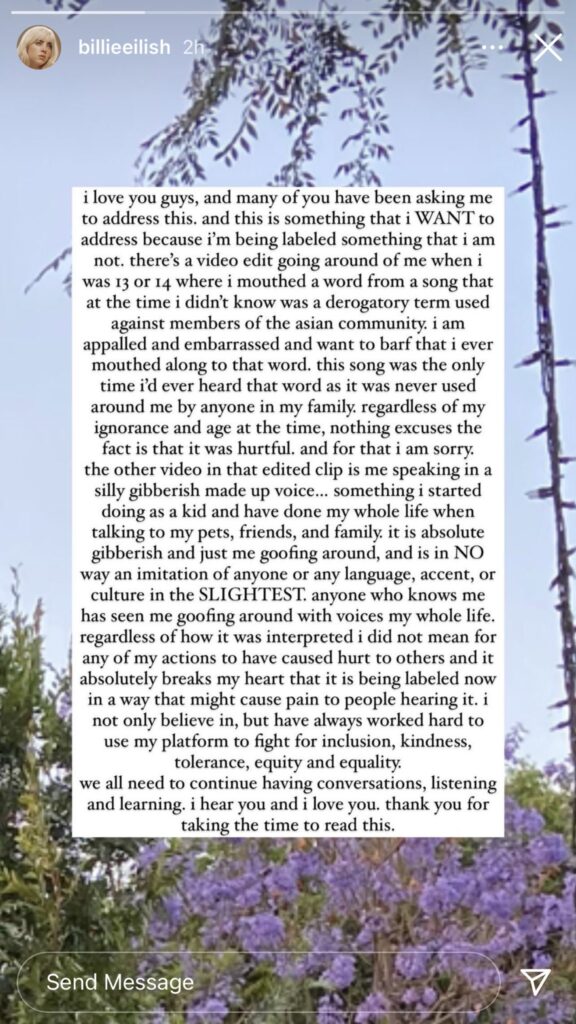 Billie goes on to say that "nothing excuses" her actions despite claiming she didn't know what the word meant and no one in her family used that word around her growing up.
Billie also apparently imitated an Asian accent in another resurfaced video, which the singer denies, saying she was speaking in a "silly gibberish made up voice" that she has been doing since she was a child.
"It is absolute gibberish and just me goofing around, and is in NO way an imitation of anyone or any language," she writes.
Fans are seemingly divided on Billie's apology after she has refused to address several controversies in recent weeks.
On the weekend of June 12th, Billie was spotted at Disneyland with boyfriend Matthew Tyler Vorce after posting snaps of herself hugging, dancing with, and having fun with a group of women alongside the caption, "i love girls."
Billie's Instagram photos— which appear to be promotional shots for her latest music video for the single, 'Lost Cause'— incited accusations of "queer-baiting" from many who feel the artist was intentionally ambiguous with the messaging to appeal to an LGBTQ+ fan base all while dating a man.
Shortly after, old tweets written by Billie's new beau began circulating the internet.
In the tweets, Matthew allegedly made racist remarks about Asian people, uses the N-word, uses gay slurs, and makes both sexist and fatphobic comments.
"When I see a pretty girl walking down the street I think two things, one part of me wants to take her out, and talk to her and be real nice, and treat her right. The other part of me wants to know what her head would look like on a stick," he reportedly wrote on Facebook.
Matthew has since apologised for his posts, however Billie has yet to address her fanbase.