Gas
In a digital landscape that often rewards negativity and call-out culture, a new app is cutting through the noise, encouraging users to be kind to each other.
Introducing Gas: the new positive teen app that has surpassed BeReal, Facebook, and WhatsApp in popularity on the App Store, designed to quite literally gas people up.
A much friendlier version of question-answer apps like ASK.fm, Gas asks teens multiple-choice questions about people at their school, letting them choose yearbook-style superlatives such as "the most beautiful person you have ever met" or the classmate who is "most likely to DJ a party."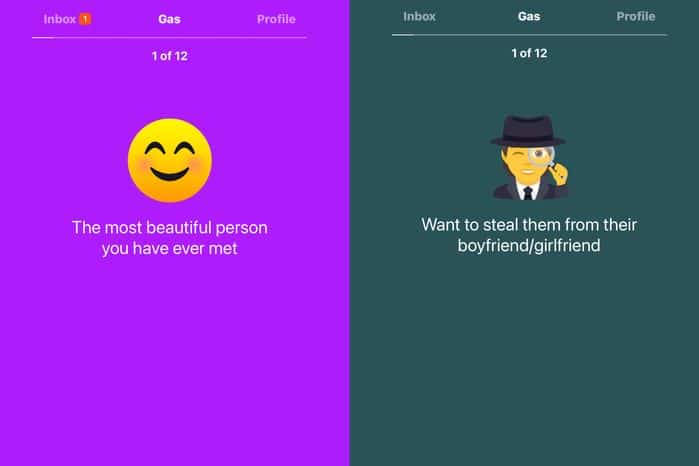 At the time of writing, Gas is the most popular free iPhone app and the No. 1 social-networking download in the App Store.
Developer Nikita Bier told the Wall Street Journal he is thrilled that teens seem to be responding to the app's message of positivity.
"So many people say it improves their self esteem, they got closer with friends, and that they feel loved," he said.
Bier previously created a similar app, TBH. Facebook (now Meta) bought TBH in 2017 before shutting it down the following year.
To ensure user safety, teens are required to choose which high school they go to when signing up for the app and can only answer questions about their own classmates. Bier explained that Gas' algorithm is specifically designed to distribute compliments among people equally, to avoid exclusion. It also has an in-app currency to motivate users to send more compliments.
At the moment, Gas is only available for iPhone users in a few states, including Michigan, Wisconsin, Indiana, Illinois, Ohio, and Pennsylvania. The app will apparently be rolled out in other states at a later time.
"Gas is designed to be a safe place to interact with friends. Users can only interact through polls and with people they have accepted as friends. Unlike apps like Snapchat or Instagram, we do not support messaging between users," reads a FAQ section describing the app's safety policy on the website.
Despite the generally positive reception, there have been concerns about the amount of data Gas collects — which some worry could be used for sex trafficking.
In response, Bier explained that Gas uses location data to help users pick their school, however, the data isn't stored on the app's servers. Gas has also developed a system to remove users who may be lying about being a teen or attending a certain school.
Here's hoping that Gas is able to continue spreading positivity amongst teens.