@fentybeauty
Fenty Beauty has come under fire for its latest makeup drop.
The beauty brand, known for its inclusive shade ranges and high-quality products, rarely faces controversy, however, makeup lovers feel that Fenty's new collaboration with art collective MSCHF has missed the mark.
Titled 'Ketchup or Makeup', the collaboration comes housed in a red makeup box that opens to reveal six custom MSCHF x Fenty Beauty components designed to look like the single-use ketchup packets you might find at an American-style diner.
The collaboration post has since been removed.
Though a kitschy concept, most of the criticism actually stems from what consumers can expect from the product inside the packets— with some filled with Fenty Beauty's Gloss Bomb, and others filled with actual ketchup.
In purchasing the collaboration, customers are unable to request or verify the number of packets they receive that will be filled with Fenty lip gloss— if any at all.
And at $25 USD per box, some makeup fans think this feels more like a cash grab than a genuine creative collaboration.
"I'm sorry but who wants to spend $25 to end up getting ketchup packets," wrote one user on Fenty's Instagram announcement.
"Is Rihanna still on maternity leave… who signed off?" wrote another.
Considering an entire bottle of ketchup costs less than $5 USD in most American supermarkets, it's no surprise that consumers might not be willing to spend four times that to possibly receive 6 1ml packets of the condiment.


Others are calling the collaboration impractical, as the packets filled with lip gloss are not resealable, leaving the product to dry out (and thus likely get thrown out) after only one use.
Beauty YouTuber Samantha Ravndahl shared her thoughts on this via Instagram story, writing, "I get it, [this collaboration] will get lots of views and it's a way to promote and sell product. But things like this are so wasteful and for no reason. Even if you got gloss…are you going to keep an open ketchup packet of lip gloss?"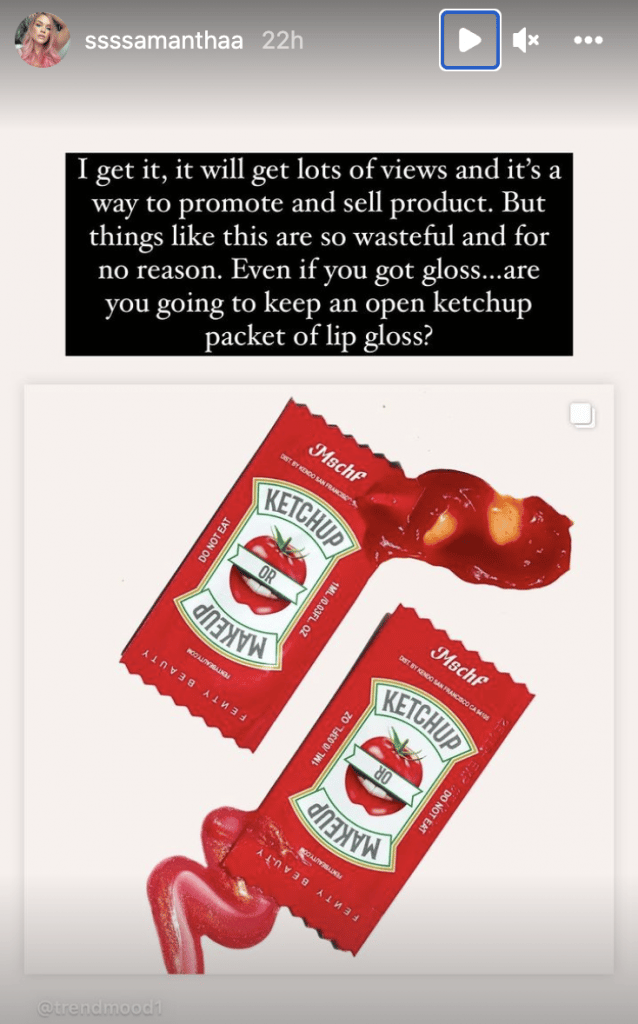 One user noted that for $25 USD you could purchase a both bottle of ketchup and a full-sized lip gloss, which would "both close".
Others admit that the concept is "cute" but the execution is not practical nor would the lip gloss be reusable.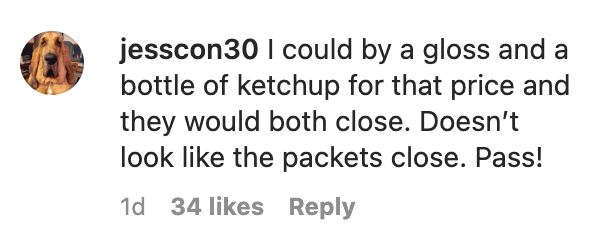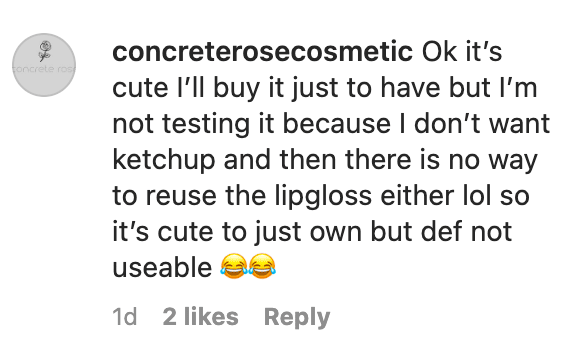 While the collaboration feels a bit like playing Russian roulette with your dollars, there's no doubt it will sell out despite the backlash. Check out Ketchup or Makeup by MSCHF x Fenty Beauty here.