@edenthedoll
YouTuber Eden Estrada AKA Eden The Doll and two friends were attacked in Hollywood last night by multiple men while waiting for an Uber.
The beauty vlogger, who has been documenting her male to female transition on her channel for years, detailed the attack on her Instagram story along with footage which she obtained after one of the attackers posted it to his social media (yes, really).
"I was robbed, attacked, and jumped in Hollywood tonight," she wrote. "I am alive and OK and will update everyone tomorrow." Eden revealed that her friends Jaslene Whiterose and Joslyn Flawless were "really hurt."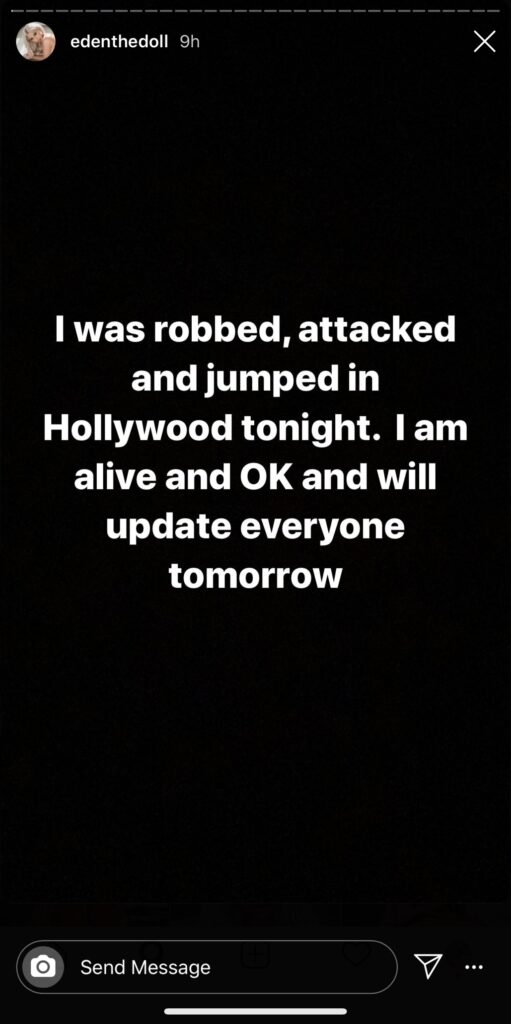 Later, the viral star shared a screenshot of the attacker's Instagram account @stevofilmz, writing, "HE MOCKED US, sexualized and instigated THE ENTIRE attack. Him and his friends stole from us. Beat us. Laughed at us. Humiliated us. AND had the nerve to POST IT." The account has since gone on private.
According to Eden's IG story, the attackers initially attempted to steal the influencer's phone while standing on the street waiting for an Uber. The men then began throwing rocks at the women and chased them down after Eden and her friends ran away.
One of the men then hit Eden before trying to steal her purse.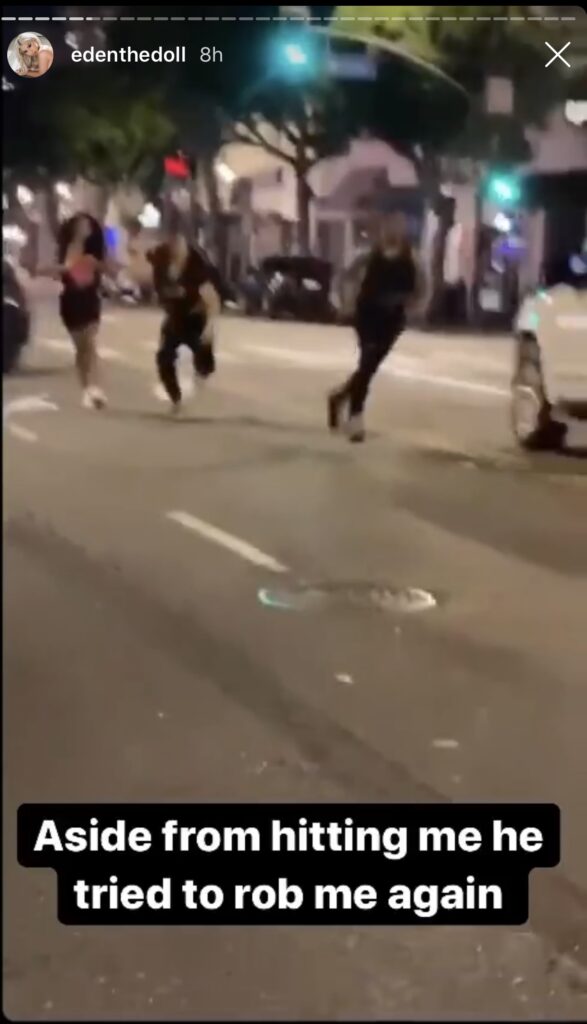 "Now he hits @jaslenewhiterose and steals he bag," recounts Eden. "His friends chase us down in cars." Out of fear, Joslyn handed her bag to the man. Joslyn is reportedly recovering from hip surgery, and video footage shows the model falling as she attempted to flee. "They mock her as she falls and he throws and breaks my phone," Eden writes.
The assault continued as the men threw a scooter at Jaslene and took all of Eden's money in exchange for her now-broken phone. Then, the "worst possible thing happened," says Eden. One of the attackers bashed Jaslene in the head. "She completely passed out on me."
In the footage on Eden's IG story, the men can be heard laughing and saying, "she's dead" as Jaslene falls to the ground.
The same man then held Joslyn at knifepoint and robbed her of her belongings.
Eden says that multiple people passed by during the attack, including police, and did not stop to help.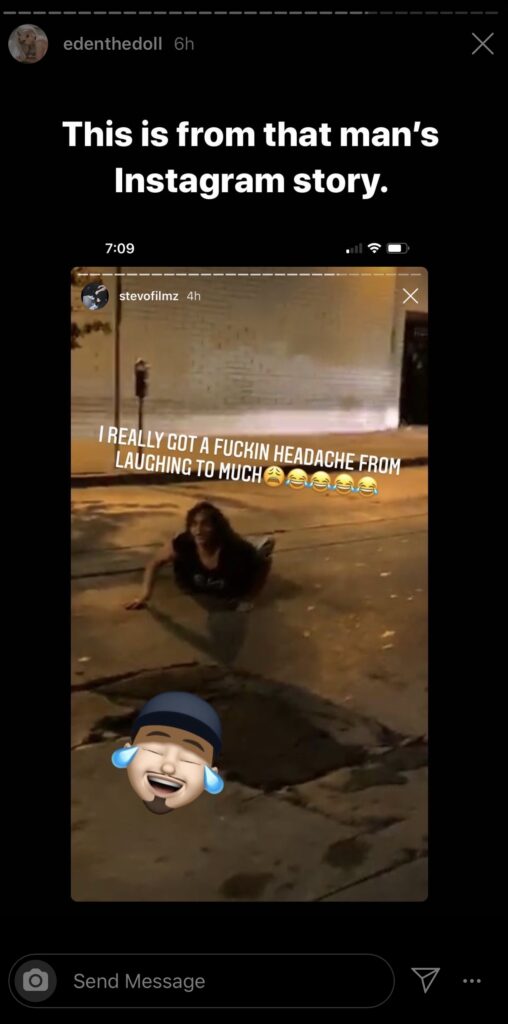 The 25-year-old YouTuber explains that this is not a random attack— but instead a very tragic reality for trans people in America. "Women. Men. Our brothers and sisters. Laughing at us. This is our America," she writes. "Women like me get murdered on the fucking daily."
"People preach Black lives matter and want equality for all but this is how they treat BLACK TRANS WOMEN. If their lives don't matter then none of ours do!!!!!!!"
Both Jaslene and Joslyn are Black trans women.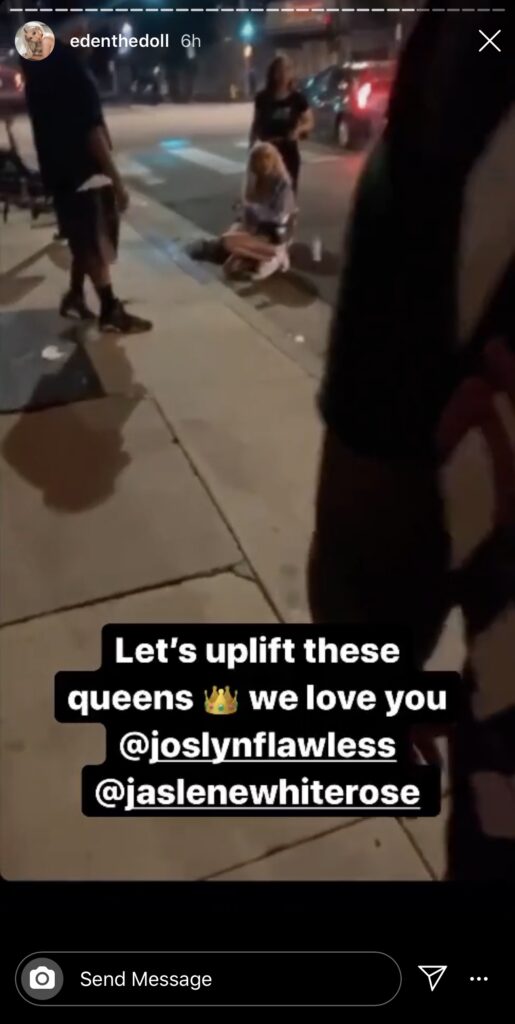 With sky-high unemployment and poverty rates, more than one in four transgender people in America has been a victim of a bias-driven assault— of that, Black transgender women are particularly targeted.
The National Center for Transgender Equality reports that the combination of transphobia, racism, and sexism makes Black trans women particularly vulnerable to violence. "Even in death, the police fail to recognize her for the person she was. Violence against Black trans women happens every day and requires that we all lift up their names and demand justice and a respectful and thorough investigation by police."
Other factors that put Black trans women in harm's way include "unchecked access to guns conspire to deprive them of employment, housing, healthcare and other necessities, barriers that make them vulnerable," according to The Human Rights Campaign.
We sincerely hope that Eden, Jaslene, and Joslyn will recover from this trauma both mentally and physically.
For more on violence against the transgender community, see here.