@billieeilish
https://www.instagram.com/p/CP8kKmvrgFz/
https://twitter.com/defnoodles/status/1404185823952588804
https://twitter.com/defnoodles/status/1405661864982315008
Updated June 17th, 2021
Billie Eilish is the latest celebrity to face a public "cancellation" from fans.
The drama kicked off over the weekend when the 19-year-old singer was spotted at Disneyland with boyfriend Matthew Tyler Vorce after posting snaps of herself hugging, dancing with, and having fun with a group of women alongside the caption, "i love girls."
Though it's unclear how long Billie and Matthew have been dating, it's rumoured the 29-year-old actor is the "secret boyfriend" that Billie mentioned in her 2021 Apple TV+ documentary, Billie Eilish: The World's a Little Blurry.
Billie's Instagram photos— which appear to be promotional shots for her latest music video for the single, 'Lost Cause'— incited accusations of "queer-baiting" from many who feel the artist was intentionally ambiguous with the messaging to appeal to an LGBTQ+ fan base all while dating a man.
Others defend that Billie dancing suggestively with other women may not be related to her sexuality.
Matthew Tyler Vorce exposed for alleged homophobic and racist past
Shortly after receiving backlash for "queer-baiting," resurfaced tweets allegedly written by Billie's new beau began circulating the internet.
In the tweets, Matthew seemingly made racist remarks about Asian people, uses the N-word, uses gay slurs, and makes both sexist and fatphobic comments.
"When I see a pretty girl walking down the street I think two things, one part of me wants to take her out, and talk to her and be real nice, and treat her right. The other part of me wants to know what her head would look like on a stick," he reportedly wrote on Facebook.
Billie has since liked a photo with a statement calling out her fandom and claiming Matthew's alleged tweets and posts were fabricated.
"This fandom is so embarrassing sometimes," the Instagram post says. "Like why would you go in someone's comments and say something that you literally don't even know is true and something y'all LITERALLY MADE UP, sometimes y'all are so dumb. Some of you just need to learn how to mind your business."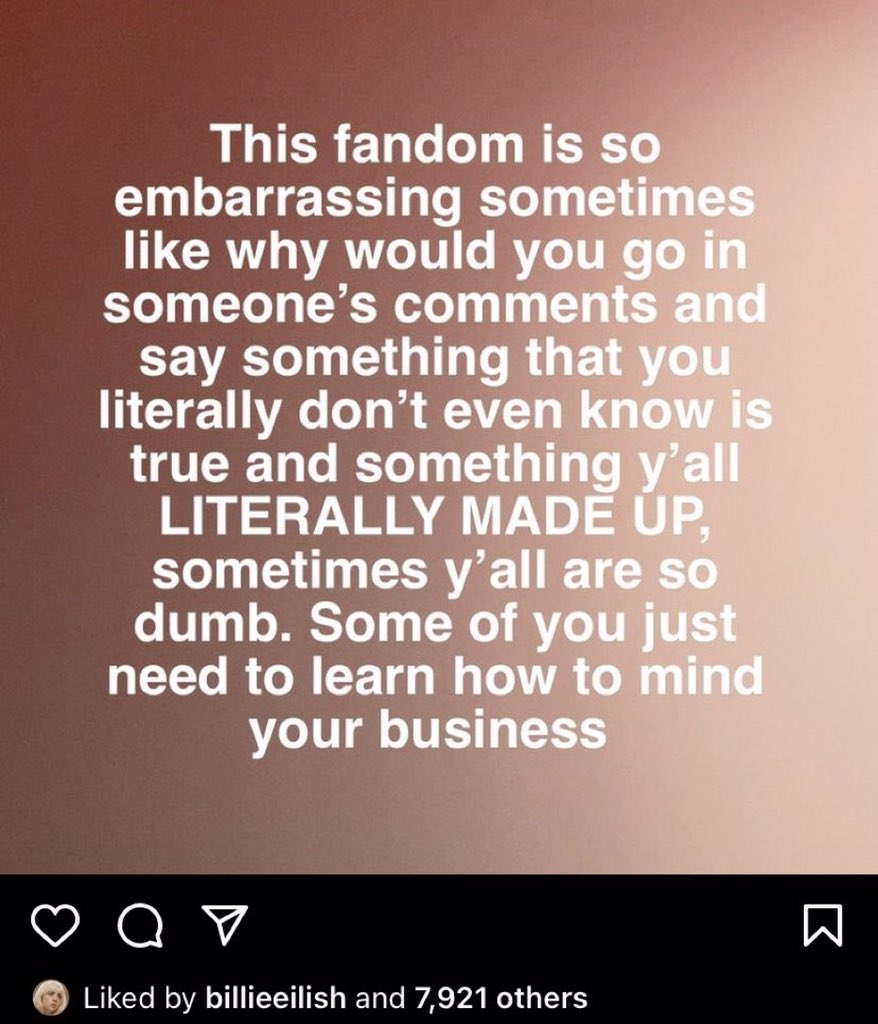 On June 17th, Matthew issued a response to the allegations and admits many of the posts circulating were, in fact, written by him.
"I want to apologize for the things that I wrote on social media in the past," he wrote on Instagram stories. "The language I used was hurtful and irresponsible and I understand how offensive those words are. Whether it was a lyric, a quote, or just me being dumb, it was not matter. I am ashamed and deeply sorry that I used them in any context. It is not how I was raised and it is not what I stand for. I shouldn't have used this language in the first place and I won't use it again."
He finishes saying he takes "full responsibility" and will continue to hold himself accountable for his actions.
Billie has not yet formally addressed the allegations of "queer-baiting" or Matthew's tweets at the time of publication, though fans are putting intense public pressure on the star to do so.