@loganpaul / @misfitsboxing
As Dillon Danis and Logan Paul gear up for their boxing match on October 14th, the former MMA fighter has gone on a misogynistic rampage against Logan's fiancée.
Dillon and Logan are slated to duke it out at the next Misfits x DAZN boxing event, dubbed "The PRIME Card". YouTuber KSI and boxer-turned-influencer Tommy Fury are also set to fight at the event.
Dillon found fame as Connor McGregor's sparring partner and according to MMA News, he became notorious "as one of the combat sports world's biggest trolls."
In the lead-up to the August 22nd press conference for the match, Dillon took his trolling to the next level by trying to publicly humiliate fitness influencer Nina Agdal, who recently got engaged to his boxing opponent.
Over the course of several hours, Dillon reportedly posted 27 tweets antagonising Logan with attacks against Nina. Many of these tweets included photos of Nina alongside other men, suggesting she had been intimately involved with them.
Clearly, some of these photos were digitally altered for impact, including a photo of Nina standing between Andrew Tate and his brother, Tristan.
Dillon also made a video compilation of photos of Nina with her ex-boyfriends or men she's been linked to in the past. Dillon himself was also reportedly romantically involved with Nina at one point.
Logan has allegedly threatened Dillion with legal action.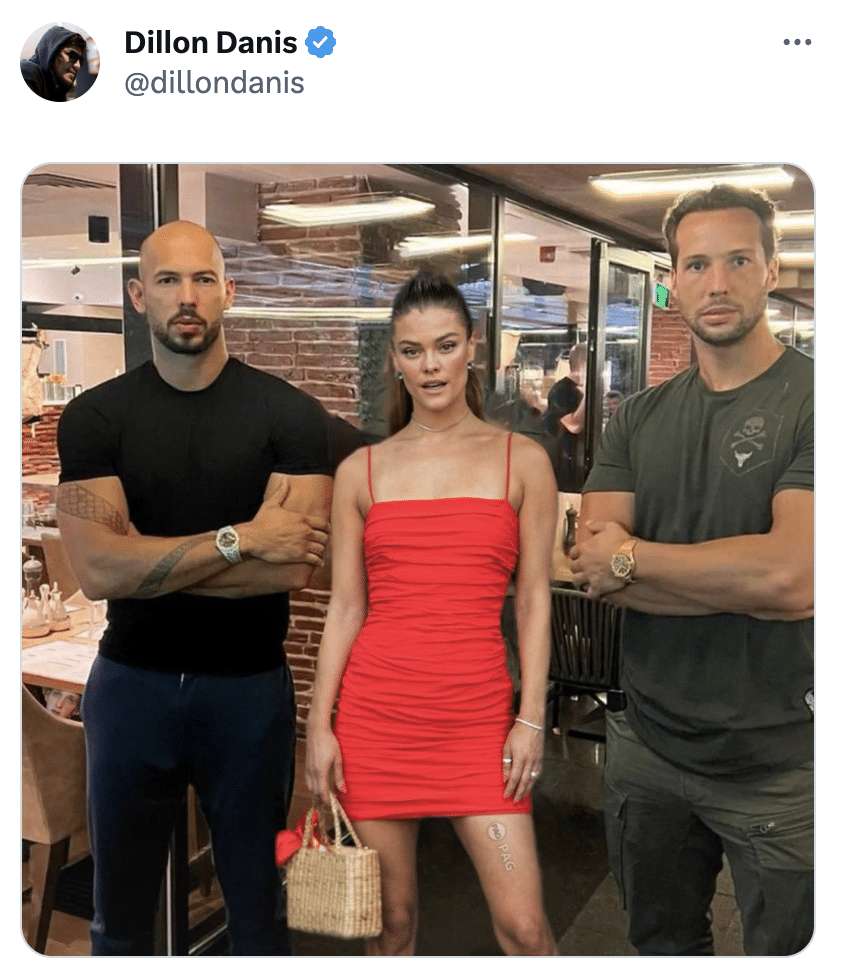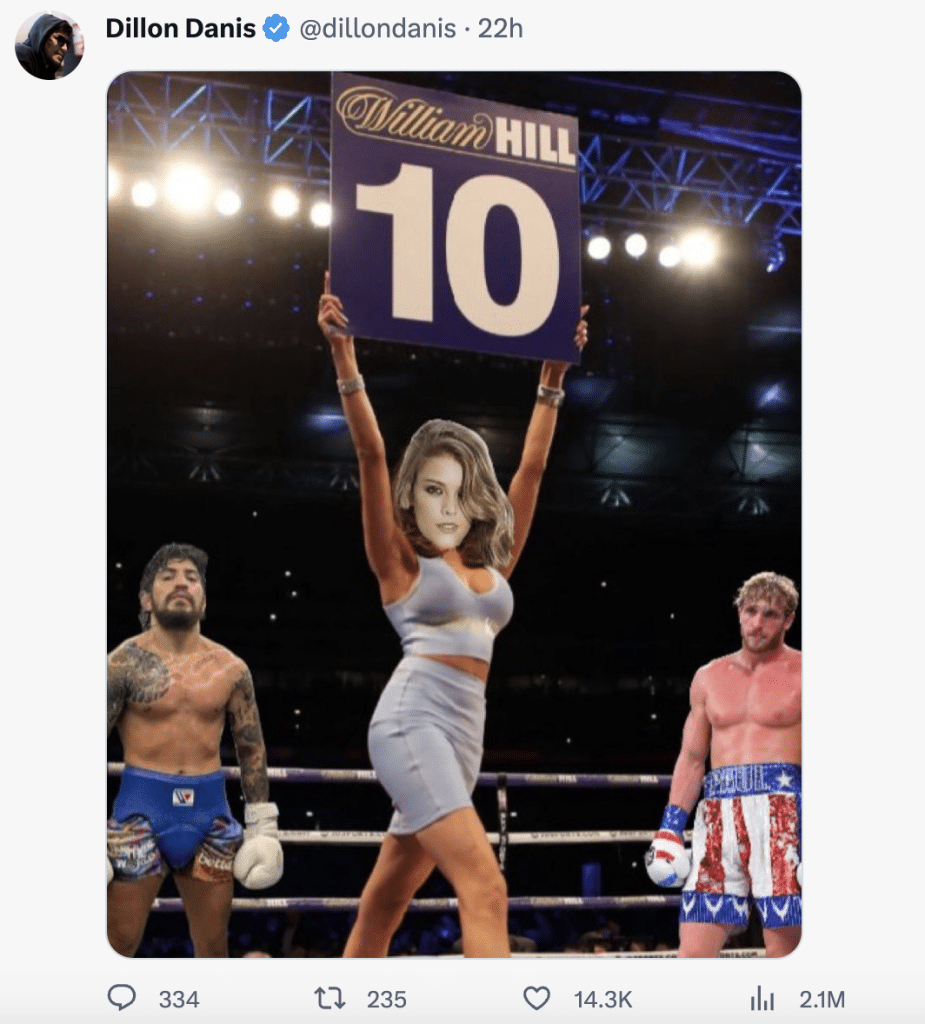 Dillon then suggested he had a photo of Nina that is so defamatory it would get their fight cancelled. He threatened to release it if he hit 2 million followers on Instagram.

During the press conference, Dillon and Logan got into it. Logan brought a photo of Dillon getting "choked out by a bouncer at a club" to which Dillon responded, "Your girl got f***ed by 75 guys before you married her so shut the fuck up."
At one point, Logan brought out a birthday cake shaped like Dillon knocked out on the floor. The press conference was held on Dillon's 30th birthday.
"This is an edible cake. We will be cutting it up and passing it around to anyone who wants [some]," Logan said of the cake. "Just like his girl, just like his fiancée," Dillon responded.
Logan then claimed that Nina "rejected" Dillon to go "hook up with real athletes."
"You don't gotta take that shit out on me because my brother hooked up with your ex," Logan said.
"At least I got rid of the slut. You're marrying one," the former fighter replied. Dillon previously dated model Savannah Montano, who allegedly hooked up with Logan's brother Jake Paul after their split.
Logan then stood up and defended Nina against Dillon's misogynistic attacks.
"Dillon, run your mouth all you want, but you know damn well you ain't never been with any girl as beautiful as my girl," he said. "My superstar whose apartment costs more than your entire networth."
Shortly after, the press conference ended with a physical brawl prompted by Tommy Fury's father John Fury.
Dillon claims he was escorted out by police for safety reasons.