@gabibutler1617
Netflix reality star Gabi Butler is facing major backlash online after old photos of her in blackface have resurfaced.
Gabi found fame in Netflix's docuseries, Cheer, about the Navarro College cheer squad and has since acquired 2.6 million followers on TikTok with her lifestyle, cheer, and faith-based videos.
Earlier this week, a photo of Gabi wearing blackface in a car was uploaded to Twitter and unsurprisingly, the internet was both shocked and horrified at the image.
The reality star took to Twitter with a lengthy explanation for the leaked photo.
"In 2018, I was in my first year at Navarro College just prior to leaving for Daytona. All members of my rookie class were told by our veteran teammates we had to come to an initiation at CTA (the Allstar location off campus where we practised). The veterans made us dress in all black and paint our faces all black. The rookie class followed instructions by wearing black clothing and painted faces; certain members wore ski masks as they did not have face paint. My rookie teammates, including a few who also happened to be people of color, were asked to do this and we complied with the request as we did not want to get in trouble with said veterans," she wrote.
"The picture circulating social media was taken in the parking lot of CTA prior to the initiation. Accompanying this statement is proof of the veteran's request as well as pictures and videos of some of my other rookie teammates who followed the same instructions. I hope these teammates will stand behind me and verify this to be an accurate account of what happened that day. I am sorry I need to pull my teammates into this, but I have no choice but to speak the truth about this situation since the lie has been spread across social media."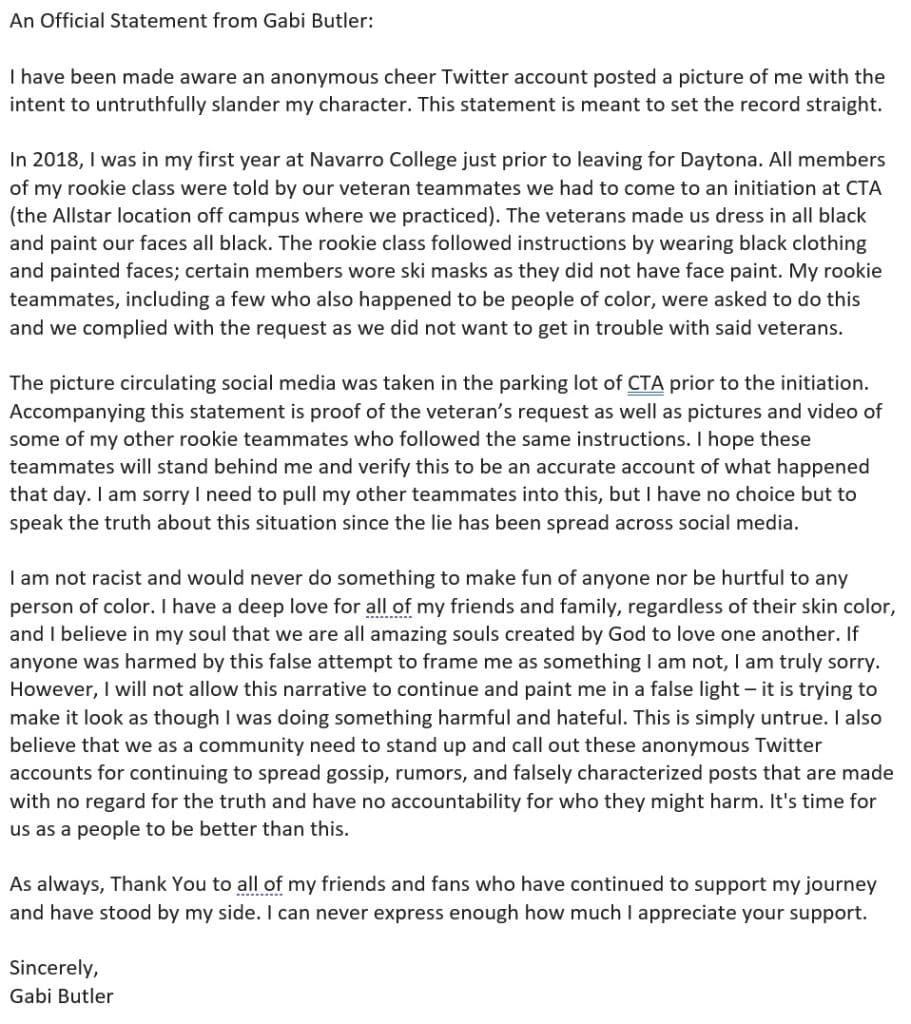 Along with the statement, the athlete shared several photos of other teammates in blackface paint as well as a screenshot from another teammate with the dress code instructions for the initiation event.
She went on to say that she is "not racist and would never do something to make fun of anyone nor be hurtful to any person of color".
She then blamed Twitter users for spreading "gossip, rumors, and falsely characterized posts that are made with no regard for the truth and have no accountability for who they might harm."
Fans were underwhelmed by her apology and felt Gabi evaded accountability.
"Did gabi butler really think that posting her reasoning behind it would make the situation better … now everyone knows that Navarro's form of hazing is literal racism," wrote one Twitter user.
"Gabi Butler participating in blackface and blaming it on the college is heartbreaking to see as a cheerleader who grew up looking up to her… I'm really disappointed," wrote another.
Gabi's co-star La'Darius Marshall took to Twitter to clarify the situation. "No, what we won't do is throw the "other people of color" under the bus. The rest of the minority's spoke out against this [blackface initiation]," he tweeted.
At the time of writing, Navarra College and head coach Monica Aldama have yet to make a statement addressing the situation.