@taylerholder
Say it ain't so!
TikTok star Charli D'Amelio has just confirmed split from boyfriend Chase Hudson AKA Lil Huddy.
In an Instagram story posted on late Monday night, Charli finally addressed her relationship status with the following statement:
"Hey guys, Since you guys have watched mine and Chase's relationship from the start, I decided I needed to tell you that we are no longer together. It hurts me to say this, but we've decided this is what's best for the both of us. We are still close friends and I would not change that for anything! I truly have so much love for Chase and wish nothing but the best for him! It makes me so happy to see all of the great things he has going for him."
Charli then apologises for not sharing the news sooner, indicating that their relationship has been over for a while. "I'm sorry I waited so long to tell you all. I wanted to take the time to process it for myself."
She ends by saying she'd prefer not to speak on this again. "Breakups are tough for anyone, so I'd really rather not talk about it anymore. – Charli"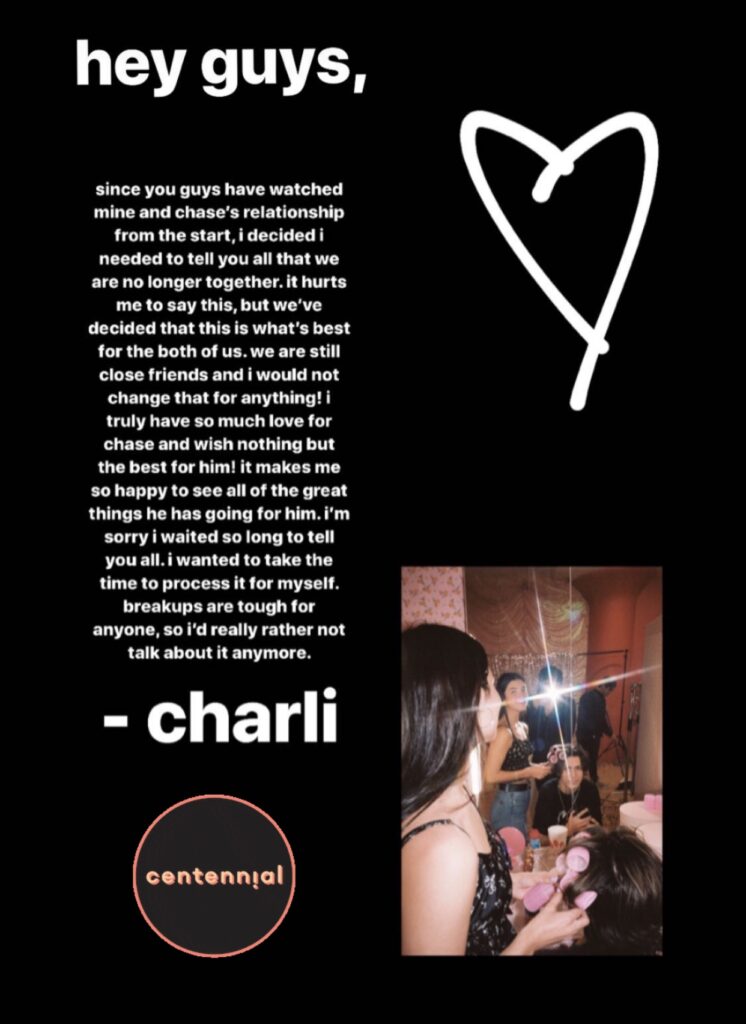 Shortly after Charli set her story live, Chase also posted a similar Instagram story, saying Charli is "such an amazing person" and he is so "beyond grateful and blessed to have spent time with her."
He also confirmed they will remain friends and apologises for taking "so long" to share the news with fans.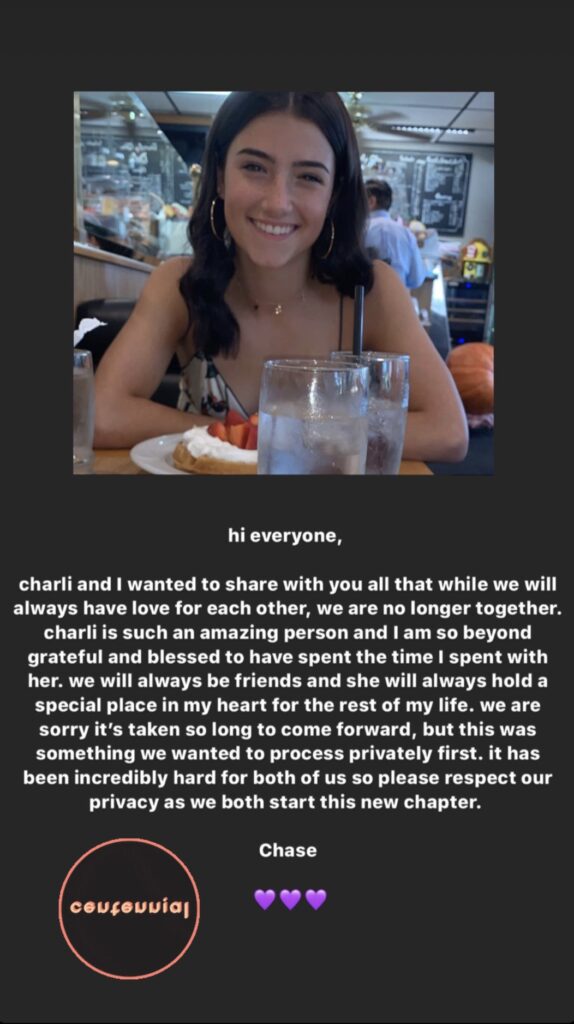 The split comes as no surprise to fans, who speculated the two broke up in late March after fellow TikTok stars Josh Richards and Bryce Hall accused Chase of cheating on Charli in their infamous diss track Softish.
However, it seems the split may have happened before the diss track even dropped. At the time of release, the two had not featured on each other's TikToks in over a month and had seemed to stop interacting on social media (aside from the occasional "like" here and there) weeks prior.
In spite of the breakup, Charli seems to be doing well. She's currently isolating with her family back in Connecticut, she just launched her Dunkin' Donut inspired clothing line, and she recently became the most followed person on TikTok with over 48 million followers.
We're ready for that post-breakup content, girl!
For the down-low on the rest of the relationships in the Hype House, we've got you covered.