Charli D'Amelio / Justin Bieber
The cross-over we didn't know we needed!
Today, TikTok star Charli D'Amelio got the surprise of a lifetime when Justin Bieber joined her Instagram livestream.
The multi-platinum singer had a special message for the 16-year-old viral star. With over 85,000 fans tuned in, Biebz asked Charli to check her direct messages after she's done with her stream, writing, "Please check ur dm when ur done ur live THANKS."
And judging from her reaction, it's probably safe to assume this was totally unexpected.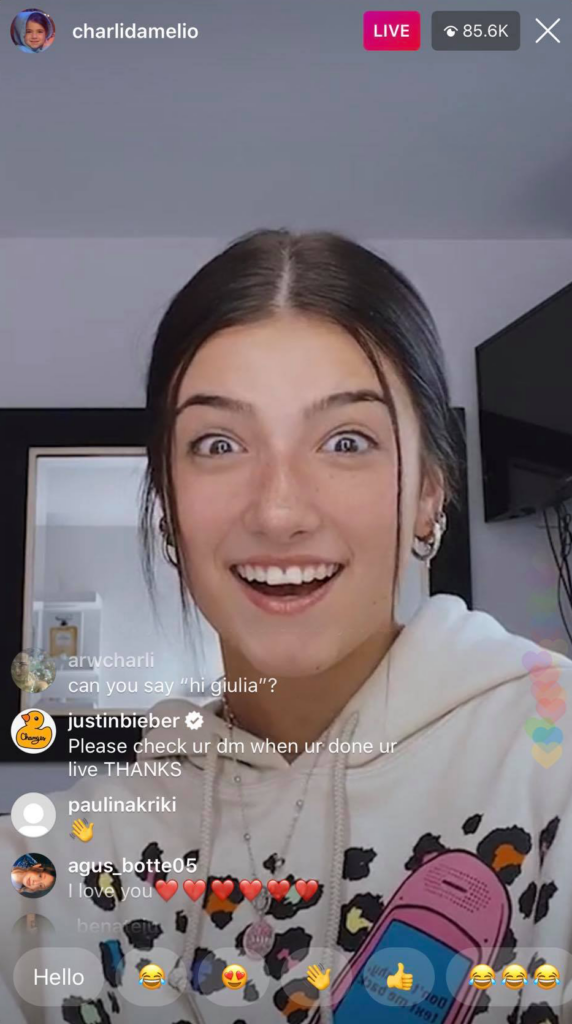 The message has sent fans into a tailspin of theories over what his DM could be about. Top of the list is a potential offer to collaborate on a dance for his new song with Ariana Grande, Stuck With U. Others speculate that Justin may be trying to plan a surprise for his 11-year-old sister, Jazmyn.
This is not the first time that Justin has acknowledged TikTok's biggest stars. Just last week he and wife Hailey Bieber FaceTime called Addison Rae after the viral sensation beat Hailey in a virtual tennis match for charity. On the call, the couple congratulated Addison on her win and complimented her dance moves.
We'll be waiting with bated breath for a Charli D'Amelio x Justin Bieber collaboration in the near future.
Until then, we're putting notifications on for Charli's livestreams.