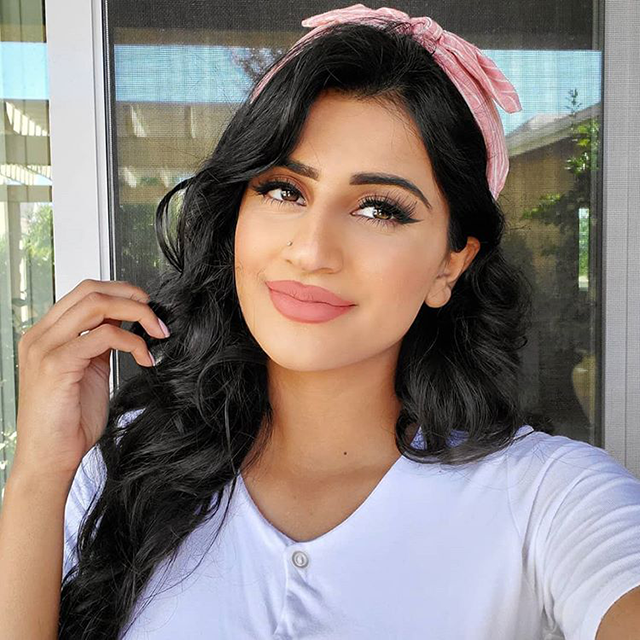 @kaurbeautyy
Remaining authentic and humble as a beauty YouTuber is no easy feat. From lavish press trips to endless free product to sponcon that pays more than most yearly salaries, success for these online stars comes at the price of normalcy, with some holding more power and influence these days than traditional celebrities.
And while it's occasionally fun to indulge— watching Jeffree Star do his makeup on a private jet or Jaclyn Hill's multi-million dollar closet tour— consuming too much aspirational content like this can sometimes lead to comparison, low-self worth, and generally just make us feel bad about our lives.
So with 2020 just around the corner, we're ready to start the new year off with a clean slate and a positive headspace without sacrificing the content we love.
Here are 10 beauty YouTubers to follow in 2020 that won't make you feel like shit.
1/ RawBeautyKristi
Subscribers: 810K
Instagram: @rawbeautykristi
Why you should follow her: One of the first plus-sized beauty gurus to make it big, RawBeautyKristi is a self-taught MUA and a total breath of fresh air in the beauty community. If you looked up "down to earth" in the dictionary, Kristi's name would be there. Along with beauty content, she vlogs about rescuing animals, self-sufficient living, and isn't afraid to speak up on the darker side of the beauty community.
2/ Samantha Ravndahl
Subscribers: 973K
Instagram: @ssssamanthaa
Why you should follow her: As the first beauty influencer to publicly denounce receiving PR (she asked to be removed from every single PR list last year), Samantha Ravndahl challenges industry standards in all the right ways. She stays in her lane, doesn't get involved in drama, advocates for more sustainable practices in the beauty community, and speaks openly about her struggles with depression over the years.
3/ Kaur Beauty
Subscribers: 260K
Instagram: @kaurbeautyy
Why you should follow her: Kaur Beauty is the definition of someone using their influence for good. As a makeup artist and full-time medical student, she makes videos from the scientific side of the beauty industry – dissecting formulas, debunking myths, and sharing informed opinions on all things product development. She also creates a ton of videos centered around Punjabi beauty, culture, and fashion.
4/ Smokey Glow
Subscribers: 118K
Instagram: @glow_smokey
Why you should follow her: Hannah of Smokey Glow is a beauty and commentary channel hybrid. Studying a Masters in Social Work, her commentary-style videos are totally different from typical drama channel videos – sharing articulate, well-rounded opinions and observations on the impact the online beauty world is having on society. She is constantly advocating for equality for all communities and ends each video reminding viewers to register to vote.

5/ Deepica Mutyala
Subscribers: 251K
Instagram: @deepica
Why you should follow her: Deepica Mutyala is changing the beauty game. After one of her videos went viral (where she used lipstick under her eyes to colour correct), she was inspired to build Live Tinted, an inclusive online community for women who are often left out of the narrative. She's since launched her own product through the brand called Huestick, a multi-use colour correcting stick that can be used across eyes, lips and cheeks. When she's not running a successful beauty bizz, she's vlogging with her family and they're so wholesome and cute you can't help but hit subscribe.

6/ Jen Luvs Reviews
Subscribers: 262K
Instagram: @jenluvsreviews
Why you should follow her: The most thorough beauty reviewer in the game, Jen Luvs Reviews is a beauty education channel, sharing in-depth reviews and complete evaluations of products, ingredients and formulas for new releases. Jen also does beauty news round ups and weekly live chats where she encourages her subs to take part in the conversation.

7/ Alissa Ashley
Subscribers: 2M
Instagram: @alissa.ashley
Why you should follow her: Alissa Ashley is exactly what we want from a beauty guru. Her bread and butter is makeup reviews and get ready with me videos and despite being a larger channel, she manages to stay out of drama and focus on creating amazing content. As a WOC, she often speaks out on lack of representation in the beauty industry and doesn't shy away from sharing the not-so-glamorous parts of her life, making her relatable AF.

8/ BEAUTY NEWS
Subscribers: 547K
Instagram: @beautynewsofficial
Why you should follow them: Melbourne-based MUAs Hailey and Kat run Beauty News – a channel about, well, beauty news. The duo report twice a week on all new makeup releases (yes, all of them) and are the creators of the most popular makeup destroying series on YT, The Makeup Breakup, where they completely obliterate makeup products to test the validity of product claims.

9/ Nyma Tang
Subscribers: 1.1M
Instagram: @nymatang
Why you should follow her: Nyma Tang shot to fame last year with her series, "The Darkest Shade" where she tests the darkest foundation and concealer shades brands have to offer. The series went viral, casting a glaring spotlight on the incredible lack of diversity in shade ranges and the struggles POC face when it comes to beauty. Nyma's warm and inviting personality shines through in all her content, including routines, vlogs and GRWMs.

10/ Michelle Phan
Subscribers: 8.9M
Instagram: @michellephan
Why you should follow her: Often considered the world's first beauty guru (she started her channel over 12 years ago!), Michelle Phan abruptly abandoned YouTube a few years back, saying she couldn't handle the pressure of fame and money anymore. Fans were devastated, thinking the OG influencer was gone forever. However in a wonderful turn of events, Michelle returned to the platform a few months ago and has been creating content ever since! Her new content is mainly vlog-focused where she shares snippets of her more low-key life as founder of her makeup brand, EM Cosmetics. Despite being the first world-famous beauty guru, Michelle remains humble, relatable, and totally down-to-earth.

We stan.