https://www.instagram.com/p/CHlk6CPByUq/
https://twitter.com/defnoodles/status/1328160187924893696
https://twitter.com/defnoodles/status/1328163183987593216
A battle of YouTube's alpha-males.
Austin McBroom of popular vlogging channel The ACE Family has started serious beef with some of the internet's biggest egos in what feels like a never-ending back-and-forth saga of social media threats and call outs.
Yesterday, the YouTuber took to Instagram to challenge Jake Paul to a boxing match for a prize of $5 million. "There's a whole lotta boxing talk going on lately. I've been an athlete my entire life so it would be disappointing for me not to get involved," he wrote in the caption alongside a photo of he and his partner Catherine Paiz McBroom. "@jakepaul been running from me for years. I got $5m for whoever steps into the ring with me. TAG who you think would want this smoke."
The challenge is not totally unsolicited, as Jake has been attempting to make a name for himself in boxing in recent years.
Jake responded to Austin on IG stories, writing, "I'd be more worried about your wife in my DMs." He then went on to poll his followers, asking them if he should "post the reciepts" of Catherine in his DMs.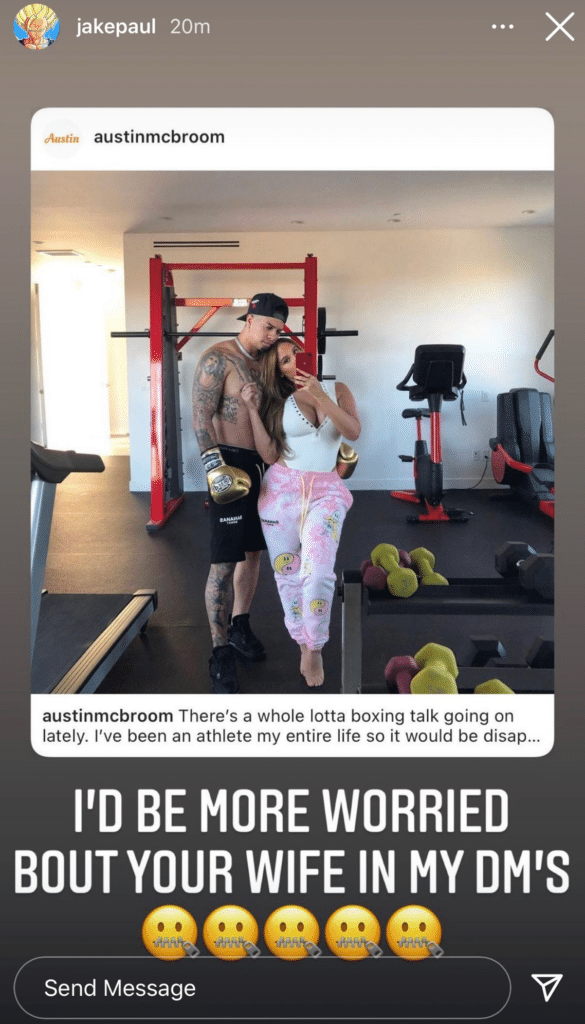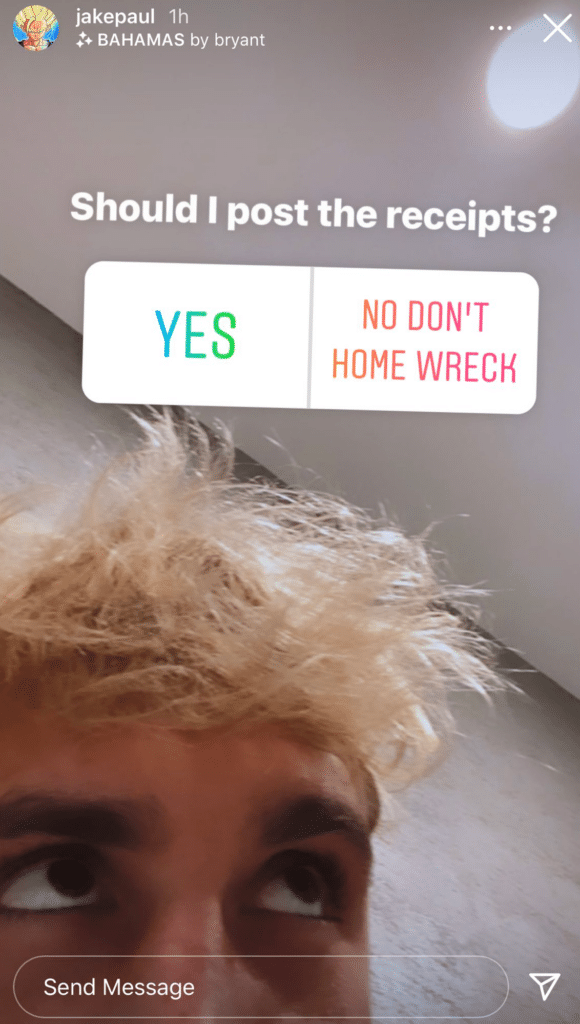 Unsurprisingly, The ACE Family matriarch didn't take kindly to Jake's claims, responding via Instagram story but quickly deleting it. "How original," she wrote. "I forgot you existed until my husband mentioned you today. @jakepaul I'll be sending you an invoice for all this free publicity."
Jake screen-grabbed the story before it was taken down and reposted it. He also posted a screenshot of his DM inbox that shows Catherine messaged him saying, "Delete your story wtf??"
But it didn't end there.
Austin jumped back into the drama, posting photos of the three most-tagged people in his boxing challenge photo— Jake Paul, Logan Paul, and Bryce Hall. He called them all "weak."
Of course, they couldn't resist clapping back. TikTok star Bryce Hall responded to the challenge via Twitter, writing, "Do people still even know Austin McBroom?" followed by, "Why did I see this 30 year old man call me out on his Instagram story when he has my number? Don't you have a whole family to take care of bro? I'd be embarrassed as a father if I were you rn.. @AustinMcbroom."
The father of three doubled down, saying on Instagram stories that "these little boys" think he's joking about the fight because he has a family. He then takes a dig at Jake Paul for "never" winning any of his boxing matches and threatens to beat him up for involving Catherine in the drama.
Shortly after, Jake posted a bizarre Instagram story dubbing over Austin's previous video pretending to speak for the 28-year-old. "So basically I couldn't make it to the NBA as an athlete so I become a YouTuber," Jake says, pretending to be Austin. "And now since all these YouTubers are boxing I wanna be a part of it. Catherine, why didn't you tell me my hair looks like shit?"
He then goes on to diss Austin's collarbone (really) and calls him fat.
Austin finished (at least for today) by posting Photoshopped photos of Jake as a duck including multiple threats using the hashtag #duckhuntingseason.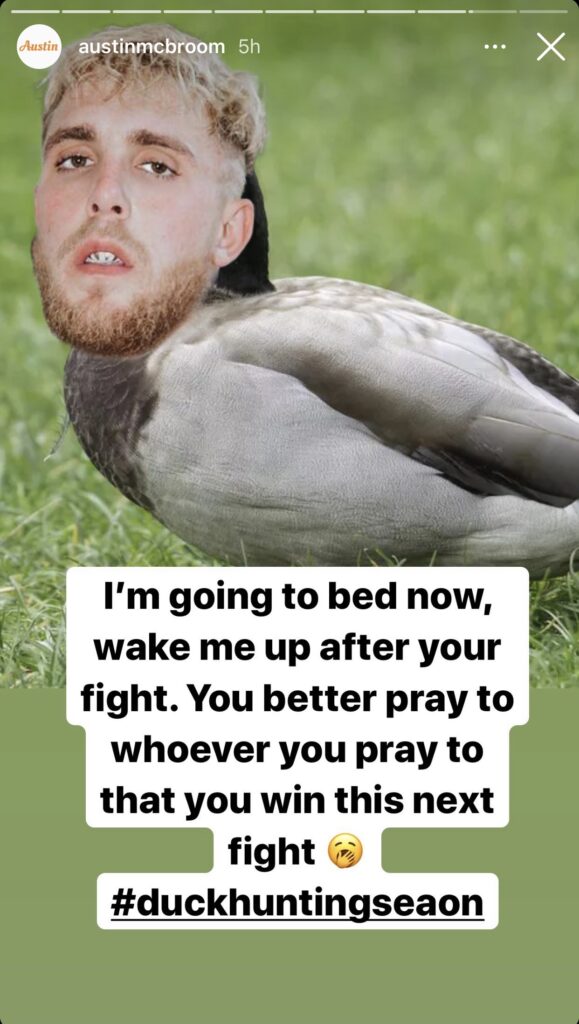 Jake Paul has not yet retaliated at the time of publication.
And that's on the most childish YouTuber feud to ever grace our screens.