https://www.instagram.com/p/CBrc56ABpWn/
https://twitter.com/maddeesawnn/status/1274028537842995208
https://twitter.com/maddeesawnn/status/1274111119469228039
https://twitter.com/ItsnotKadi/status/1274592782816956416
https://twitter.com/cristinasoh/status/1274022849100079105
https://twitter.com/stronomicaI/status/1274050347112321026
https://twitter.com/MissAmericHANA/status/1274599329374670848
https://twitter.com/mybonesmending/status/1274597194150973440
Multiple have come forward with allegations of sexual assault against actor Ansel Elgort and singer Justin Bieber.
On June 19th, a brave woman named Gabby took to Twitter to share a lengthy note under the caption, "My story with Ansel Elgort."
TW: sexual assault.
In the post, the survivor alleges that Ansel assaulted her when she was just 17 and he was in his 20s. She starts by explaining she is not doing this to 'clout chase' but instead because she needs to finally heal. She also claims, "I know I'm not alone and he's done this to other girls."
Gabby says she sent Ansel a DM prior to her 17th birthday and he sent her his private Snapchat account. "I didn't think he'd ever see my DMs I was just a kid and was a fan of him," she writes.
"Ansel Elgort sexually assaulted me when I was 17."
Of the attack, Gabby says she disassociated in the moment. "Instead of asking if I wanted to stop having sex knowing it was my first time and I was sobbing in pain and I didn't want to do it," she says. "The only words that came out of his mouth were 'we need to break you in.'"
Gabby alleges that Ansel also asked her to send him nude photos while she was underage and wanted to have a threesome with Gabby and one of her "dance friends" who were also underage.
"I didn't tell anyone because he said it would 'ruin his career,'" she explains. "Years later I have PTSD, I have panic attacks, I got to therapy. Finally I'm ready to talk about it and finally heal."
She finishes saying there's much more to the story that she has chosen not to post. She also included photos and screenshots to corroborate her story.
One day later, a woman named Danielle shared her experience of allegedly being sexually assaulted by Justin Bieber in 2014, saying Gabby's story inspired her to come forward.
In her own words, Danielle starts by saying she wishes to remain anonymous. "I know you remember me," she writes. "I hope your life is hell after this and you drown in guilt."
The survivor alleges that despite being in a relationship with Selena Gomez at the time, he got Danielle up to a hotel room at the Four Seasons Hotel after they attended a private party hosted by Scooter Braun. "Justin had made me agree to not saying anything to anyone, or I can get in serious legal trouble."
Danielle explains that she was naturally star-struck by his attention, however things took a turn quickly. She alleges the singer forced himself inside her despite her pleads. "I told him that this was going too far and that we should stop because I needed to find my friends, most importantly because I felt guilty about Selena," she writes. "That's when he told me: 'Relax. They're all okay.'"
"I told him to get off because I was starting to worry about my friends, but it was too late. He forced himself inside me before I got the last few words out."
Danielle ends by saying it took her years to finally reveal her sexual assault to her close friends and family. "If you've ever been a victim of sexual assault, I believe you," she finishes. "You and your story matter."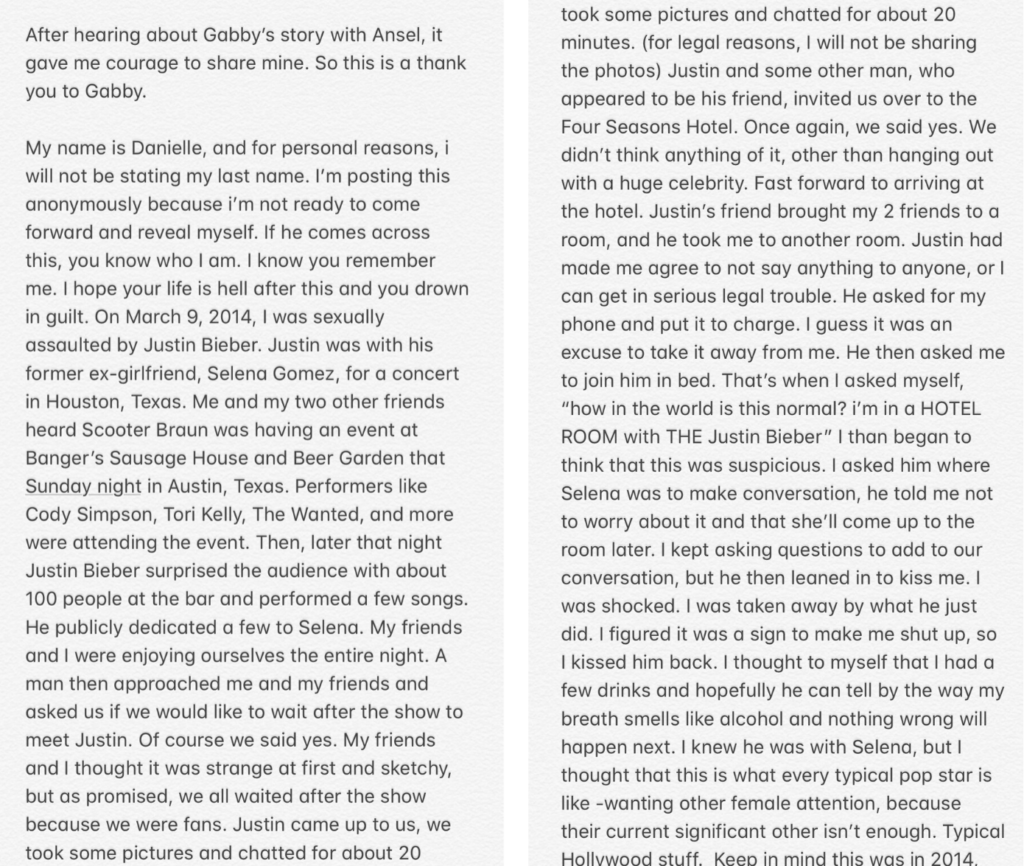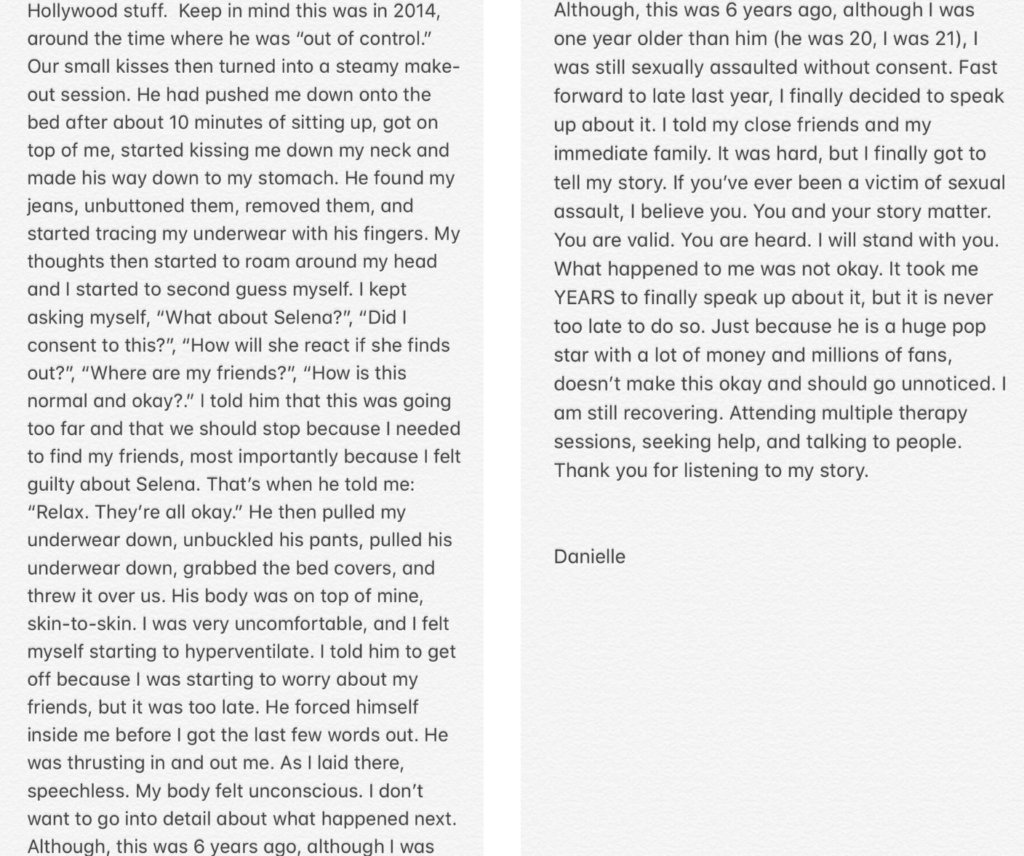 Both Ansel Elgort and Justin Bieber have denied the allegations.
This morning, Ansel posted a note to his Instagram account, claiming he was in a "brief, legal and entirely consensual relationship" with Gabby and that he did not handle the breakup well.
Commenters were quick to note that Ansel failed to address the sexual assault allegations, as being in a relationship does not automatically grant consent for sex.
While Justin has not directly addressed Danielle's allegations himself, a member of his team, Allison Kaye, has responded to a fan's DM asking for clarification. Allison maintains Justin's innocence and initially claimed he was staying at an Airbnb and not the Four Seasons Hotel on that date.
However, internet sleuths have seemingly debunked this claim, digging up old tweets that allegedly confirm Justin was not staying at an air bnb.
Since these allegations have gone public, multiple other brave women have come forward claiming they were sexually assaulted by these celebrities too.
Thousands of social media users have come to the survivors' defense— showing support, sharing their own stories, and fighting to silence those who say they don't believe the women.
"When a survivor is brave enough to tell their story, whether they're talking about someone as famous as Ansel Elgort or not, we must believe them," wrote one user. "There's no room for rape apologists and shaming survivors. We believe survivors, there's no other option."
User @stronomical shared a screenshot of a GQ interview with Ansel where he called himself a threat to women, writing, "Ansel Elgort really said this with his whole chest and y'all are victim blaming?"
Many are calling for justice to be served and reminding fans that believing survivors is more important than trusting in "your fave."
Some empathise with how scary it would be to come forward against wealthy, powerful men, while others can't believe justice hasn't been served for these men yet.
We commend the survivors for coming forward.
We believe you and we stand with you.