TikTok / @yafavv.mandaa
We have all stumbled across a couch dumped on the side of the road at one point or another. Most of the time, it is ripped to shreds or covered in dirt. But sometimes – only if we are lucky – we come across a sofa worth taking home.
TikTok user @yafavv.mandaa – real name Amanda Joy – is going viral after she found her dream couch on the streets of New York City. The original TikTok, which has amassed over 50 million views in three days, shows the creator as she comes across the sofa, gives it a deep clean and finally brings the couch up to her apartment. 
"This is me finding an 8000-dollar couch in the middle of the street", she begins in a voice-over. "It was pouring raining, and I was walking home, and I saw this couch in the middle of the street and called my dad, begging him to come to pick it up because I couldn't just leave that couch there."
It soon becomes clear that Amanda believes the sofa is the "Bubble" couch from Roche Bobois – a French luxury home brand specialising in contemporary interior design.
Amanda and her father cleaned the couch using "soap, water [and] a vacuum", allowing it to dry before finally bringing it home. And while this all may seem like a pretty normal process, viewers have had a lot to say about it.
TikTok users flooded her comment section, claiming she did not thoroughly clean the sofa. Meanwhile, others have shared their own stories of finding their dream couch on the side of the road – only to be met with disaster.
"I did that once and got a roach infestation," one user wrote.
"It still looks filthy. That's a hard NO. Especially in NYC. An 8k couch is on the curb for a reason," another shared.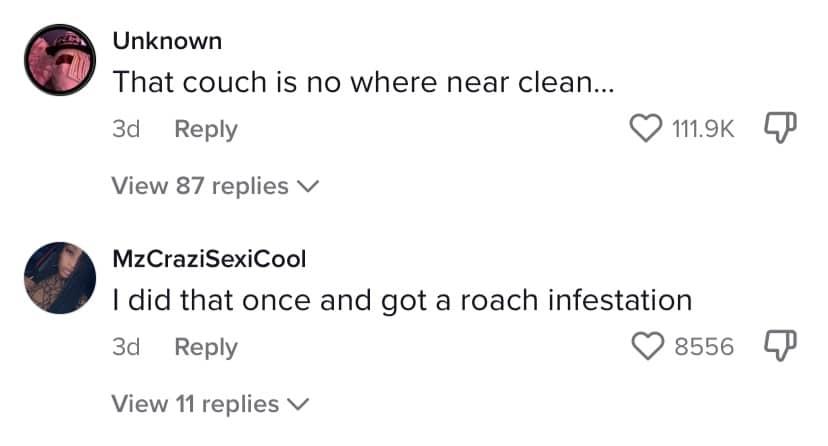 To make matters worse, it appears that Amanda's new sofa may be from somewhere other than Roche Bobois.
Twitter users have jumped in on the "Blue Couch" discourse, pointing out that the material in the video differs from the sofa on the company's website.
Sharing close-up screenshots of the fabric to compare the couches, Twitter user @ds00za writes, "It's a knock-off. the fabric isn't correct. It should be that honeycomb/meshy synthetic that they use." With this post accumulating over 13 million views and 75 thousand likes, Twitter users seem to agree that the sofa is a fake.
Some viewers have even taken the investigation one step further, crawling through the internet to find dupes of the Bubble couch. Users, like @shaTIRED, speculate that the sofa came from AliExpress, as the company sells a couch that resembles Amanda's for $600.
As expected with any viral moment, Twitter users have wasted no time jumping on the bandwagon and poking fun at the "Blue Couch" phenomenon.
Numerous users have taken to the platform, pretending to be the people who discarded the sofa. These posts have quickly gained traction, accumulating millions of views and tens of thousands of likes.
"heard the craziest story last night at a party. buddy of mine found this $8k couch in an abandoned building, took it home, & found it's haunted. the ghost of a Victorian child would rise off it every night at 3 am and stare at him, blankly. he threw the couch on a sidewalk last wk," one user Tweeted.
"Yesterday I had to say goodbye to my $8000 couch because I found 2 million individual bed bugs and three different colonies of bacteria inside of it, and it stinks really bad. I left it on the sidewalk for garbage collection," Twitter user @SaeedDiCaprio writes.
Amid all the talk, Amanda has taken to TikTok with a much-anticipated "couch update."
Responding to a comment from a user that reads, "It looks so good, but I'm SO SCARED about it being BED BUG CENTRAL," the creator explained the cleaning process in detail before showing the sofa's Roche Bobois tag – hoping to put an end to all AliExpress claims.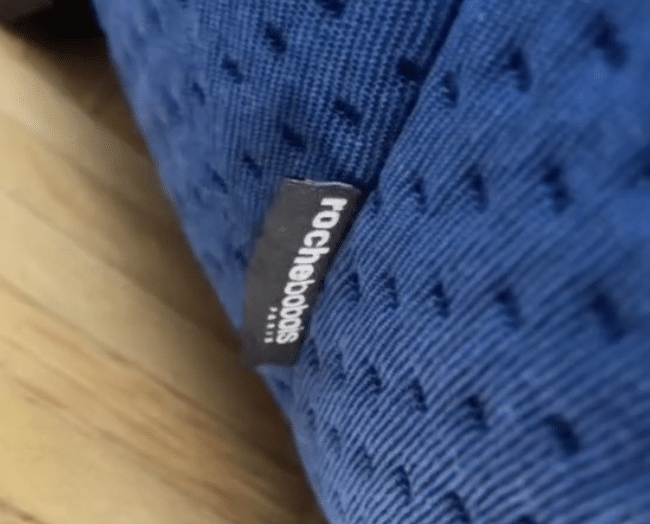 "[The sofa] was outside for less than 24 hours. When I saw it, it was pouring raining, the next day, in the morning, I went to go pick it up…" she says. "It was brought back to my dad's workplace, we cleaned it, and it sat in his workplace for over two weeks… If there were bed bugs, we would have seen it."
Amanda also shared why she believes the original owners decided to dump the couch.
"I personally think it was thrown out because it has a lot of rips that I have covered with pillows, and it has some stains," she reflects. "Everyone still says it looks super dirty. It's not that it is dirty, it doesn't stink, it doesn't have an odour, it's literally clean, it's just the stains that are on the couch."
Amanda's explanation hasn't exactly convinced viewers, but it's clear that she is not letting go of the sofa anytime soon.
As for internet users, it seems that they are unwilling to bid farewell to the Blue Couch saga just yet. When it comes to TikTok, users have a knack for criticising fellow creators for their decisions, revelling in the mob mentality that often ensues. That being said, it's safe to say that many viewers will be waiting patiently for further couch updates.