@kyliejenner
https://www.instagram.com/p/ChBFbgYvWbF/?hl=en
https://twitter.com/thefirmpress/status/1584064142910009344
It has been a week of chaos for the Kardashian-Jenner clan. As Kim Kardashian condemns her former husband's antisemitic comments, Kylie Jenner has found herself in a controversy of her own. 
Over the past week, social media users accused Travis Scott of cheating on Kylie with his rumoured ex-girlfriend, Instagram influencer and model, Rojean Kar AKA @yungsweetro. 
The 31-year-old rapper has been romantically linked to Ro since 2013, with cheating rumours circulating online since 2019. However, fans became suspicious after the model posted a behind-the-scenes moment from a shoot to her Instagram story, with Travis allegedly in the background.  
"I'm directing obvi", Ro wrote, causing a flurry of rumours that something had happened between her and Travis. At first, Ro denied the allegations.
Travis responded to the rumours in an Instagram story of his own. Although he was quick to shut down any cheating accusations, he only added more fuel to the fire.
"It's a lot of weird shit going on. An uninvited person was sneaking photos on what was supposed to be a closed set while I was directing a video. I'm saying this for the last time," he shared. "I don't know this person. I've never been with this person. So please stop with the continuous cyber games and the fictional storytelling.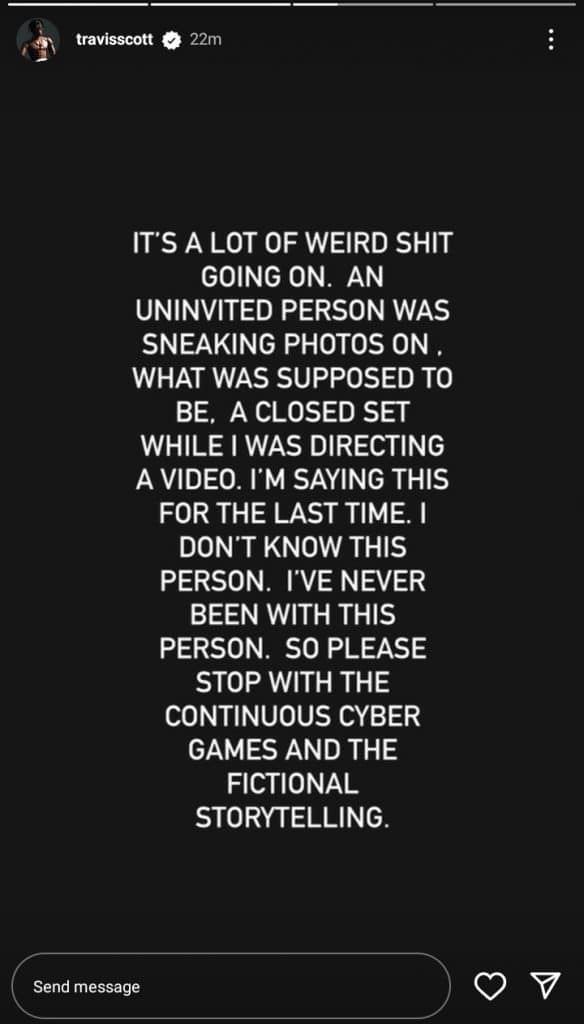 Ro then took to her Instagram stories sharing a series of videos claiming that Travis was lying.
"Okay, so what we are not going to do… we are not going to lie on me", she begins. "I posted whatever story you wanted me to post, I pretended I didn't know you, went along with whatever f—ing narrative … no matter how much bullshit I got from it."
Ro even claimed that she had met up with Travis on Valentine's Day earlier this year, where he begged her to come back after she had left.
"This Valentine's Day, I saw you. I ran out the door, and you had every single girl I know blowing me up, like, 'Trav's asking for you, come back.' Are we pretending that didn't happen, too?" she said. "Like, come on. You cheat on that bitch every single f—ing night."
Travis responded to Ro's videos with more Instagram stories. He shared a comment from @courtneyluxe, a woman who has allegedly worked with the rapper for eight years, calling Ro "delusional." 
He then posted a picture dated February 14 at 8:09 PM showing a dinner table and gifts, writing, "If you wasn't at this table on V day then u wasn't with me."
The model clapped back, sharing screenshots insinuating that Travis was at fellow rapper Gunna's party on February 14.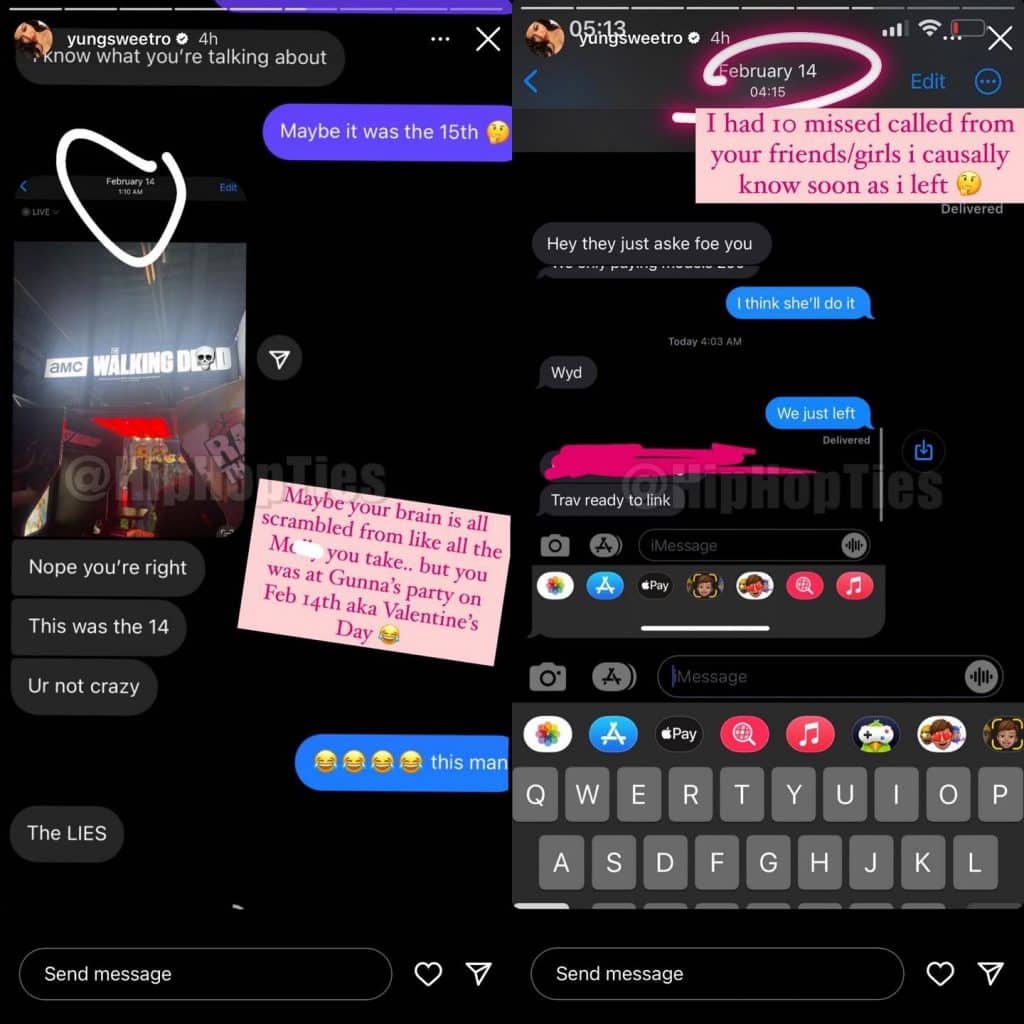 As if this wasn't enough, many social media users believe that Kylie and Ro have shaded one another in their recent Instagram posts.
Last week, Ro shared a photo to her grid wearing a red dress in a car captioned, "Tell her to be me for halloween since she wants you to love her so bad 🙂".
Two days ago, Kylie posted a picture of her own, writing, "In ur dreams❤️‍🔥."
Responding to the chatter online, Ro posted another statement on Instagram earlier today, clarifying her side of the story and her feelings about the situation.
"I've never perpetuated any narrative. I never said that I'm currently with him or have recently been with him," she wrote. "Having someone who you've known for almost a decade disrespect you and assume you won't stand up for yourself bc you never do is hurtful. I reacted in the moment and was speaking on someone else's relationship was wrong of me."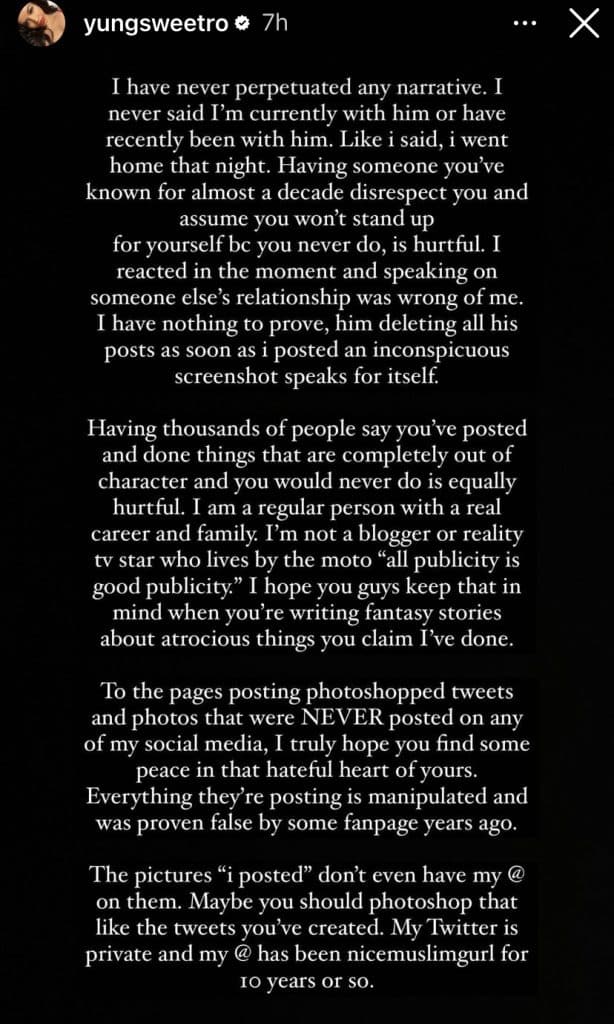 Check back for updates.