@itslademi / @denzeldion
https://www.instagram.com/p/Caqh3gQFY9Y/
Updated: March 26th, 2022
Beauty creator La Demi has accused influencer Denzel Dion of physically attacking her last night at a Hollywood Hills party.
In a series of Instagram stories, La Demi, a trans woman with over 300K followers, alleges that she was "assaulted and beat up" by a man she says is Max Montana's "best friend."
"He ripped my hair out and beat me up on the steps of a house at my most vulnerable," she wrote. "I couldn't defend myself because I was on the steep steps but he took advantage of me."
She went on to say her attacker "couldn't deal with the fact of me flirting with his BFF". She shared photos of her wig pulled off her scalp, scratches on her body, and a black eye. La Demi asked her followers to help her find the man who did it so she can press charges, saying he is Max's best friend and "overly tall and African American".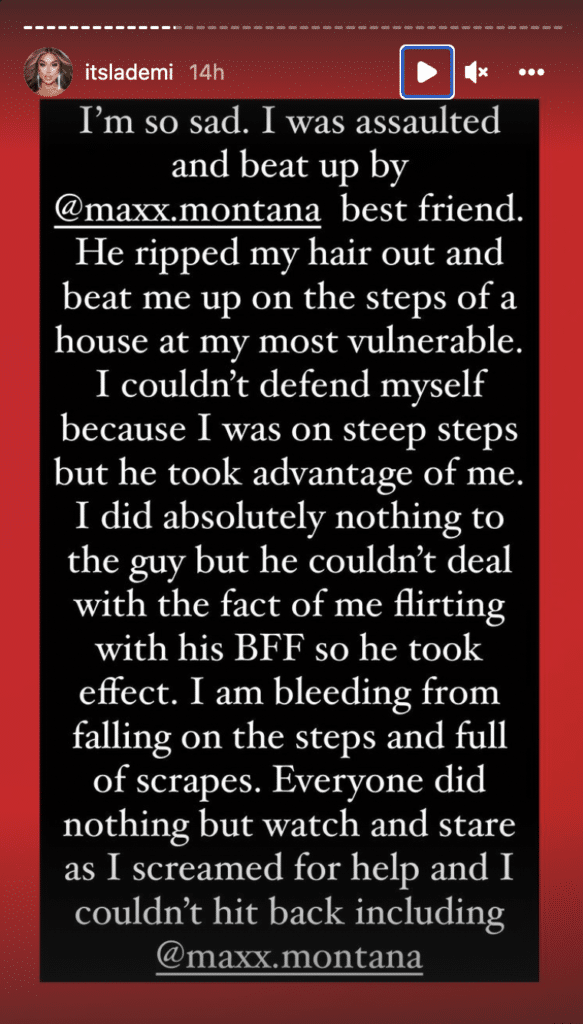 Hours later, she took to her Instagram stories to accuse influencer Denzel Dion of being her attacker.
"THIS IS THE MAN THAT BEAT THE FUCK OUT OF ME," she wrote over a screenshot of Denzel's Instagram account. "This huge ass man had the nerve to pound on me on the stairs while I had no control. Mind you he is 6'7."
"How about you give it a go and see if you can last a second getting boxed and your hair ripped out by him," she continued.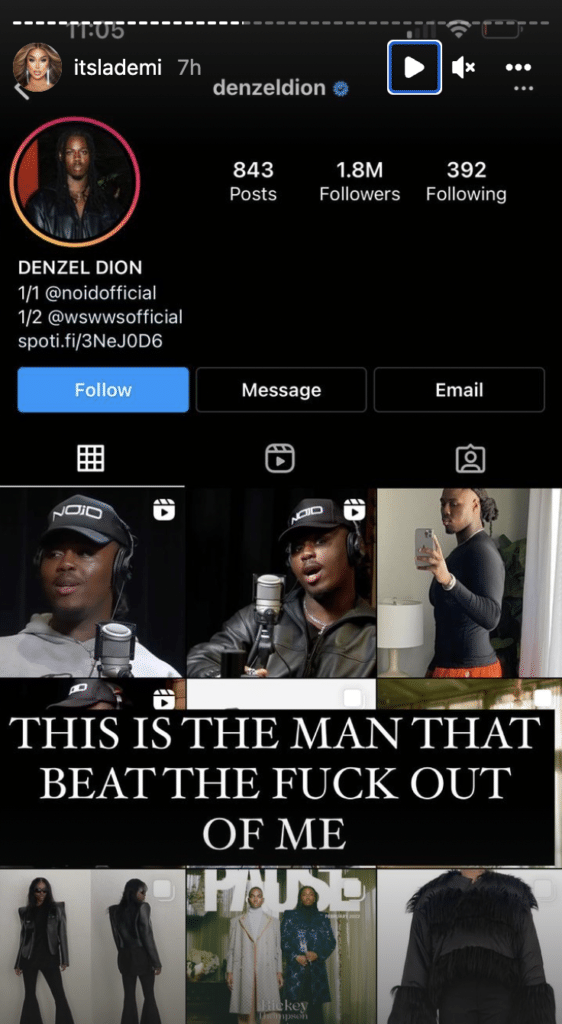 With over 1.8 million followers, Denzel is a popular clothing brand owner and podcast host. In a voice note to drama channel Rich Lux, La Demi says Denzel has "always had it out" for her. She claims that she slept with Denzel's friend Max, who also treats her poorly now when they see each other out and about in LA.
According to La Demi, Denzel told her "every fucking time I see you this is going to fucking happen, you little white bitch."
Denzel took to Instagram stories to respond to Demi's allegation.
"I am deeply saddened by the allegations made by La Demi that I assaulted her. Those allegations are NOT TRUE. I would never do the things I am being accused of. Certainly not to a woman let alone a TRANS woman" he wrote.
Denzel confirmed that he and La Demi were at the same party, however, claims they went their "separate ways before she was allegedly attacked."
"I am going to assume the accusations leveled against me by La Demi were the result of mistaken identity and once La Demi realizes that, she will apologize to me. I hope La Demi finds her attacker and hope she is physically ok," he finished.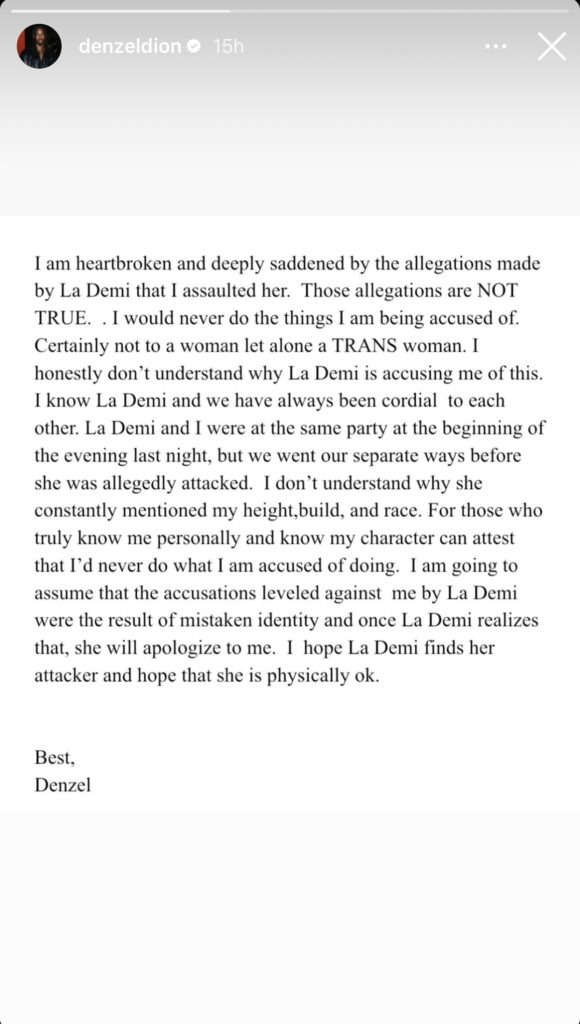 La Demi addressed Denzel's response in a series of posts, standing by her claim that he was her attacker.
The influencer alleges she met Denzel at an L.A. nightclub a few months ago where he treated her "absolutely vile the entire night" and "made comments about me being trans" saying he did not want Max near La Demi. She says she did not know his name nor had she ever seen his Instagram account until today.
Fast forward to last night, and La Demi claims Denzel got increasingly upset the more she interacted with Max.
"I brushed it off and unfortunately was the last person to leave the party waiting for my Uber," she said. "And then the events transpired on the steep stairs where Denzel viciously attacked me."
La Demi alleges Max and others stood by and "did nothing."
"It took you 15 hours for all of you to get together and agree that if no one but your group saw then maybe we can all lie and say 'it never happened.'"
"It was 100% YOU Denzel and your denial and fake apology just adds insult to injury," she added. "I stand in my truth."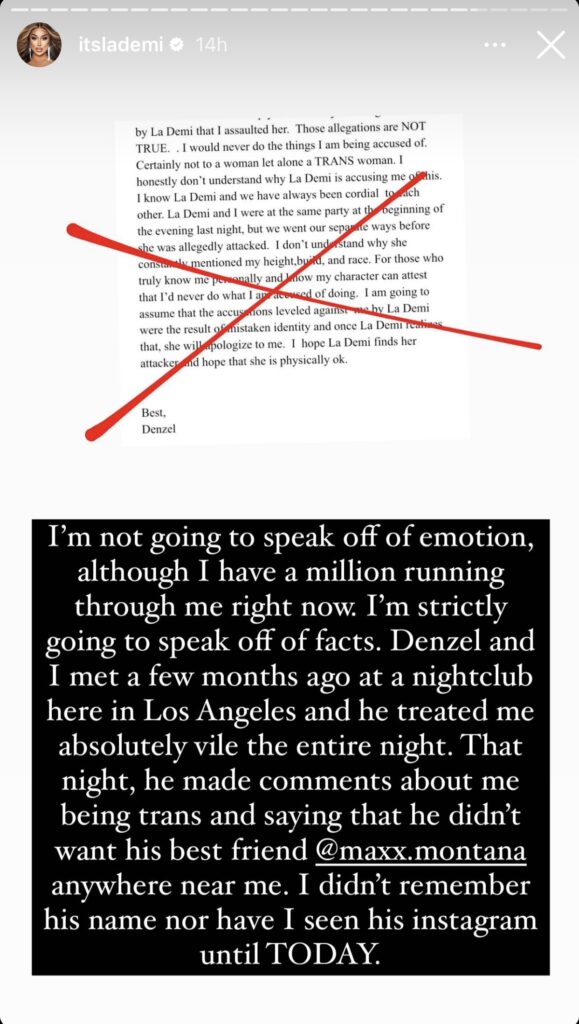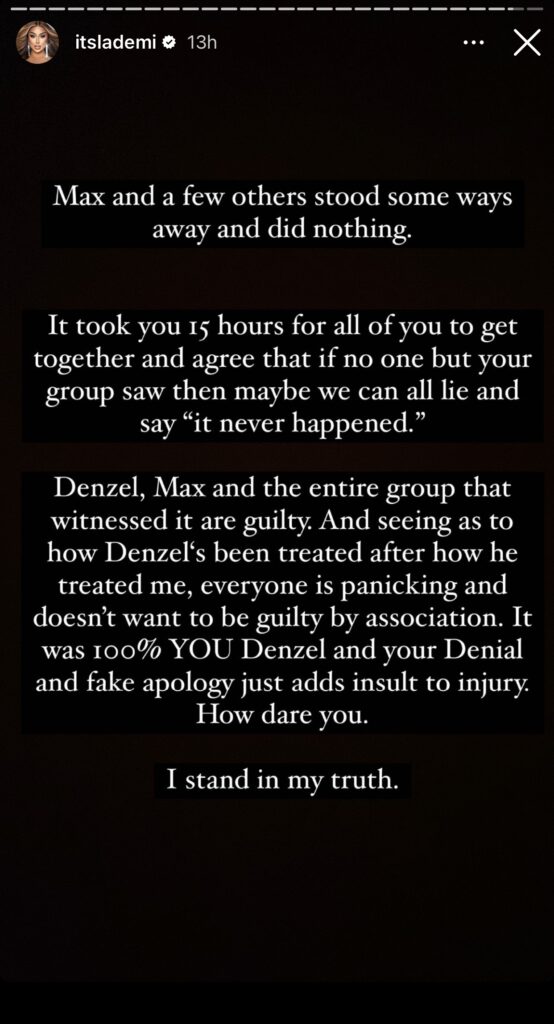 Since sharing her story, La Demi has received public support from several influencers, including celebrity makeup artist Ariel Tejada and designer August Getty.