@desirewestphal / @themodernmidwife
In this week's episode of niche TikTok drama, creator @desirewestphal has gone viral for accusing TikTok-famous brand Lila of being a scam.
The catch? The brand's creator, Caitlyn Schollmeier, known on the app as @themodernmidwife, claims that Desire is deceiving her audience.
It all started when Desire posted a TikTok unboxing from the brand. The creator was supposed to receive Lila's viral labour gown; however, when she opened the package, she received two skeleton posters.
"Did I just get scammed ?? 😭" the TikTok reads as Desire opens the package.
She mentions that she ordered the gown from the brand's official website and shows the address on the label. While everything appeared in order, Desire also pointed out that her package arrived several days later than the expected delivery date.
Viewers flooded Caitlyn's TikTok comments, asking her to address the situation. Soon, Caitlyn gave in to the demands, posting a TikTok admitting that she had no idea how this mix-up had happened. Her video has since amassed over 1.2 million views.
"I don't know if it is her playing a prank on me or if it is somebody who is doing my fulfilment that did that? That is so weird, and I am going to have to call my operations manager right now," she begins.
Caitlyn recorded the conversation with her employee, where he maintained that no one packing the orders would have replaced the gown with posters.   
"I don't know why somebody [Desire] would do this. We are not like some famous brand. I am not really sure why somebody would fake getting pictures of skeletons…." Caitlyn goes on to say. "I think I have concluded that this person [Desire] was upset that they got their order a couple of days late, and maybe they wanted to see us pay?… I trust my employees… they have nothing to gain from doing this."
Caitlyn also attempted to resolve the drama by calling Desire and leaving a voicemail. However, Caitlyn concludes the video by insinuating that Desire may have fabricated receiving the posters in an attempt to get a free gown.
Desire uploaded several follow-up videos to explain her interactions with the company since her initial TikTok post.
In her first video, she claimed she had received calls from five different phone numbers (which she later revised to three). She also described the person she spoke to as impolite and included screenshots of their conversation in another TikTok.
"The guy she is working with is very rude and unprofessional. He was like since you want to make TikToks about us, even though our number is on our website," she says. "The attitude is crazy and so uncalled for because you're the one that messed up and not me."
Desire goes on to mention that she's expecting a new gown and that the brand assured her that one should be arriving overnight.
She also stitched Caitlyn's TikTok, stating she was "shocked by her response." Desire reassured her followers that she did not fabricate the contents of the package for a free gown or clout, as Caitlyn had suggested.
"What would I gain out of lying on a small business when literally all I do is shop and share with you guys on here," Desire says. "Instead of taking accountability that your new hire potentially could have done this, you're going to call a customer a scammer?"
Desire even shared footage from her security camera to provide evidence that when the package arrived, it appeared to contain "tubes" rather than a robe.
Caitlyn has also posted several videos defending herself, her employees and the company— one of which has since been deleted.
In the video on her profile, she includes a screenshot of the order form that reveals that when the package left the brand's possession, it weighed 1.93 lbs, which is higher than what two posters would typically weigh.
She acknowledges that there could have been a mix-up during transit. However, she also criticised how Desire handled the situation, pointing out that the influencer doxxed her and created harmful content about the brand without contacting them.
"If we want to play devil's advocate and she got what she said she got… she got the wrong order, you can tell it is the wrong order the minute you pick it up…[but] she [still] sat down and called us scammers… she posted that video without ever reaching out to us, she didn't email us until after she posted that video," Caitlyn says.
She also questions why Desire would make a video directing hate to another creator and a small business.
"As somebody who has a larger following, I would never do that to any company, much less a small company…" she tells her followers. "One thing about being an influencer of about this size, at this point, you have learned enough to know what you are doing. Making a piece of inflammatory content that is going to drive hate to another creator is not accidental."
In the video, Caitlyn goes on to defend her actions, claiming that she would have loved to sort out the situation "privately", but after receiving hate, she felt she had to address Desire's "malicious" claims.
"To the people that are saying that it is unprofessional for me to defend myself. Yes, you are correct… [but] I have built this company on transparency and authenticity," Caitlyn shares. "We're a good company, and that company deserves a defence. In terms of taking accountability, I am not going to take the blame for a mistake that we didn't make."
TikTok users following along with the situation are split into two camps— unsure of what to make of both creators' responses.
Some viewers believe that Caitlyn's defensiveness suggests some problems behind the scenes. Many of these users are disappointed in the brand owner's behaviour, claiming they lost "trust" in the company.
"I liked Caitlyn, but she handled this incredibly poorly. Even if the customer was lying, the response would be wrong. You don't call out a customer in a video like that and call them a liar without hard evidence. I agree that it was likely the fulfilment centre that messed up and sent the wrong product, but that's something to handle with them and behind the scenes, not publicly in a video like this," one Reddit user wrote.

Meanwhile, other users argue that Caitlyn handled the situation appropriately and that Desire acted harshly, regardless of whether she lied about the parcel or not.
"I think the way you handled things was the best way you knew how. also can't wait to order a labor gown" TikTok user @jlhpups5 commented on Caitlyn's latest post.
"I love all your responses and I don't see how anyone in your position could say they would have done it differently! 🥰🥰" another user shared.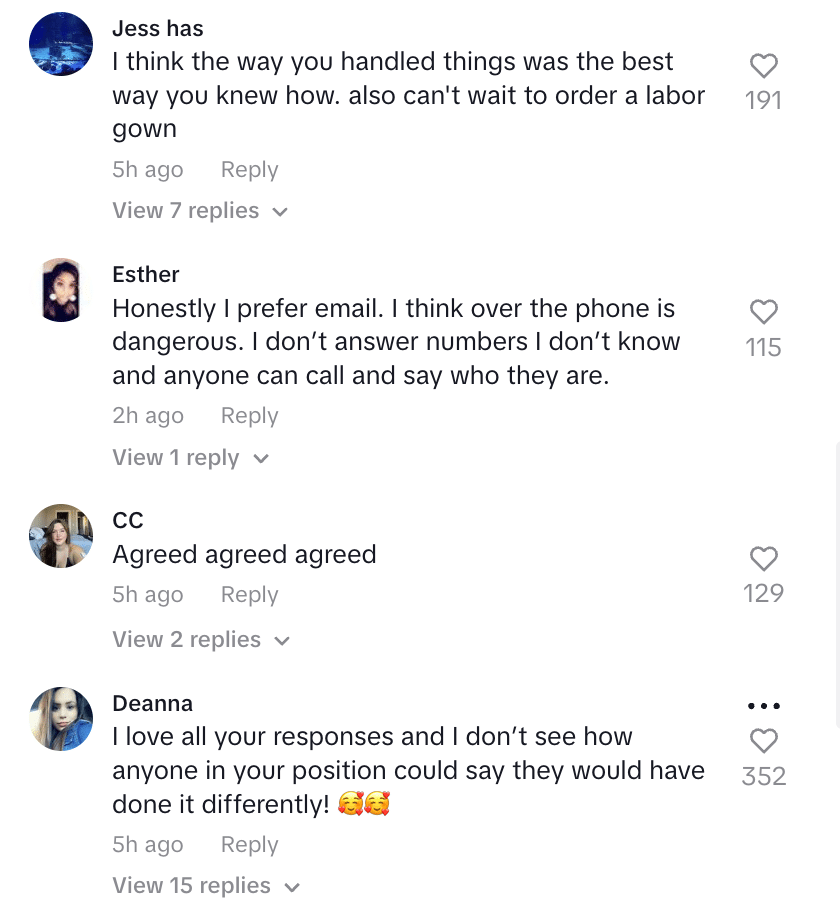 Desire has received a new gown from Lila; however, she has not shared a review with her audience.
At the time of publication, both TikTokers have vowed to stop speaking on the situation.