@emilyzugay
CEO of graphic design, Emily Zugay, has made a name for herself on TikTok after her video series went viral last month in which she (badly) redesigned logos for major brands and companies. As her videos snowballed in popularity, dozens of companies ranging in size flooded her comments section in the hopes of having their logo redesigned by Emily. 
Since then, the now verified 24-year-old from Michigan has done some enviable things, with brands rolling out the red carpet for their new logo designer. From getting tickets to sports games to receiving PR packages featuring her designs, it's fair to say that Emily has been receiving the VIP treatment usually reserved for influencers.
A true mark of success, Emily made it on to the Ellen Show last week, where she explained how it all began. Clearly not a graphic designer by trade, Emily revealed that she actually went to school for animation, and currently works as a pet portrait artist. She told Ellen that through her studies, she picked up design lingo and "thought it would be funny to make it sound like I knew what I was talking about and pair it with awful logos".
And these awful logos have clearly caught the attention of the likes of McDonalds, Amazon, and NASA, with many of these companies actually adopting Emily's logos on their social media.
But what was it about Emily's series that made it go viral?
Aside from Emily's unique dry sense of humour, the success of the logo redesign series can be largely chalked up to buy-in from brands who jumped onboard with the series, taking it from a niche comedy sketch to a full-blown trend in a matter of days.
In recent years, brands have realised that even their casual social media presence can play a part in a proverbial "ongoing advertising campaign", where they can build personality around their brand, interact directly with customers, and establish their brand voice. Emily's logo redesign series was the perfect organic marketing moment for brands to capitalise on.
The predecessor: rude Wendy's tweets
Cast your mind back to the era of the 'rude Wendy's tweets'. The year was 2017, and whoever was behind the American fast-food chain's Twitter account was frying up a storm with sassy quips directed at disgruntled customers and rival restaurants, all the while making great fodder for memes and Buzzfeed listicles.
As Wendy's kept serving out the disses, enthused Twitter users began to mention the fast-food chain in the tweets of their competitors, hoping to elicit a signature spicy response.
It is fair to say that through this era, Wendy's redefined the playbook of commercial social media marketing, ditching the strictly informative tone and one-way broadcast-style of communication for an interactive, comedic, and casual approach.
More than just a trend?
In the same way, the brands who have been practically begging Emily for a logo redesign are flagging much more than just an ironic "passion for design" or jumping on a trend. In commenting on Emily's videos, brands are signaling to customers their awareness of the TikTok zeitgeist, indirectly establishing themselves as cool and relevant enough to engage with young consumers through trends that they enjoy.
Taking a look at the comments themselves, you will find that the language is peppered with TikTok slang terms, mimicking the way that users would normally interact with others on the platform. The effect is the novelty of seeing big businesses speak and act like the average TikTok-using teen— a sure way to gain positive publicity and street cred amongst a younger audience.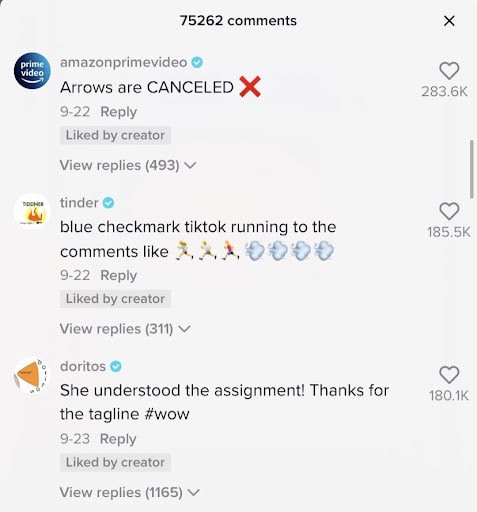 With this recent logo redesign trend gaining such positive attention, it is now clear to brands that customers get a kick out of seeing them engage with Internet trends in familiar ways. And with the constant cycle of TikTok trends, the door is wider than ever for brands to build their personality through the types of trends they participate in.