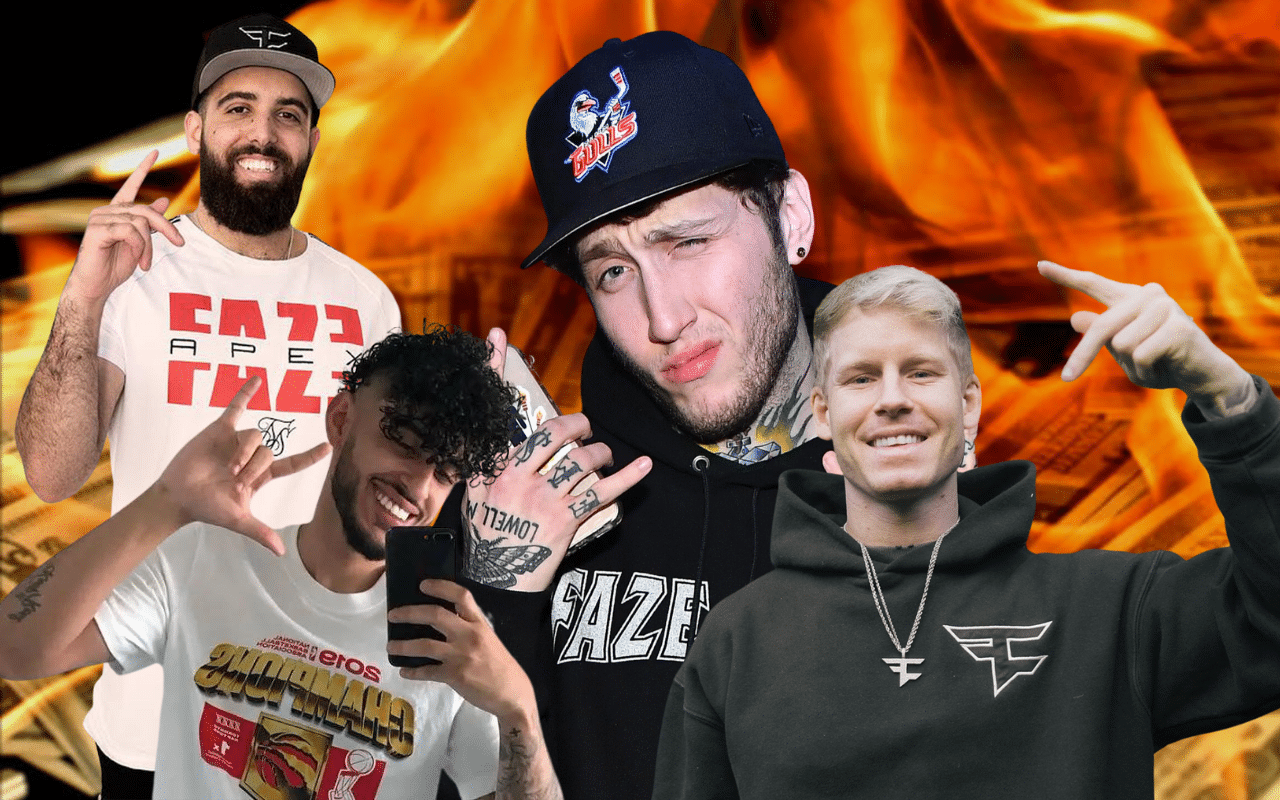 One of the world's biggest gaming collectives is facing an unprecedented downfall less than a year after making history as the first esports and gamer lifestyle brand on the Nasdaq.
Debuting on YouTube in 2010, FaZe Clan was initially a gamer group renowned for Call of Duty gameplay and trickshots. Since then, FaZe has become one of the most famous esports companies, billing itself as "a digital-native lifestyle and media platform rooted in gaming and youth culture."
While there is no denying that FaZe Clan has become a staple in the gaming community, the org has been going through it as of late. With its stock plummeting and legacy creators publicly criticising the company, FaZe's future is becoming increasingly unclear.
So, let's break it down.
FaZe Clan enters the stock market
It all started when FaZe announced its intention to go public back in October 2021. Becoming a publicly-traded company comes with a world of opportunity as it allows the org to be listed on the stock exchange. And as FaZe tries to break into gambling, virtual dining, and subscription models, becoming a publicly-traded company can help fund new business ventures and generate publicity.
However, in a recent video titled, "How One Bad Choice Destroyed FaZe (-95% in 6 Months)," commentary YouTuber Jabroney explains how focusing on celebrity endorsement and catering to Gen Z made for an unstable entry into the stock market.
"Going public on the New York stock market is a rigorous process," he begins. "There are all these tests you have to pass, audited financial statements, compliance with accounting principles…"
But FaZe didn't take the traditional route. Instead, the company's CEO, Lee Trink, worked with Dan Shribman of investment firm B. Riley Financial to take the company public.
"Dan explained that there was a popular new way to get your company listed on the stock market without going through all that boring and time-consuming paperwork," Jabroney explains in the video. "It's called a special purpose acquisition company or SPAC. B. Riley could create a shell company whose sole purpose was to raise money to acquire FaZe, and then they would merge."
As a part of the merger, FaZe Clan raised over $100 million before going public in order to increase its valuation from approximately $300 million to $1 billion. And to do this, B. Riley Financial invested in the company while the FaZe team onboarded some big names like Pitbull and Snoop Dogg. But there was a catch.
"[Trink] didn't actually raise one hundred million dollars cash. Most of these investors just signed non-binding agreements saying that they would buy the stock once FaZe went public, ten million shares at ten dollars each," Jabroney notes. "If the investors decided not to pay up… B.Riley would pay the difference to get FaZe up and running."
FaZe Clan's Downfall
Fast forward to July 20, 2022, and FaZe Clan debuted on the Nasdaq stock exchange. While the stock prices initially moved up and down, FaZe was mostly successful. In August, shares peaked at approximately $20 USD, and the company became "the first esports organisation with a $1 billion valuation."
But soon, FaZe Clan was in trouble. By the end of September, 70 million dollars in FaZe's private investment fell through, where 92% of the merger shareholders cashed out. This left the company in shambles, with shares crashing "to under $5 [and] falling further to $1.78 at one point in November," Matt Craig writes for Forbes.
Since then, things have only gotten worse.
Last month, FaZe reportedly let go around 20% of its staff after stocks plummeted to a new low on February 16. And just last week, Nasdaq served FaZe a deficiency letter, threatening to delist the org's shares.
"[FaZe] failed to comply with the $1 minimum bid price required for continued listing on The Nasdaq Capital Market", the letter reads. "The Company has been provided an initial period of 180 calendar days, or until September 19, 2023…by which the Company has to regain compliance with the minimum bid price requirement."
Adding more fuel to the fire, long-time creators of FaZe Clan have started criticising the org, with Teeqo and Rain among those coming forward.
Posted on March 13, Teeqo's video has amassed over 2.5 million views. In the video, he claims that FaZe Clan owners have consistently failed to compensate him, where he has only ever signed one contract over his 12 years in the org.
"All these years, we always hear talent first, talent is the most important thing, no we are not… These recruits that you make these celebrities like Snoop Dogg and his son have more money and more shares than a lot of FaZe members," he goes on to say. "In a way, FaZe is bigger than it ever was, but it is also smaller than it ever was, all of these collabs that we are doing with really big brands… it's like a bandaid or silver tape on internal bleeding… There is nothing behind that FaZe logo backing. There is no culture anymore."
FaZe Clan has since taken to Twitter to address the complaints, writing, "We know that for too long we haven't been the FaZe we need to be, but we're working hard towards fixing that."
All that to say, as FaZe Clan starts to prioritise bigger deals with celebrities and investors, it's almost as if creators are falling into the background. As original members come forward and criticise the company for what it has become, FaZe is crumbling from the inside out, and it's clear that ongoing financial hardship is no help.
So the question is, will the org be able to stick it out? Or are we already witnessing the permanent downfall of the once-dominant FaZe Clan?