There is no denying that Tana Mongeau and Bryce Hall are some of the internet's most controversial figures. While both creators have had their fair share of social media beef, the pair have always seemed close. We all remember when Tana declared herself and the paparazzi "Team Bryce on God."
However, their friendship seemed to take a turn for the worse earlier this year.
Bryce's interview on The Zach Sang Show
The drama kicked off when Bryce appeared on The Zach Sang Show back in April. During the interview, Bryce spoke about his relationship with Tana, naming her as someone he had hooked up with for clout at the beginning of his career.
"We were feeling each other, but I knew who she was obviously, and I was like an up-and-coming guy… I did whatever was humanly possible to put myself in that scenario," Bryce begins. "I wanted to do it [hook up with Tana] to say I did it."
Bryce goes on to explain that this was the beginning of a transactional relationship between the two creators. According to the TikTok star, Tana uses the fact that they had hooked up to her benefit.
"She did the exact same thing… because now she will say it," Bryce shares.
Unsurprisingly, Bryce angered many internet users with his comments, with viewers claiming he was disrespectful towards Tana.
"The men in Tana's life are so disrespectful to her. She has helped build them up and is always so kind about them. It really makes me think differently about them. Makes me sad for Tana," one viewer commented.
"Hate how all these men use Tana to further their careers and then openly talk so much shit about her afterwards. Like obviously they all do this in LA in that scene…they all talk so poorly of her and say openly they used her for clout or whatever career boost," another writes.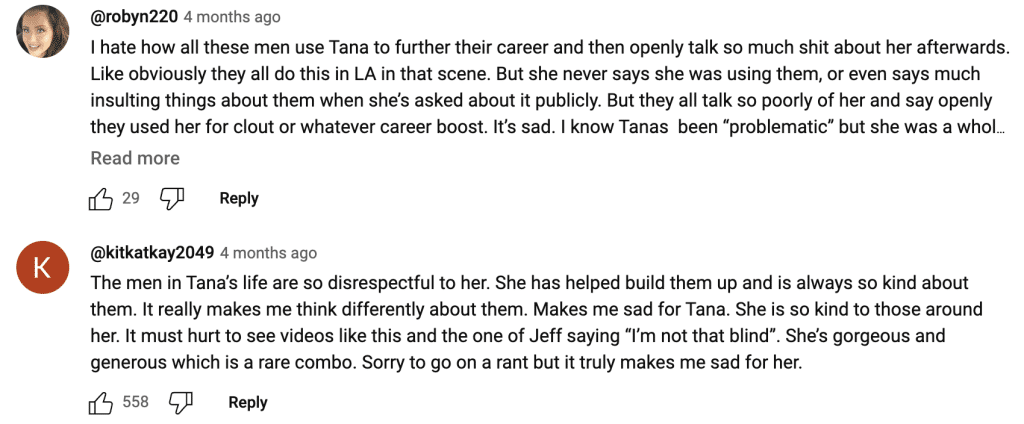 Tana responds to Bryce's comments on Cancelled
After the clips of Bryce went viral, Tana addressed his comments on Cancelled, her podcast co-hosted by Brooke Schofield.
"I have to talk about Bryce Hall on The Zach Sang Show," Tana begins. "I have fought for him so hard, and I am going through my timeline the other day, and I see the video."
While Tana admits that she has also hooked up with people for the sake of it, she questions why Bryce would openly admit that he used her in this way.
"As someone who has also probably slept with someone so that I can say I did it, I would never come on a podcast and say that… I would be afraid of how bad that would make me look," Tana says. "I just can't. I really can't believe he said that. I think that's so insane… I guess good for you for being so shameless."
Bryce's attitude also left many viewers puzzled, as many see his willingness to share this information as misogynistic. These viewers believe that Bryce thought admitting to sleeping with Tana for attention would somehow enhance his image.
Tana also reveals that Bryce had "never" told her his motive for getting close to her in the first place. Given that the two are now friends, many viewers have pointed out that it wouldn't have been so surprising if they had discussed how they first became close.
"Never once has Bryce said this to me…I guess if I was into him or liked him at that time… then I probably would be super heartbroken," she explains. "[But] I was just being crazy Tana, so it's not like there's a part of me that's sad that he said that, but imagine it was a boy I liked and talked to."
Tana and Bryce unfollow each other
Earlier this month, Tana spoke about the situation on TikTok star Grace Keeling's podcast, Saving Grace. When discussing how "shady" the influencer world can be, Tana noted how Bryce still asks for favours from her, even after his comments The Zach Sang Show.
"He tweeted today…he has a new fight, and he was tweeting 'I want Tana to say 'Team Bryce on God' to promote it… I was like, didn't you just say you f—ked me for clout on a podcast," Tana says.
Soon after, Bryce and Tana unfollowed one another on Instagram.
Bryce goes on the BFFs Pod
Just last week, Bryce appeared on the BFFs podcast and spoke about Tana with co-hosts Josh Richards, Dave Portnoy & Brianna Chickenfry. After being asked about their so-called beef, Bryce admits he doesn't "like Tana."
"I think what she does is fake, she got pissed about what I said on that Zach Sang podcast, and it came out wrong… then she goes on her own podcast and just like shits on me," he explains. "Instead of me responding publicly, I just don't even want to associate with this girl."
Later, Bryce reveals that Tana has previously mentioned hooking up with people for attention, asking why she would be angry with him if she had engaged in the same behaviour. Brianna then asked whether he thought Tana was upset because they grew to be friends.
"I was never friends with Tana," Bryce clarifies. "I have never called Tana, I've never talked to Tana… Every single time [I'm with Tana], she'll film me and like hug me and grab me…I'm just like, oh my God, this girl needs to stop touching me."
Nevertheless, he apologises if his comments came across poorly before saying, "For her to go on that podcast when she does the exact same thing, if not worse, is extremely hypocritical."
Tana responds on the BFFs Pod
Today, Tana delved into the drama on the BFFs Pod. In the most recent episode, she provided an overview of the situation from her perspective, talked about her immediate reactions to Bryce's remarks, and addressed whether she had been with other creators for "clout."
Tana first acknowledged that Bryce's comments on The Zach Sang Show and the BFFs Podcast had genuinely hurt her feelings. She goes on to say that hearing Bryce say they were never friends was "definitely a doozy" for her. She explains that she had always valued her friendship with him and believed it was sincere, not just for content.
"I understand I have friendships like that… where you know in the daytime we're scheduling to do work and content together… If Bryce sincerely feels like we were never friends, then that's how he feels. I definitely don't feel like that," Tana says. "I can sit here and name countless times where we were hanging out without a camera… we've had so many moments that I accounted for as sincere friendship."
Tana also claims she has never pushed Bryce into creating content, saying, "If Bryce was ever like no, not right now or anything… I would never." She emphasises that she has often been featured on his TikTok and Snapchat, indicating that he willingly produced content showcasing their friendship in the past.
She also finds fault with Bryce's claim that she has slept with people for "clout." While Tana admits to "clout farming," she promises she doesn't "f—k for clout."
"Maybe I've made a joke towards what people have said about me, but if I was out here f—king for clout, I would be telling you guys the most famous people I've slept with," she says. "The only time I ever address someone with clout that I have hooked up with is if it comes to public knowledge first."
It's safe to say that Tana and Bryce probably won't be making up any time soon.