Selena Gomez is continuing to fight the good fight.
From sharing her struggles with depression, anxiety and her therapy journey, to her firsthand experience with the damaging effects of social media on mental health, the singer, actress, producer and entrepreneur has been known to be vocal about issues close to her heart…and she's at it again.
Over the weekend, the Rare Beauty founder shared on her Instagram stories a screenshot of a private message she had penned to Facebook CEO, Mark Zuckerberg and COO, Sheryl Sandberg. In the message, she made clear her request for Facebook and Instagram to stop being complicit in allowing the spread of hate, misinformation, racism and bigotry, especially in the context of an upcoming US national election.
"Mark & Sheryl," the message reads. "Selena here. It's been a while since we sat down. We have a serious problem. @facebook and @instagram are being used to spread hate, misinformation, racism, and bigotry. I am calling on you both to HELP STOP THIS. Please shut down groups and users focused on spreading hate speech, violence and misinformation. Our future depends on it. This is an election year. We cannot afford to have misinformation about voting. There has to be fact checking and accountability. Hope to hear back from you ASAP."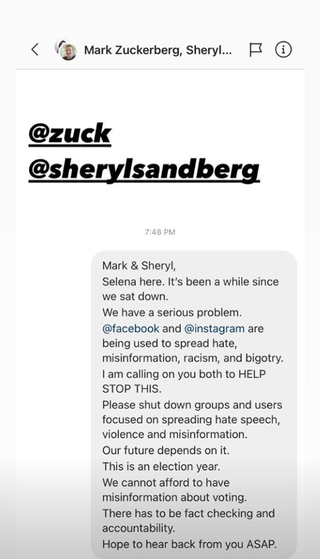 The screenshot, which was then uploaded to her story (and as a result her 193 million followers) is thought to have been shared to put additional pressure on Zuckerberg and Sandberg, due to their lack of acknowledgement or reply to the original DM.
Selena's message and story run in line with the #StopHateforProfit campaign, which saw global companies alongside celebrities such as Kim Kardashian, Kerry Washington and Mark Ruffalo leave Instagram for 24 hours, including the pausing of ads and sponsored content to bring attention to the damaging and often incorrect messaging being spread on social media in the lead up to the election. While discussion has been open and gaining traction for a number of months in regards to Facebook's ongoing lack of accountability, Facebook, Zuckerberg and Sandberg are yet to publicly comment.