Updated: November 6th, 2023.
MrBeast, a.k.a Jimmy Donaldson, is facing backlash after Rosanna Pansino, a long-time YouTuber best known for her baking content, alleged that he had been dishonest with his viewers.
On a recent episode of the Just Trish podcast with Trisha Paytas, Rosanna shared her experience in MrBeast's "Creator Games" – a series where social media personalities compete against each other for a one-million-dollar prize.
Although Rosanna has participated in all three of the Creator Games, she criticised MrBeast for the third instalment, where participants played an extreme game of hide and seek at SoFi Stadium in Los Angeles.
Rosanna claims that MrBeast edited her out of the video early, revealing that she had finished in third place. Meanwhile, the video posted on MrBeast's YouTube channel showed Rosanna finishing in fifth place.
"I'm just confused [about] what happened there… I didn't get involved in any of the drama. I was nice to everyone, and they edited me out like midway through the video," she told Trisha. "I was really proud of myself because I'm not competitive… I just go out there and do my best. I actually beat other creators… a lot of male creators who are super competitive, they're very talented."
Since the video was released in 2021, Trisha asked why Rosanna hadn't spoken out previously. Rosanna explained that she has often prioritised maintaining her professional relationships and friendships over her happiness.
"What's important to me is being easy to work with [and] being fun to work with… I think I value those things so much… I value them more than sometimes my own well-being," she goes on to say. "I didn't want people to dislike me by being honest… but I don't think it's helping anyone to lie about it."
Later, when Rosanna appeared on the H3 Podcast with Ethan and Hila Klein to discuss the situation, she added that she hadn't spoken out because she had signed a non-disclosure agreement (NDA).
Rosanna also took to X to elaborate on her experience, announcing, "I am going to start standing up for myself and finding my voice."
In her first statement, she admitted that she felt "shocked, disappointed and felt hurt" after being edited out of the video. She also revealed that Mr Beast changed "the video to look like the final 3 people were Larray, Logan Paul and Zach King. The final 3 people were actually Zach, Quackity, and myself."
She went on to explain the logistics of the competition, mentioning that the contestants had "earpieces connected to walkie-talkies." Each time an influencer was discovered, the remaining participants would be notified. This is how Rosanna knew her placement and who she had surpassed in the competition.
She was caught by the seekers while moving to a new hiding spot, and thought she had placed fourth. Rosanna later realised that Larray had fallen asleep in his hiding spot, disqualifying him from the competition and moving her up to third place.
"Despite Jimmy editing out the ONLY FEMALE in the top 3, I was proud of what I had achieved," Rosanna concludes. "I followed the rules of the game, gave it my all, had fun and never gave up. They can't take that away from me."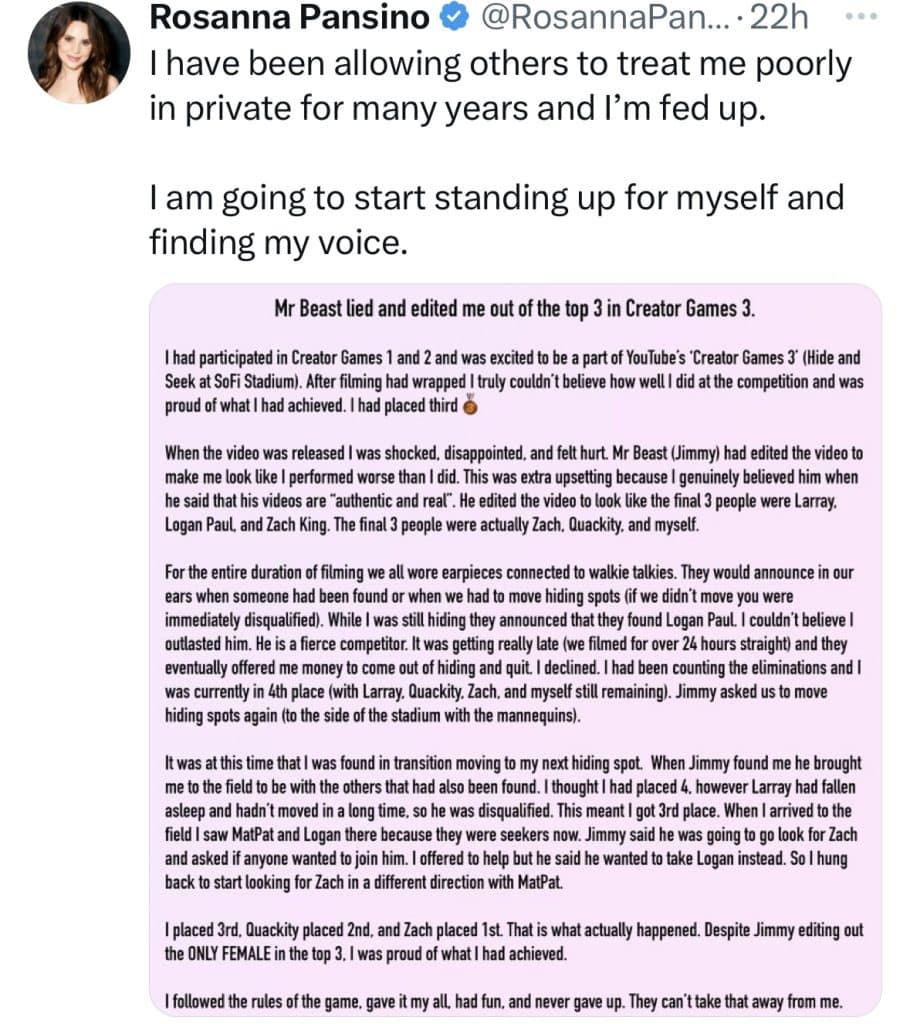 In another tweet, Rosanna thanked her followers "for making me feel not alone." She also revealed that other female creators have contacted her, sharing that they have had similar experiences with MrBeast.
"That will be their story to tell if they choose to, but it is making me realise that I'm not as alone as I once thought I was," she writes.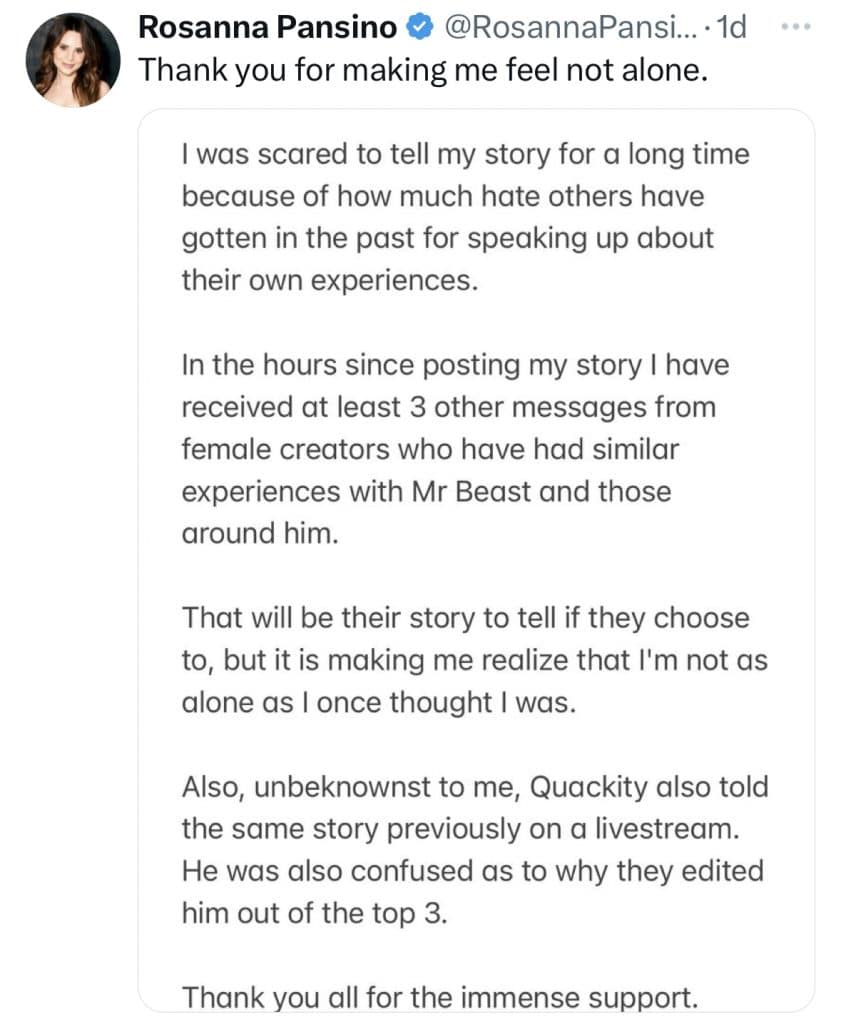 The YouTuber also pointed out that Quackity, one of the participants in the Creator Games who was seemingly edited out early, had spoken up before she did.
Social media users quickly began sharing clips of Quackity corroborating Rosanna's story. In one livestream video, he confirmed that he had placed among the top three creators, even though the video showed him in fourth place.
While MrBeast has not addressed the situation publicly, Rosanna mentioned on the H3 podcast that they have been communicating privately. She shared the messages with Ethan and Hila, noting that MrBeast had not acknowledged anything in writing and was urging her to speak on a phone call.
"MrBeast wanted to get on the phone with me. He wanted to give me his number and call him and talk it out… I don't feel comfortable [with that]," Rosanna says. "He will not respond to any of my questions in writing… he can say whatever he wants on the phone to me, lie to me, and then deny everything."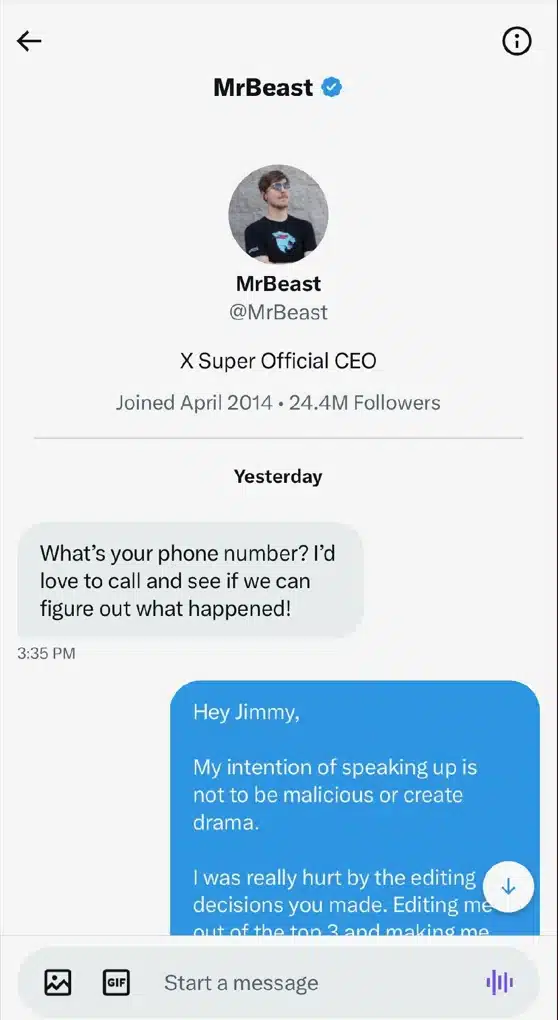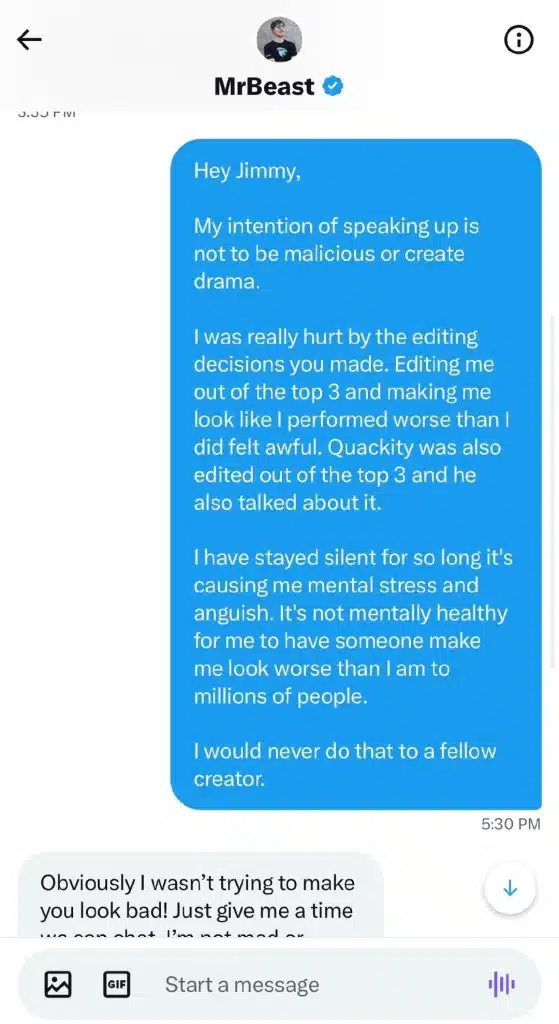 Rosanna also mentioned that she didn't believe it was necessary to reach out to MrBeast before discussing the situation, as he hadn't privately informed her about being removed from the video.
However, it appears that Rosanna has had a change of heart since speaking with Hila and Ethan.
On October 29th, she took to X to apologise. Rosanna acknowledged that she should have dealt with the situation privately, where she has decided to remove any tweets related to the issue. While this decision may have been an attempt to separate herself from the drama, she also pointed out that the amount of hate she has received played a role in her choice.
"I should have expressed my feelings privately and handled things directly. I will be removing all of the posts where I talk about Creator Games and Jimmy," she writes. "I will be honest in that the thousands of death threats I've received today are a contributing factor, but I do also sincerely hear the feedback from so many of you."
The tweet has since been deleted.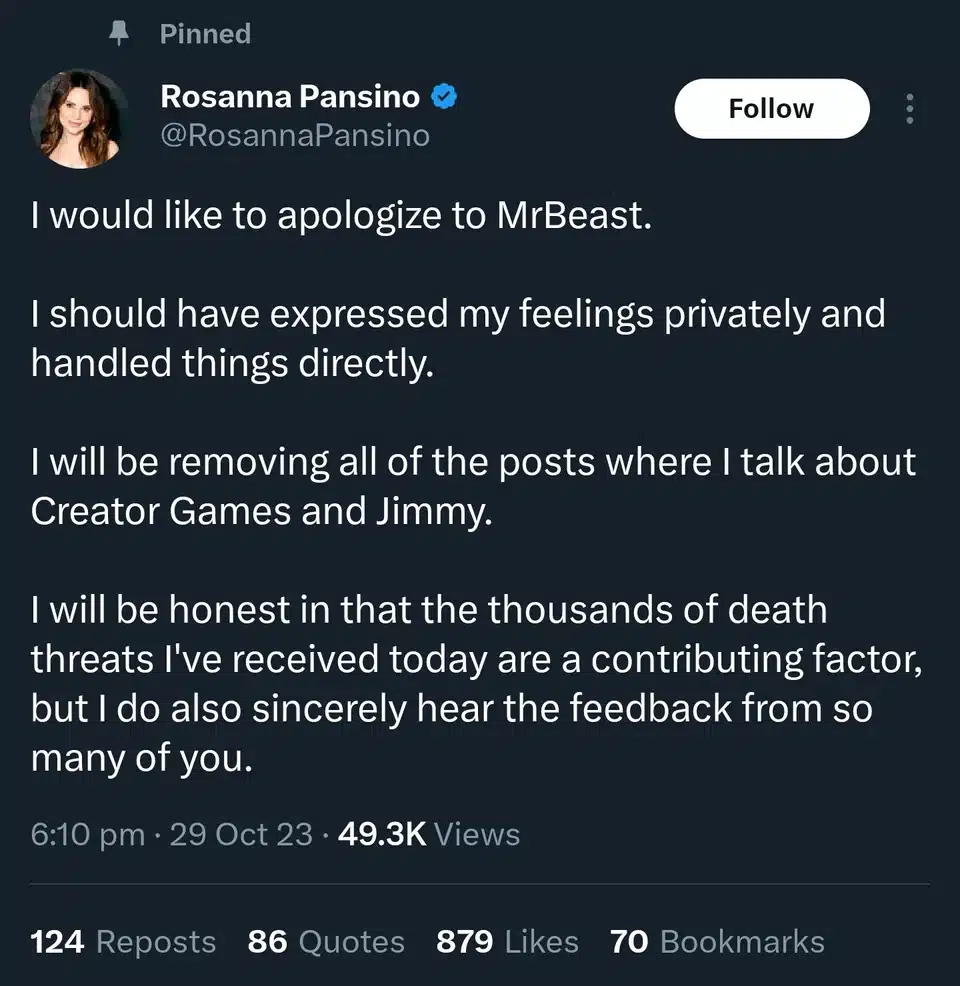 That being said, some X users have speculated whether Rosanna received a cease-and-desist letter from MrBeast's team, suggesting that this might be the reason behind her decision to remove all the content.
Just as the situation seemed to come to a close, Rosanna chose to "redact" her apology to MrBeast on November 1.
"I redact my apology to MrBeast of not settling things privately," she shared. "Based on new information and developments behind the scenes, I have learned that certain issues will never be 'handled' privately, they will only be dismissed or covered up privately."
In the post, Rosanna also expresses regret for an "ill timed music video"– presumably referring to the cover of 'Bad Moon Rising' that she released amid the controversy.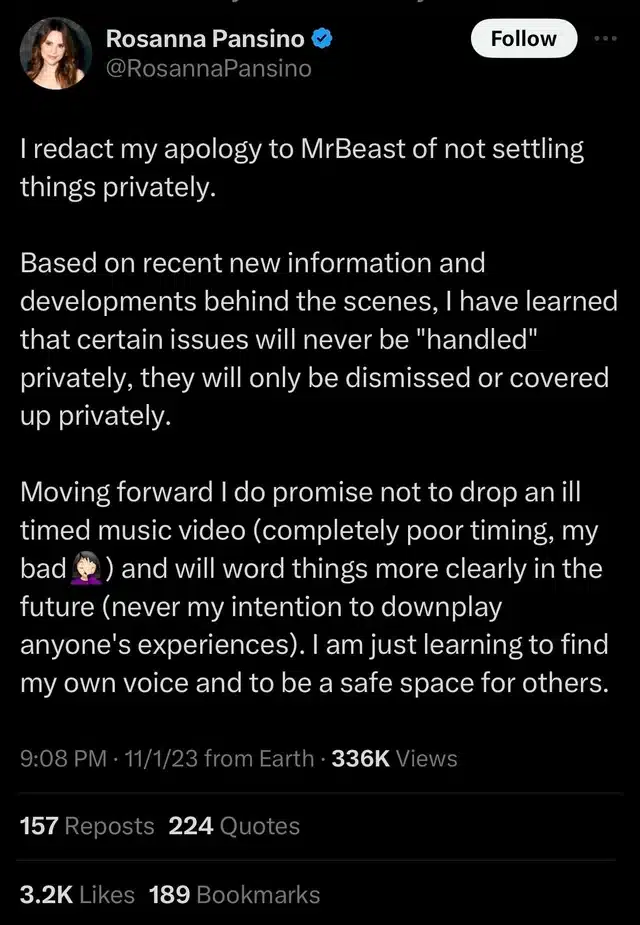 While Rosanna continues to receive hate for her posts, fans of the Creator Games are still pressing MrBeast to explain why he chose to cut out the YouTuber.