Twitter / MTV
Rihanna has publicly apologised to her Muslim fans after using a remixed verse from sacred Islamic scripture in her second Savage x Fenty fashion show this week.
Shortly after the show streamed on Amazon Prime Friday, the Muslim community began calling out Rihanna and her team for their "extremely disrespectful" use of the song 'Doom' by producer Coucou Chloe during the lingerie show.
'Doom' includes a sample of the Hadith with music played over it. The Hadith is "a narrative record of the sayings or customs of the prophet Muhammad and his companions" and considered extremely sacred to Muslims, only second to the Quran.
After days of radio silence, Rihanna has now addressed the backlash via Instagram story, calling it a "careless mistake."
"I'd like to thank the Muslim community for pointing out a huge oversight that was unintentionally offensive in our Savage x Fenty Show," the mogul posted Tuesday. "I would more importantly like to apologize to you for this honest, yet careless mistake. We understand that we have hurt many of our Muslim brothers and sisters, and I'm incredibly disheartened by this!"
Rihanna finished by saying she does "not play with any kind of disrespect toward God or any religion" and admits using the song was "completely irresponsible." She promised it will never happen again and thanked her fans for their "forgiveness and understanding."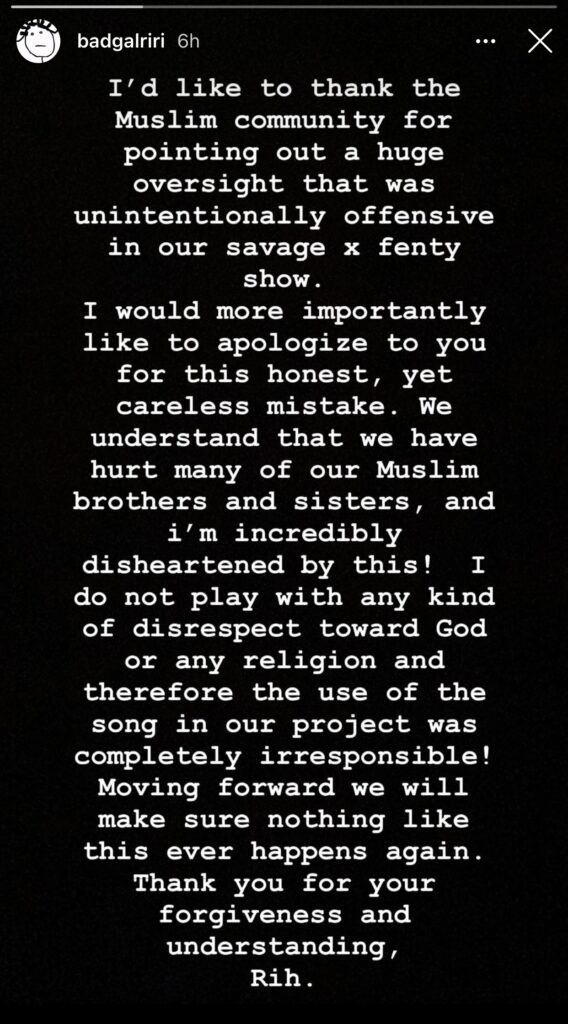 The song's London-based producer, Coucou Chloe, has also issued a public apology for using the sacred text in her song, saying that she created the mix with "samples from Baile Funk tracks I found online" and was unaware the samples included scripture from the Hadith.
"I take full responsibility for the fact I did not research these words properly and want to thank those who have taken the time to explain this to me," she tweeted. "We have been in the process of having the song urgently removed from all streaming platforms."
The Savage x Fenty fashion show has otherwise been praised for inclusivity and diversity. The event included men, women, and non-binary models, as well as a slew of celebrities like Lizzo, Paris Hilton, Bella Hadid, Willow Smith, and Normani.
The show also included Rihanna's first menswear line— a collaboration with Christina Combs.
"Inclusivity for me has always been something second nature. It's not anything I really think about," Rihanna said in an interview for Amazon Prime. "I didn't think it would be such a talking point after the fact. The only thing I could think about was including everyone."
You can read Savage x Fenty and Fenty Beauty's public apologies here.