Getty Images / Pascal Le Segretain
In the wake of the Black Lives Matter movement, YouTube fans have spent weeks attempting to hold the internet's most famous stars accountable for their problematic behaviour— both past and present.
At the top of that list is OG YouTuber, Shane Dawson, who's been highly criticised for his close relationships with Jeffree Star, Trisha Paytas, and Tana Mongeau. Since publicly distancing himself from the beauty community earlier this week in an effort to salvage both his image and his mental health, fans have taken to social media, demanding more responsibility from Shane while sharing disturbing examples of times the star has crossed the line.
Amongst the examples is a resurfaced 2012/2013 video of Shane pretending to masturbate to a poster of Willow Smith— daughter of Will Smith and Jada Pinkett-Smith.
At the time, Willow was a minor at just 11-years-old while Shane was in his mid-20s.
Regardless of age, the video is deeply disturbing.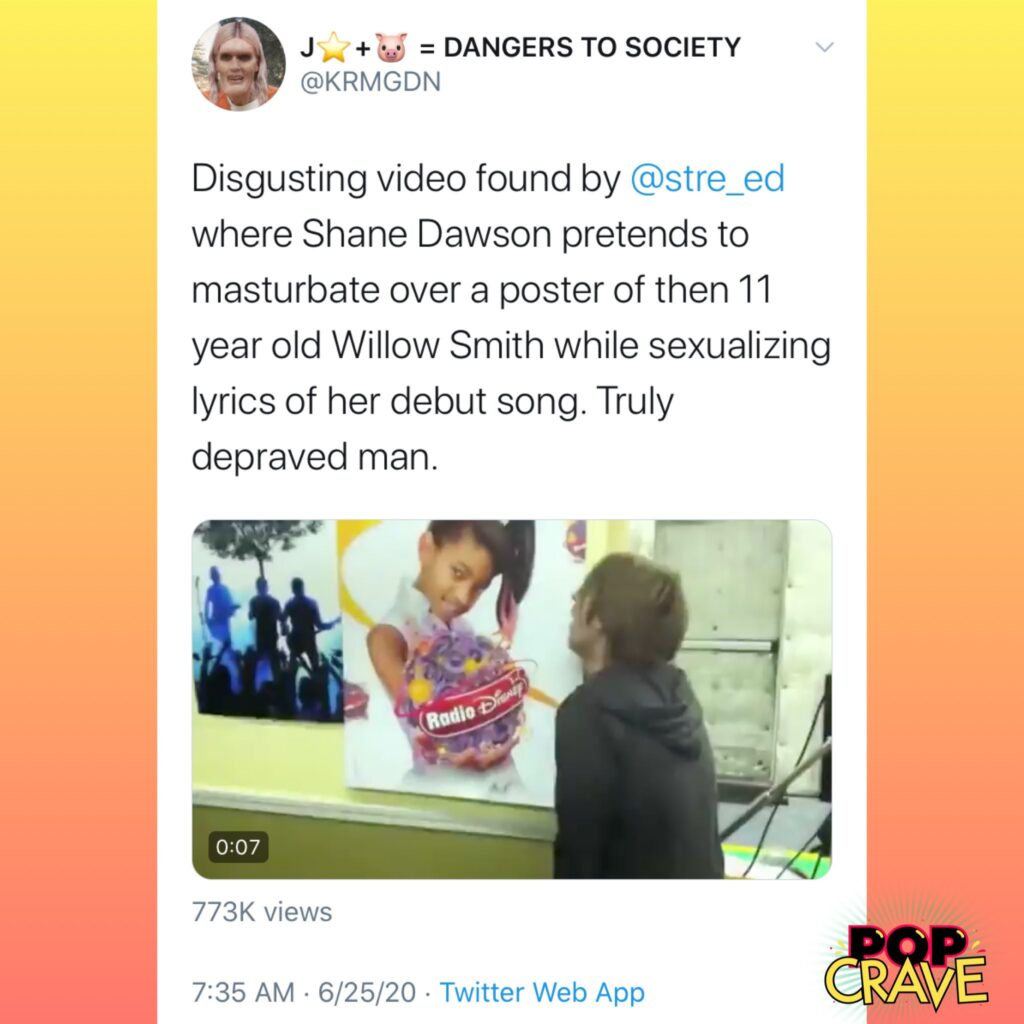 Shortly after the clip began circulating, Jaden Smith took to Twitter to respond to his younger sister being sexualised by an adult man.
"SHANE DAWSON I AM DISGUSTED BY YOU," he tweeted. "YOU SEXUALISING AN 11 YEAR OLD GIRL WHO HAPPENS TO BE MY SISTER!!!!!! IS THE FURTHEST THING FROM FUNNY AND NOT OKAY IN THE SLIGHTEST BIT."
Jaden continued to call out the star, writing, "This man was also doing black face on the regular??‍♂️??‍♂️??‍♂️. As the youth we need to support creators who support us and our morals. This is not okay."
Willow and Jaden's mother, Jada Pinkett-Smith, also got involved, tweeting that she is "done" with Shane Dawson's excuses.
The resurfaced clip comes off the back of Shane's most recent video titled Taking Accountability. In the video, Shane apologised for his disturbing past including racist jokes, blackface, sexualising animals and minors, and saying the n-word. The star explained his behaviour was largely the result of mental health struggles.
Shane's apology has been met with much disdain by fans who feel the star was making excuses and that he only addressed his past behaviour because he got caught.
Shane Dawson did not publicly address the resurfaced video or the Pinkett-Smith family's tweets at time of publication.