@matildadjerf
Updated: October 9th, 2023 to include a statement from a representative for Djerf Avenue.
Matilda Djerf has come under fire on TikTok after her brand allegedly filed copyright strikes against several small creators.
The Swedish Gen Z icon, who rose to viral fame on platforms like Pinterest and TikTok for posting her soft-focus life and minimalist Scandi-inspired style, has been accused of going after micro-influencers who post critical reviews of her fashion brand.
Djerf Avenue launched in 2019 as a ready-to-wear clothing brand inspired by Matilda's love for vintage pieces and basics. Since its inception, the brand has grown a social media following of over 1 million fans vying to dress like the influencer.
Though Matilda has been relatively unproblematic in the realm of social media influencers, customers of her eponymous brand have taken to TikTok to call the creator and her team out for allegedly copyright-striking their content.
Fashion creator Aliya Sumar was amongst the first to speak out.
She posted a video over the weekend claiming that "MatildaDjerf Design AB" filed a trademark claim on two of her videos— one where Aliya provided an Amazon alternative to a pair of Djerf Avenue pyjamas (in which she insisted the Amazon pyjamas were not a real dupe because the quality was "completely different") and another video where she recreated one of Matilda's viral Pinterest looks with "a $5 Amazon top."
Aliya notes that the top Matilda wore in that viral Pinterest look wasn't even a Djerf Avenue top.
Centennial World reached out to Aliya for comment and has not heard back.
Aliya shared a screenshot of the alleged warning she received after her content was flagged by Matilda Djerf Designs. "Your account has multiple IP Policy violations and is at high risk of being banned from TikTok," the warning reads.
Micro creator Isabela "Bela" Karwatowicz posted off the back of Aliya's video, claiming that Matilda Djerf Designs also made a trademark claim against one of her videos.
Bela shared a screenshot of the alleged violation
"I can't iterate how absolutely devastating this feels because I am a small creator to begin with. I am trying to gain a following and make this a part-time thing that I can do, and because of these copyright claims, my videos are no longer being pushed out," she explained. "It seems like they're only going after small content creators and we need the support."
Bela also warned creators to remove any videos they have sharing Djerf Avenue dupes.
Centennial World reached out to Bela for comment and has not heard back.
Users have flooded TikTok expressing their disappointment in Matilda and her team.
Commentary account @thejackieaccount notes that these copyright claims are ironic given that Djerf Avenue seems to take inspiration from pieces in Matilda's closet made by other brands.
"It's sad to see that someone who used to post very frequently about designer dupes that they were wearing, is now doing this to other creators," she said.
Matilda has since deactivated her TikTok account.
Djerf Avenue responded to the controversy over the weekend in a statement posted to their Instagram story and TikTok story, claiming that their intention was to go after the companies selling DA dupes, not the individual creators sharing these dupes.
"Unfortunately, there has been a recent surge in websites selling products with our design and owned prints/artworks. In light of this, and to safeguard our prints and the individual print designers— we have an external intellectual property (IP) firm monitoring copyright infringements. However, we realize that this has inadvertently impacted individual accounts. We have promptly instructed our IP firm to halt reports from individual accounts and focus on third-party sellers of these items. Instead of reporting the individual accounts, we will reach out to the responsible party behind the accounts when we see suspicious pirate copies and have a dialog with the content creator. Note that the social media platforms themselves still could remove and report videos if it's in violation with their infringement policies," the statement read.
"We are committed to reaching out personally to anyone affected," it finished.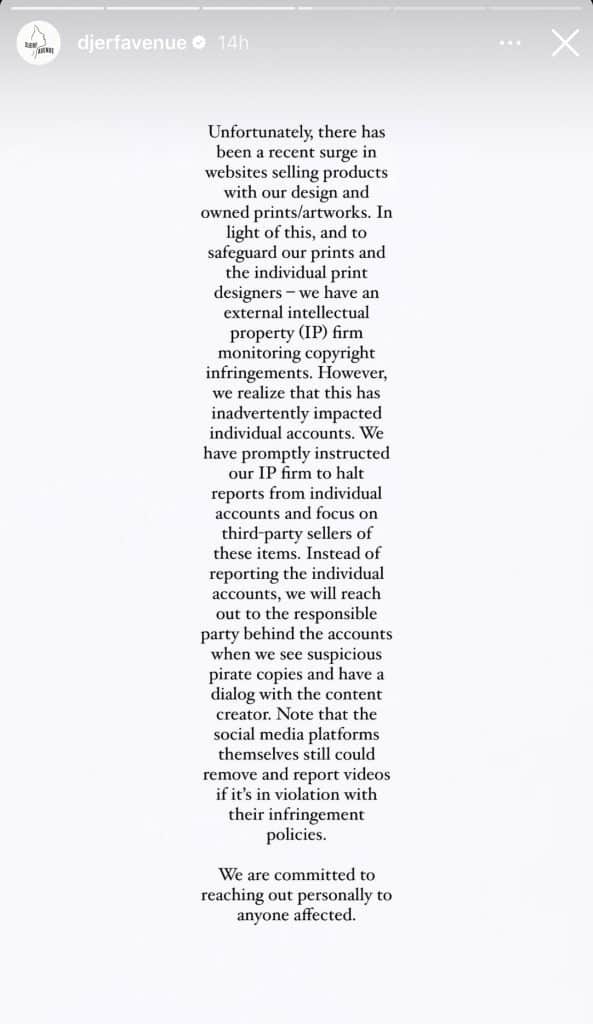 A representative for Djerf Avenue clarified to Centennial World that the copyright infringement claims are a judicial matter and have "nothing to do with criticism of DA."
"We believe it's crucial to address that Djerf Avenue would never report content that is critical of our brand or our products – which is a serious accusation. On the contrary, we welcome constructive feedback and view it as an opportunity for growth," the rep said. "We have engaged an external firm to monitor instances of intellectual property infringement, which we are obliged to do to safeguard the hard work of not only DA, but also our partners and designers."
Despite the backlash, fans of Matilda and her brand have argued that DA is justified in reporting creators who are promoting dupes if those dupes violate the brand's trademarks.