Supplied / Burger King
Social media superstar Chase Hudson, AKA Lil Huddy, announced Thursday that he has partnered with US food chain Burger King to create his own signature meal. The collaboration is part of the company's wider initiative to ban 120 unnecessary artificial ingredients. Other celebrities involved include Brazilian singer Anitta, and American rapper Nelly.  
"We know our guests' expectations are changing, and they want to make choices they can feel good about," said Ellie Doty, a spokesperson for Burger King, in a press release sent to Centennial Beauty. "By banning these 120 ingredients from our food, we're offering guests an easy choice – delicious food made with quality ingredients. We're confident that our ongoing commitment to real food will not only provide guests with the food they're looking for, but also set a standard for the industry overall."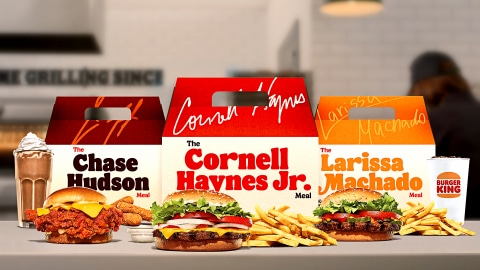 Recently, many fast-food chains have partnered with social media personalities to create their own meals such as Saweetie, BTS, Travis Scott, Charli D'Amelio, and J Balvin. Most have collaborated with McDonald's.
Burger King states "with food so real, we had to use real names," adding to the organic nature of the 'Keep It Real Meal' campaign. 
The Cornell Haynes Jr Meal AKA NELLY – the classic flame-grilled Whopper® topped with cheese, lettuce, tomatoes, onions, mayo & ketchup, small fries and a small Sprite. So hot in here…
The Larissa Machado Meal AKA Anitta – the Impossible™ Whopper with lettuce, tomato, pickles, ketchup and mustard, small fries and a small Sprite. It's just what I like…
The Chase Hudson Meal AKA LILHUDDY – a hand-breaded Spicy Ch'King™ with cheese, 4 piece mozzarella sticks and a 16oz chocolate shake. That's my missing piece…
Burger King is set to release their 'Keep It Real Meal' campaign this Sunday, September 12th nationwide in the U.S.