@butchboyfriend / @id.knit.that / @midsummerknits
Updated: June 13th, 2023
If you're unsure why the FYP has been feeding you knitting TikTok drama lately, you've come to the right place.
Over the past week, the online knitting community has erupted in discourse after the sibling of an artist named Esther accused popular creator I'd Knit That of plagiarising her design.
The drama started in late May when Kendall Ross of I'd Knit That shared a new sweater she designed and knit herself.
"Okay I just finished making this piece. It's hand-knit with wool and this is all my original text," she said in her video.
The white sweater features a green collar with hot pink text on the front and blue text on the back.
Kendall's words on the front of the sweater read, "I take myself so seriously I've never stopped to ask— is all of this really embarrassing? Does everyone just laugh? Am I that person in your friend group? Do you take screenshots of my posts and make fun of them in your group chat like I'm some sort of running joke? I've never truly been happy for anyone else. I sent my friends pictures of content people in cool cities and mock them for getting master's degrees. I laugh at happy people having weddings and sit at home watching horrible things on T.V. while I cry about losing what never belonged to me. Strangers on the internet keep saying I inspire them but if they knew me like you know me I bet they'd get over it. Someday I'll have a Wikipedia page made about me and under personal life it will be completely blank."
The back text continues on about the artist's struggle with self-worth.
Last week, Esther's sibling Ros made a video claiming that Kendall had plagiarised their sister's work— specifically the text on the sweater.
"I think [Kendall] using the term 'original text' is a reach and it's not true," Ros said in the now-deleted video. Ros claimed that Kendall's work was inspired by a series of raglan sweaters Esther knit featuring song lyrics.
One of Esther's sweaters from this series, posted on her Instagram in December 2021, also featured similar text colour work.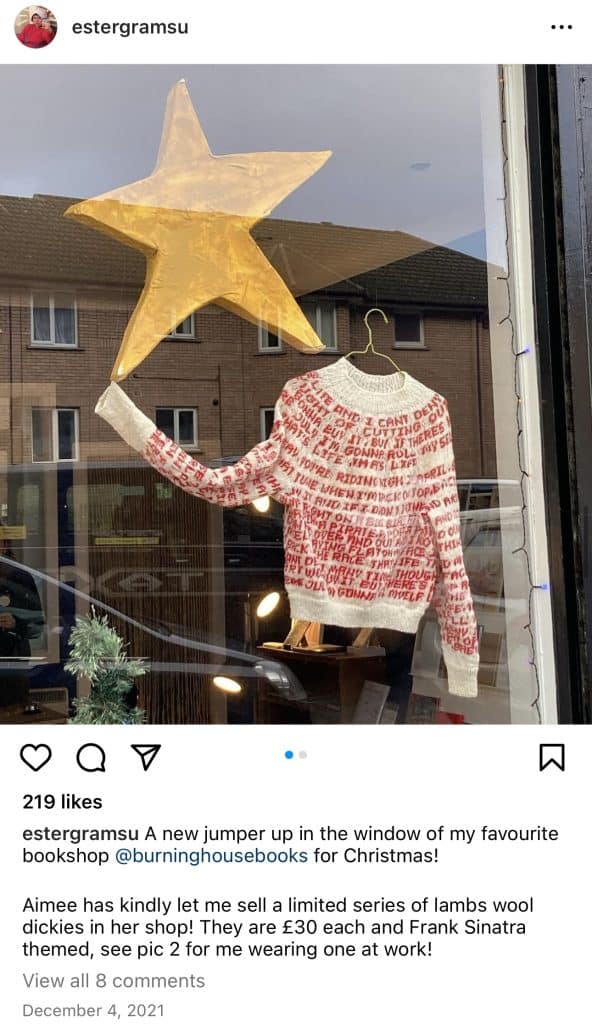 Ros' accusation caught on quickly and within a matter of days, TikTok users were flooding Kendall's comment section calling her design "not original" and demanding she "give credit" to Esther for being inspired by her work.



Fiber artists across the internet have come to Kendall's defense, noting that her work has featured text for years and that this plagiarism claim is incredibly damaging to the community as a whole.
"At a first glance, if you're not a knitter, I understand why you can see the similarities between them," said knitter @butchboyfriend in a video this weekend. "But there is, in my opinion, absolutely zero grounds for plagiarism accusations. And quite frankly, I'm shocked that anyone who is an experienced knitter (that this person Esther is), is accusing other people of plagiarism when it is fundamentally impossible, nearly impossible, to plagiarise a knitted garment unless you are re-creating the exact same pattern.
The user went on to say that the shape and construction of both garments are completely different and that "there are very, very few ways to do text on a knitted work."
"There's not much opportunity for font variety when you're knitting colour work," they said. "Are you trying to tell me that this artist [Esther] who started their Instagram account in 2021 invented Fair Isle text knitting?"
As the backlash mounted, Kendall took to TikTok to address the accusations herself.
She started by noting that Esther actually messaged her about the sweater prior to Ros' video going live. By the time she responded, Ros had already published her TikTok which was gaining a significant amount of traction.
"I do not agree with Esther's belief that my piece was directly inspired by hers," Kendall said. "I use text in all of my pieces. I had random pink and white and blue warn laying around and had written this big paragraph of text that I wanted to put on a sweater in its entirety and so that's what I did and that's what I made."
Kendall went on to say that while her sweater was not inspired by Esther's work, she thinks that the artist is "valid in feeling upset" because Kendall understands that Esther feels like "someone has taken something from her."
Kendall finished by saying she will be taking a break from social media for "the next few weeks" because of the whole situation.
Esther also addressed the drama this week in a statement on her stories.
"I am in no way claiming ownership over the use of text on knitwear," she wrote. "What Kendall doesn't say on TikTok is that she's been following me for years and has liked multiple images of my text based work. As of yesterday I had 800 followers, Kendall has 100K plus. Try and imagine what it feels like to see someone with so much reach post a jumper that visually is almost identical to your own."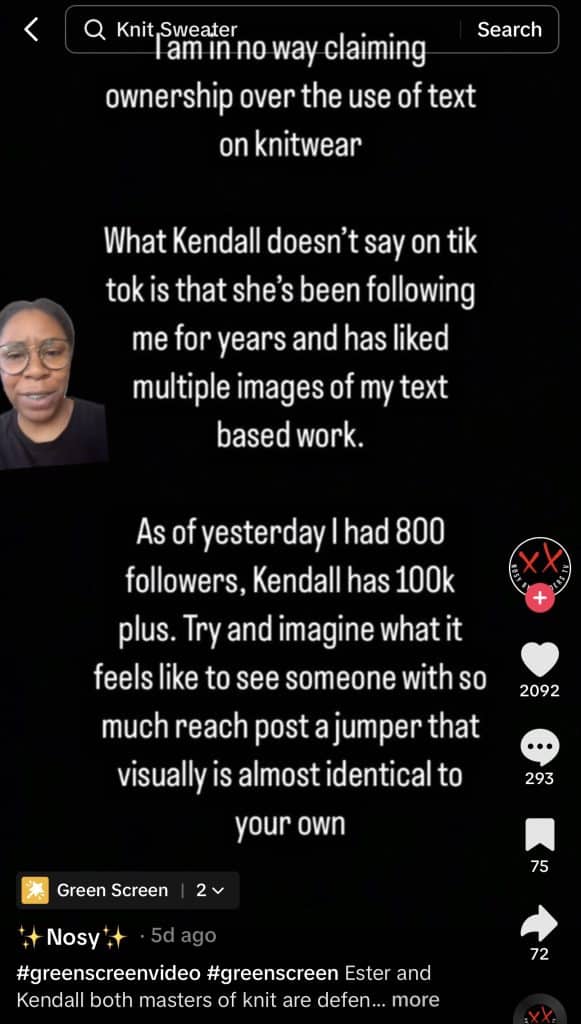 Esther has deactivated her TikTok account and Ros has limited their comments following Kendall's response.
Update: In a message to Centennial World, Esther said she will not be issuing a statement regarding this situation but maintains that she did not accuse Kendall of plagiarism.
Kendall did not respond to our request for comment.