Instagram / @chaeyo.0
https://twitter.com/Emma_Marris/status/1637445407507709955
https://twitter.com/chanchannielix/status/1634942093180440576
https://twitter.com/Emma_Marris/status/1637448188406779905
Chaeyoung, a member of K-Pop girl group TWICE, has shocked internet users after wearing a controversial shirt in a recent performance on Show! MusicCore, a Korean television program.
The girl group appeared on the show to promote their newest single, "Set Me Free", earlier this week. While fans were quick to praise the performance, others noticed that Chaeyoung wore a shirt referencing QAnon – a far-right conspiracy theory and political movement in the United States.
Chaeyoung's shirt had a large Q filled with the stars and stripes – stylised after the US flag. The movement's prominent slogan, "We Go All," can also be seen on the T-shirt.
Many internet users have defended Chaeyoung – noting that she would have nothing to do with the decision. In a Twitter thread by author and columnist Emma Marris, she explains how K-Pop celebrities often have limited control over their image and styling.
"K-pop stars typically perform in clothes selected by stylists, who are often looking at design, fonts, etc…and paying less attention to the meaning," she writes.
However, Chaeyoung's outfit is not the first time a K-Pop star has sported clothing with controversial or vulgar slogans without understanding the cultural nuances that come along with it. For example, Haewon from NMIXX recently wore a shirt reading "Charisma, Uniqueness, Nerve, and Talent" in the girl group's music video for Young, Dumb, Stupid. The phrase, coming from 'RuPaul's Drag Race,' is often used as an acronym for an expletive.
While Haewon's shirt was relatively harmless, there have been far more egregious styling decisions. Goeun from Purple Kiss, for instance, once wore a military uniform with a Swastika patch.
According to Emma, these missteps are "almost inevitable" with the maximalism that comes with K-Pop's aesthetic.
That being said, Emma – like many other Twitter users – maintains that Chaeyoung was unaware of what her shirt represented.
"But it is extremely unlikely that Chaeyoung meant to endorse the conspiracy theory. Twice is in the middle of promoting a new album in multiple countries," Emma writes. "She's super busy and likely didn't have time to research the outfit. Someone just handed it to her."
Given that QAnon is known for spouting racist rhetoric and spreading dangerous misinformation, K-Pop fans have called on JYP Entertainment – TWICE's management and record label – to adjust their styling practices. Users in the r/twice subreddit hope that the company starts "double-checking" and "researching" their English-language clothing after this controversy.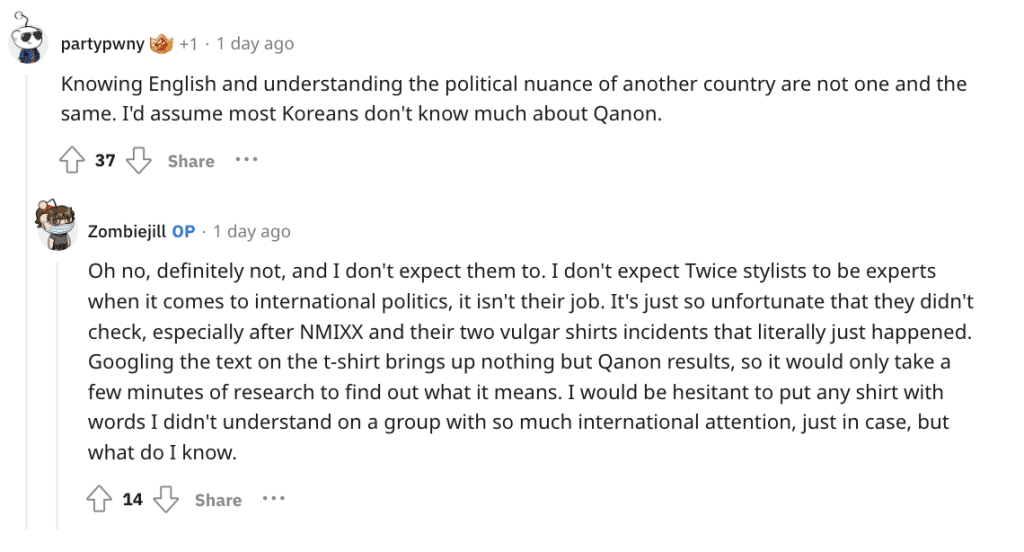 As K-Pop breaks into international markets, it's clear that global attention brings new challenges. And while adjusting to these new audiences is not easy, we, as fans, must keep the industry accountable without pushing K-Pop away from its unique aesthetic.