@haileybieber
https://twitter.com/chismosa/status/1538899528106905600
TikTok users are calling out Hailey Bieber over her latest viral makeup look.
The Rhode Skin founder is facing backlash after she was credited for starting a beauty trend she called "brownie glazed lips".
Taking to TikTok last month, Hailey posted a video rocking dark brown lip liner and a glossy lip with the caption, "ready for all things fall including brownie glazed lips".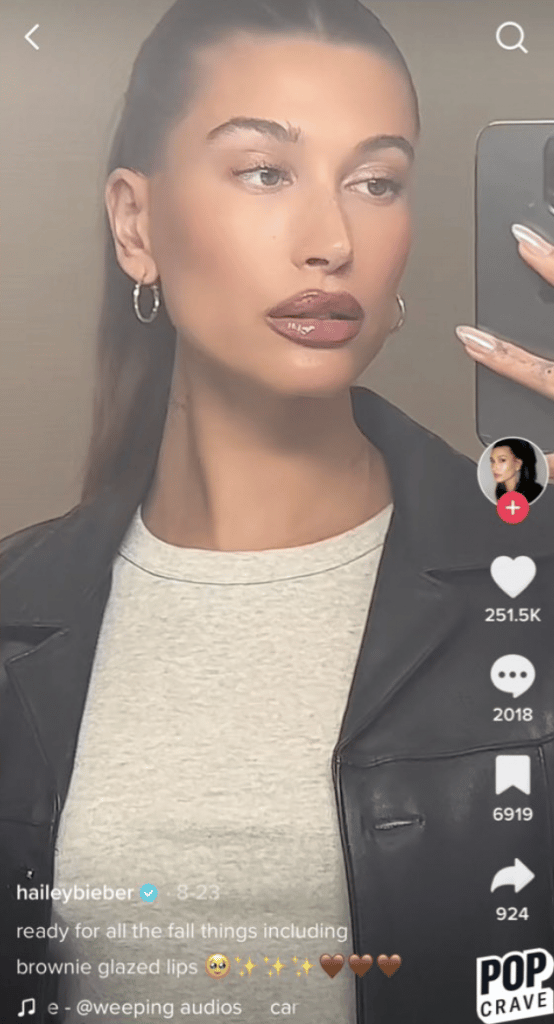 Users have since jumped on the trend, sharing tutorials on how to re-create "Hailey Bieber's" go-to autumn lip combination with the Scott Barnes lip pencil in Noami and the Rhode Peptide Lip Treatment.
While this was not the first time that Hailey has worn this look, some fans have expressed frustration over the model being credited for starting a trend that women of colour have been wearing for decades.
"Another 'trend' taken away from us," said #BrownGirlMakeup creator @makeupbymonicaa in a TikTok caption as she applied a similar lip combination. "Which POC have been doing for years," she wrote on top of the video.
Fashion TikToker @benulus shared some derogatory comments she gets online when wearing this lip combination as a woman of colour.
"Y'all shit on my lips every single time I post, but a white woman does it, it's going to become a trend. It's going to be praised upon," she said. "And yeah, I'm so flattered that Hailey Bieber always gets inspired by my community, by the POC community. But it just hurts me because she's done it now, it's gonna become so trendy."
Hailey has come under fire in recent years for profiting off beauty trends and aesthetics made popular by women of colour— namely, the 'clean girl' aesthetic that she's become known for. Though 'clean girl' is a modern rendition of the '90s and early 2000s model-off-duty look with slicked hair, minimal makeup, and gold jewelry, many consider the aesthetic to be heavily inspired by Black and Latina women.
Despite the backlash, some fans have come to Hailey's defence, noting that brown lips were a signature style in the 1990s— a decade that has recently re-emerged in fashion and beauty trends. Others believe that Hailey's lip combination was inspired by her mother, Kennya Deodato Baldwin, who is of Brazilian descent and was frequently photographed wearing brown, glossy lips over the years.
Hailey has not addressed the backlash at the time of writing.