@charlidamelio
Updated: October 23rd, 2023.
Fans are expressing concern for Charli D'Amelio after a segment from the current season of her reality show highlights her relationship with Landon Barker.
In a clip from season 3 of The D'Amelio Show that has gone viral on TikTok, Charli opens up about her relationship with Travis Barker's son, Landon.
The snippet shows Charli trying to wake Landon for the February 2023 Grammy's red carpet, telling him it's time to get in the shower. Landon was featured on Machine Gun Kelly's Grammy-nominated album, Mainstream Sellout, for which the couple attended the award show together.
Charli then reveals to producers that Landon recently slept through a big night for her, the 2022 Streamy Awards, where he was meant to be her date. Charli won the award for Lifestyle Creator of the Year at the event.
"He was supposed to be my date to the Streamys and he ended up sleeping through it. I was really mad that night," she says.
The TikTok has hundreds of comments from fans telling Charli to "run" and saying that Landon's disregard for her big night is a "red flag."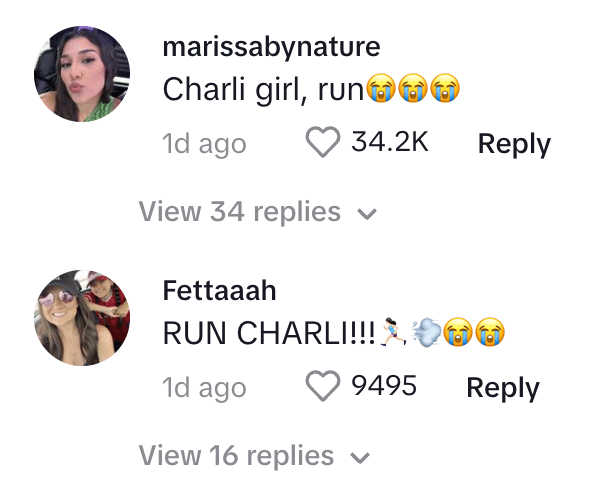 Fans have also expressed concern over Charli having to "mother" Landon in this scene, as it seems the responsibility is on her to ensure he's up and ready for his own event.


Worries about her relationship with Landon resurfaced after the season finale of The D'Amelio Show aired last week.
In the episode, Charli revealed that she had broken up with Landon after he had "flipped out" during her birthday trip to the Bahamas.
"The trip was not as picture perfect as it seemed…" Charli begins. "He flipped out… he was like 'You don't know how to handle my anxiety'… We were fighting every single night. It was like every little thing that I did."
Reflecting on the vacation, the TikToker says that Landon had left her "10 minutes before [her] birthday and didn't say anything" — an accusation that has left many fans shocked and upset for Charli.
Landon soon clarified his side of the story on TikTok. In response to @hollywire's coverage of their breakup, he left a comment stating, "We didn't break up on her birthday I took a breather because we were in a crowded area and came back before her birthday stop."

Landon also spoke about his relationship with Charli on the Zach Sang Show last month. After being asked why the internet thought that the couple had broken up, Landon did not acknowledge that the pair had ever split. Instead, he explained that the rumours of their separation emerged when the couple stopped posting about each other, as they prefer not to be in the public eye.
"We were never like a 'social media couple' on purpose. I feel like a lot of people kind of thought that we were" he reflects. "If it is authentic, you don't really have to post it. We weren't really posting each other, I was seeing her all the time… but that's probably why people thought that, because we weren't as active on social media."
Nevertheless, fans were confused by Landon's explanation with many leaving comments on @TeaTokTalk's post questioning why his story differed from Charli's in the season finale.
"He probably didn't want to admit it on the podcast because hello privacy?" one Instagram user wrote.
"Pretty sure landon was talking about how people though they broke up during August," another added.

In a similar vein, Charli discussed how she determines what to share online regarding her relationship during the season three finale. She elaborated on why she didn't post about their breakup at the time, stating that it "disrupts the healing process."
"It's so much easier to put stuff out after you've already dealt with it," she adds. "No matter what, we still have respect for each other. I think we both are so young and have so much to learn about ourselves. It's important for me to be completely independent and thriving without having a boyfriend."
Given that Charli posted for Landon's birthday last week, it's safe to say that the couple have reconciled since their breakup.