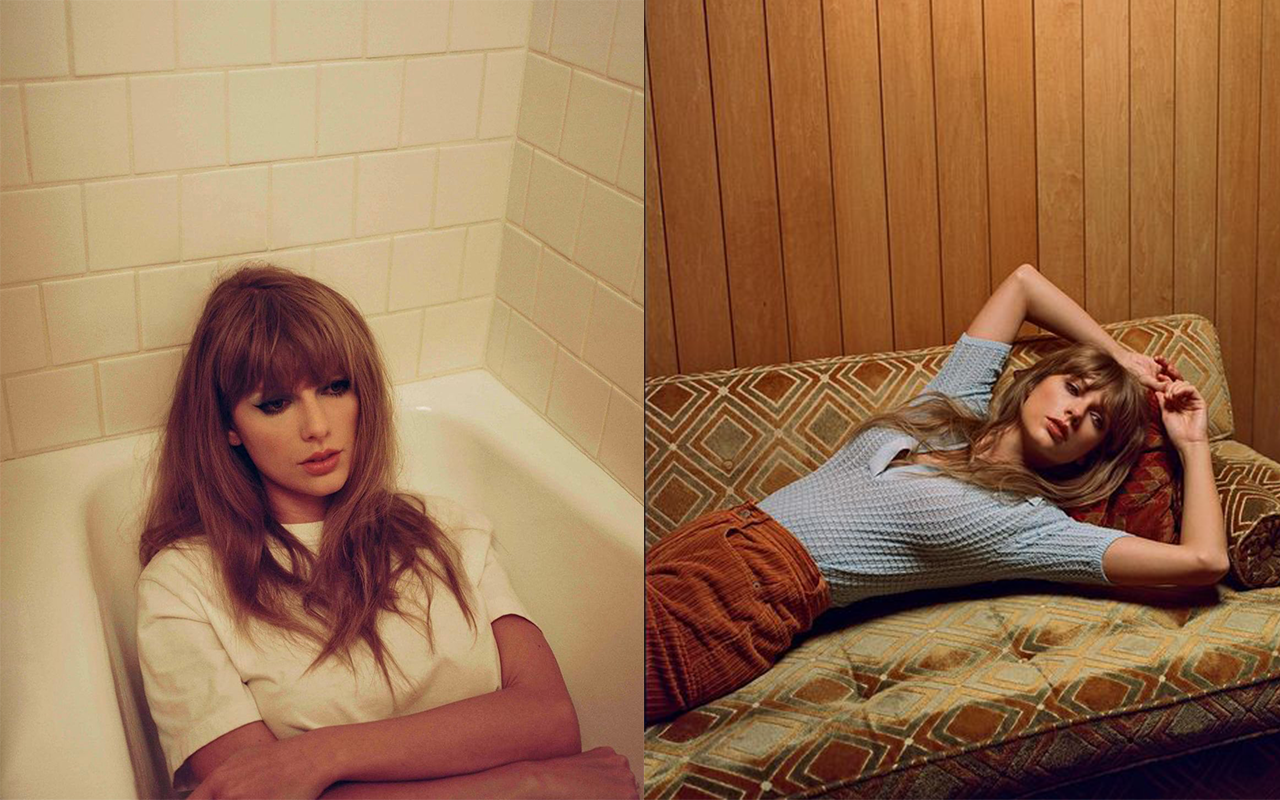 @taylorswift
TW: This article contains discussion of pregnancy loss.
On October 21st, Taylor Swift broke Spotify (literally) with the release of her 10th studio album, Midnights.
A collection of 20 songs about the "highs and lows" that keep us up at night, fans have already dissected the album's lyrics, uncovering what they believe to be some dark truths amidst Taylor's gritty-pop sound.
'Would've, Could've, Should've' is about John Mayer taking her innocence
Unlike Folklore and Evermore, Midnights seems to take the songstress back to her roots in telling stories about her real-life experiences.
And fans are convinced that track 19, 'Would've, Could've, Should've', is an obvious example of this— with theories floating around that the song was written about Taylor's experience dating John Mayer when she was 19 (hence, track 19) while he was in his 30s.
"I damn sure never would have danced with the devil at 19," Taylor sings in 'Would've, Could've, Should've'. "If I was some paint, did it splatter on a promising grown man? And if I was a child did it matter if you got to wash your hands."
The track ends with a powerful line: "Give me back my girlhood, it was mine first."
Taylor previously wrote 'Dear John' on her Speak Now album about her relationship with the singer— also noting how inappropriate their age difference was with the lyric, "Don't you think 19's too young."
'Bigger Than the Whole Sky' alludes to pregnancy loss
'Bigger Than the Whole Sky' is undeniably about loss.
However, some Swifties believe the lyrics allude to Taylor suffering a miscarriage, as the loss described sounds like it was over something short-lived.
"Goodbye, goodbye, goodbye, you were bigger than the whole sky, you were more than just a short time," Taylor sings before saying she is "never gonna meet what could've been, would've been, what should've been you."
She also seems to feel guilt over the loss, asking if "some force took you away because I didn't pray?"
Though Taylor has not publicly addressed pregnancy loss, she often writes songs from the point of view of those close to her. Some believe the song could be written about the experience of a friend or relative.
'Question…?' harks back to her relationship with Harry Styles
Coming in at track 7 is 'Question…?'— a classic Taylor Swift breakup ballad that samples one of her biggest songs, 'Out of the Woods,' which is notoriously about Harry Styles.
Throughout 'Question…?', Taylor sings about an intense relationship that changed her when she was young, claiming she doesn't "remember who I was before you."
If that wasn't enough proof, the chorus has fans even more convinced that the song is about Harry, with lyrics like, "Did you ever have someone kiss you in a crowded room, And every single one of your friends was making fun of you, But 15 seconds later they were clapping too?"
Many believe this alludes to Taylor and Harry's iconic New Year's Eve kiss in Times Square.
In addition to sharing similar melodies, both 'Question…?' and 'Out of the Woods' use the phrase "I remember" throughout.
'High Infidelity' insinuates Taylor cheated on Calvin Harris
Throughout 'High Infedelity', Taylor refers to April 29 as a significant date where she seemingly destroyed a relationship, presumably with infidelity.
Though she never specifies a year, fans believe she could mean April 29, 2016. During this time, Taylor was dating Calvin Harris and there have long been rumours that she was not faithful to him.
"Do you really want to know where I was April 29th? Do I really have to chart the constellations in his eyes? You know there's many different ways that you can kill the one you love, The slowest way is never loving them enough" she sings.
Two days after April 29, 2016, Taylor left the Met Gala with Tom Hiddleston while she was still allegedly with Calvin. She also met her current partner, Joe Alwyn, that night as well, and wrote about the affairs of this night in Reputation's 'Getaway Car' and 'Gorgeous'.
'Vigilante Shit' is about her feud with Scooter Braun
Returning to her Reputation era once more, 'Vigilante Shit' sings about seeking revenge and getting even with someone who wronged Taylor.
Fans are convinced this vengeful song, which Taylor wrote alone, is a follow-up to Folklore's 'Mad Woman' about her feud with celebrity manager Scooter Braun.
In 'Mad Woman', Taylor insinuated that Scooter was cheating on his wife— a theme she carries into 'Vigilante Shit' with the lyrics, "She needed cold hard proof, so I gave her some, She had the envelope, where you think she got it from? Now she gets the house, gets the kids, gets the pride, Picture me thick as thieves with your ex-wife."
Taylor also seems to make reference to Scooter's legal problems, singing, "Someone told his white-collar crimes to the FBI."
Though some Swifties believe these lyrics imply that Taylor provided evidence of Scooter's infidelities to his wife, as well as evidence of his alleged crimes to the authorities, others say that fans should take it theoretically, as we know that Midnights is an album about Taylor's deepest fantasies and darkest musings.
'Midnight Rain' has fans divided on who inspired the track
A fan-favourite so far, 'Midnight Rain' is about leaving a comfortable relationship to avoid settling.
"He wanted it comfortable, I wanted that pain, He wanted a bride, I was making my own name, Chasing that fame, he stayed the same, All of me changed like midnight," Taylor sings.
She also insinuates that the man in this relationship was too "nice" which is why she broke up with him.
Some fans theorise that 'Midnight Rain' could be about Tom Hiddleston.
Taylor dated Tom back in 2016 for a few short months. As mentioned above, they apparently met the same night she met her current partner Joe Alwyn. Fans think that Tom could have been more serious about the relationship than Taylor and she wrote 'Midnight Rain' about their whirlwind romance.
However, other Swifties think the song is more likely about Twilight star Taylor Lautner, whom she dated for several months in 2009 while her career was starting to take off (hence, "I was making my own name, chasing that fame").
This theory also aligns with what was previously written about their relationship— namely, that Lautner liked Taylor more than she liked him.
Taylor's 'Back to December' off Speak Now is also notoriously about Lautner, in which she pleas for forgiveness from a former lover for treating him poorly.
While Taylor isn't typically one to confirm or deny fan theories, the Swifties have made some pretty compelling arguments about the music and lyrics in Taylor Swift's 10th studio album, Midnights.