Twitter
Oops.
Earlier this week, it was reported that Emma Watson would longer be taking new acting roles for the foreseeable future. According to The Daily Mail, a rep for the 30-year-old reportedly said she had gone "dormant" on the career-front and was "not taking on new commitments."
Questions about the actress' whereabouts began circulating online after several fans wrote into the celebrity gossip Instagram account, Deux Moi. The account's admin posted screenshots of messages from concerned Emma Watson fans wondering if she's okay.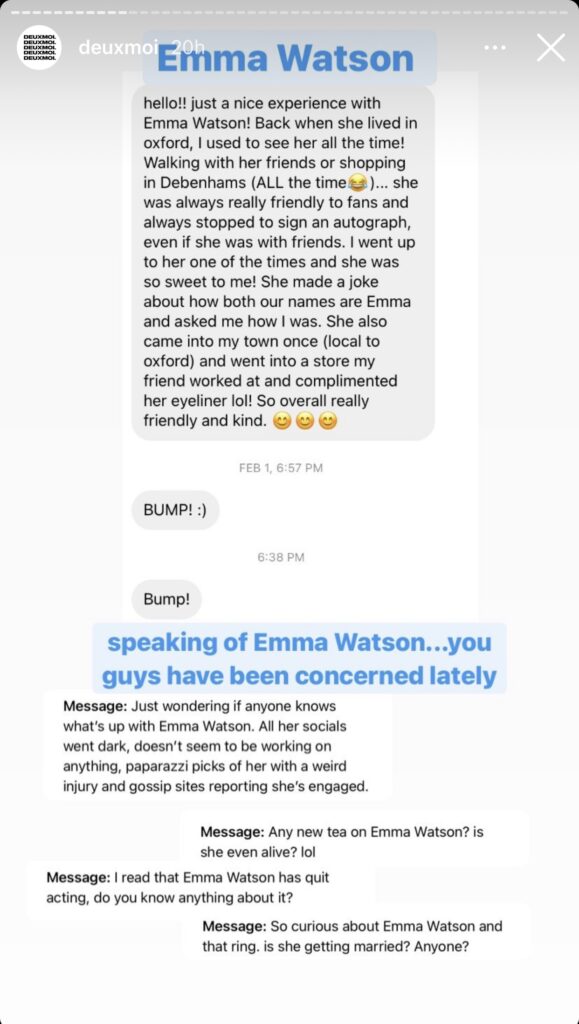 The Daily Mail seemingly confirmed Emma's retirement from acting, citing she wants to spend more time with her fiance Leo Robinton.
Now, Entertainment Weekly reports that the Harry Potter star is, in fact, not ready to throw in the towel just yet.
"Emma's social media accounts are dormant but her career isn't," Jason Weinberg, Emma's agent at United Entertainment, told EW in a statement.
Though the rumour's been debunked, we're don't anticipate a new project from Emma any time soon.