@dylanmulvaney / Instagram
Updated: April 11th, 2023
Political conservatives are (once again) directing their anger toward TikTok star Dylan Mulvaney.
Earlier this week, Dylan announced that she is partnering with Bud Light to promote the company's #EasyCarryContest – a chance to win $15000 cash by showing how many beers one person can carry.
The influencer posted a short sit-down video on Instagram to share the news. But before Dylan gets comfortable, we see her holding five Bud Light beers, giving the Easy Carry Contest a go herself.
"Impressive carrying skills, right?" she begins. "So, I kept hearing about this thing called March Madness, and I thought we were all just having a hectic month, but it turns out it has something to do with sports. I am not sure exactly which sport, but either way, it is a cause to celebrate."
Dylan goes on to explain how she celebrated her 365 days of womanhood this past March – a significant milestone in her "Days of Girlhood" series, where she chronicles her life as a trans woman. In fact, Bud Light sent the TikTok star a personalised beer can to honour her one-year anniversary.
"Bud Light sent me possibly the best gift ever, a can with my face on it!" Dylan says in the video.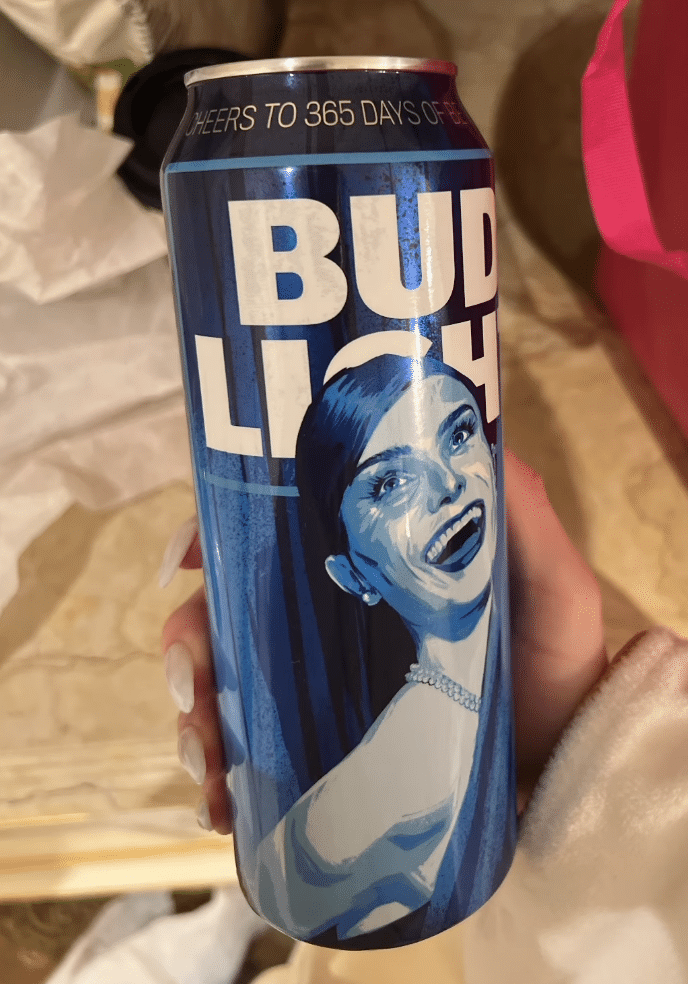 While many internet users are happy to see a company like Bud Light make a move for trans and LGBTQIA+ visibility, right-wing political pundits were quick to criticise the campaign.
These social media users went on to undermine and invalidate the experiences of trans women – with many misgendering Dylan and claiming that Bud Light is "mocking women." Some have even boycotted the brand, saying they will no longer drink Bud Light beer.
A spokesperson for Bud Light responded to the campaign's reaction by providing a statement to Fox News.
"Anheuser-Busch [brewing company] works with hundreds of influencers across our brands as one of many ways to authentically connect with audiences across various demographics and passion points," they say. "From time to time, we produce unique commemorative cans for fans and for brand influencers like Dylan Mulvaney. This commemorative can was a gift to celebrate a personal milestone and is not for sale to the general public."
Unfortunately, this is not the first time Dylan has been forced to face the fury of transphobes and political conservatives.
Last October, Dylan became the target of anti-trans vitriol from Republican politicians and Caitlyn Jenner after she sat down for an interview with President Joe Biden about trans-related healthcare in America.
She also faced criticism after Tampax sent her a PR package last year. Transphobic users argued that this package contributed to America's tampon shortage as Dylan doesn't use the products herself.
The creator addressed the situation in a TikTok video, saying she is "so tired" of sticking up for herself over something "pure intentioned".
"I just sometimes carry one in case anybody needs it, and that seems to have just set the world on fire in some pretty nasty ways," she said. "The bigger problem… Is that you feel me carrying a tampon around is a threat to you and your womanhood? How is someone doing something nice so repulsive to you?"
Dylan addressed her recent partnership controversies on an episode of Onward with Rosie O'Donnell published on April 11th.
"The reason I think I'm an easy target is because I'm still new to this," she said. "I think going after a trans woman who has been doing this for 20 years is a lot more difficult. Maybe they think there's some sort of chance with me that they can—but I mean, what is their goal?"
That being said, it is high time to put an end to the hate and harassment that trans women and creators like Dylan face online. Here's to hoping that this is the TikTok star's last time dealing with this sort of transphobic backlash.