@centralcee / @madelineargy
Updated: September 12th, 2023.
Fans are wondering whether Madeline Argy and Central Cee are on the rocks. 
The two have been romantically linked since September 2022.
Rumours of their relationship started swirling after Central Cee dropped his song 'Doja.' Many fans believed he referenced Madeline in the opening lyric, "How can I be homophobic? My b—h is gay," given she has openly talked about dating women in the past. 
Since then, the pair have posted several TikTok videos together, where Madeline has been spotted with the rapper on tour.

Now, internet sleuths have noticed that the two recently unfollowed one another on Instagram, leading some fans to believe the couple may have broken up.
However, others are not sure whether this is the case.
Numerous Instagram users have commented on @TeaTokTalk's post, writing that the pair have unfollowed each other multiple times throughout their relationship. These fans believe this could be a publicity stunt for Madeline and Central Cee.
"They have unfollowed eachother abt 50 times now this is def a pr move on his part me thinks," one user writes.
"They've been doing this follow/unfollow since the very beginning of their relationship," another shared.

While the pair have unfollowed each other in the past, some fans have noted that this is the first time Madeline has found herself shrouded in controversy.
ICYMI, Madeline recently posted a TikTok recounting how she used to tell people that she wanted to "live in a sundown town" when she was older because she didn't understand what the term meant.
Sundown towns are all-white areas in the United States that practice racial segregation by excluding non-white people via discriminatory policies, violence, or intimidation.
Madeline soon took to TikTok to apologise for her racial ignorance.
"Guys I want to apologise for the sundown town post before that gets to any more ears than it already has without like, me being able to say sorry," she said on August 15th. "I had been saying for years, that like, sundown towns look like a really nice place to live because I did not know what they were. So I was trying to poke fun at myself for that."
Though she addressed the controversy, many fans of Central Cee believe he unfollowed Madeline or even broke up with her to separate himself from the scandal.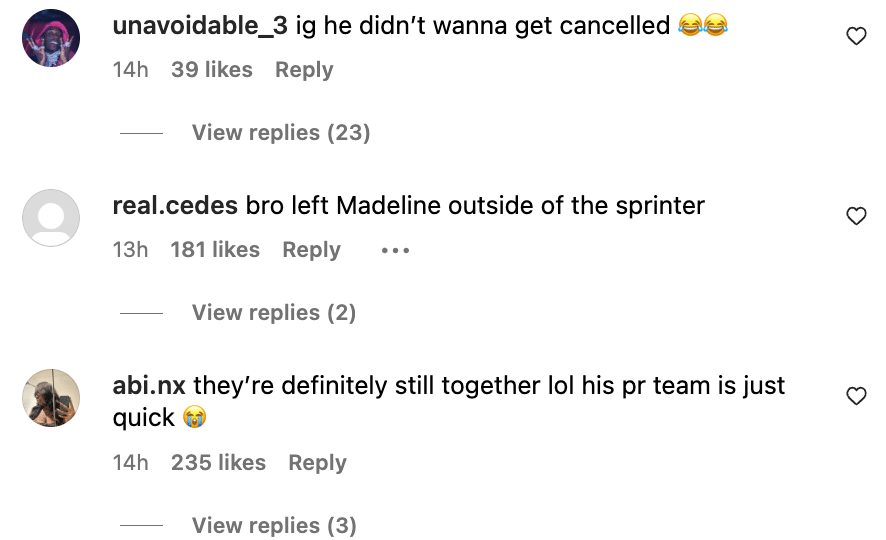 Confirmation seemingly came from producer and DJ Zack Bia, when he told the crowd at a Drake concert that "Central Cee is single, by the way."
Zack's announcement was met with immediate screams from the audience.
The separation between the Madeline and Central Cee persisted throughout New York Fashion Week. Although they were both in attendance, the pair was not spotted together.
On September 10, Madeline fuelled further speculation when she posted an Instagram watching the rapper's story. The TikTok star was sitting comfortably in bed while snacking on chips and scrolling through Instagram Stories on her iPad.
Fans believe the story she was viewing showed Central Cee preparing to go to a strip club.
Nevertheless, internet users are unsure what to make of Madeline's post.
Some believe it's her way of indicating that Central Cee is "still her man," while others see it as the final straw, suggesting that this kind of "petty" post indicates they are no longer together.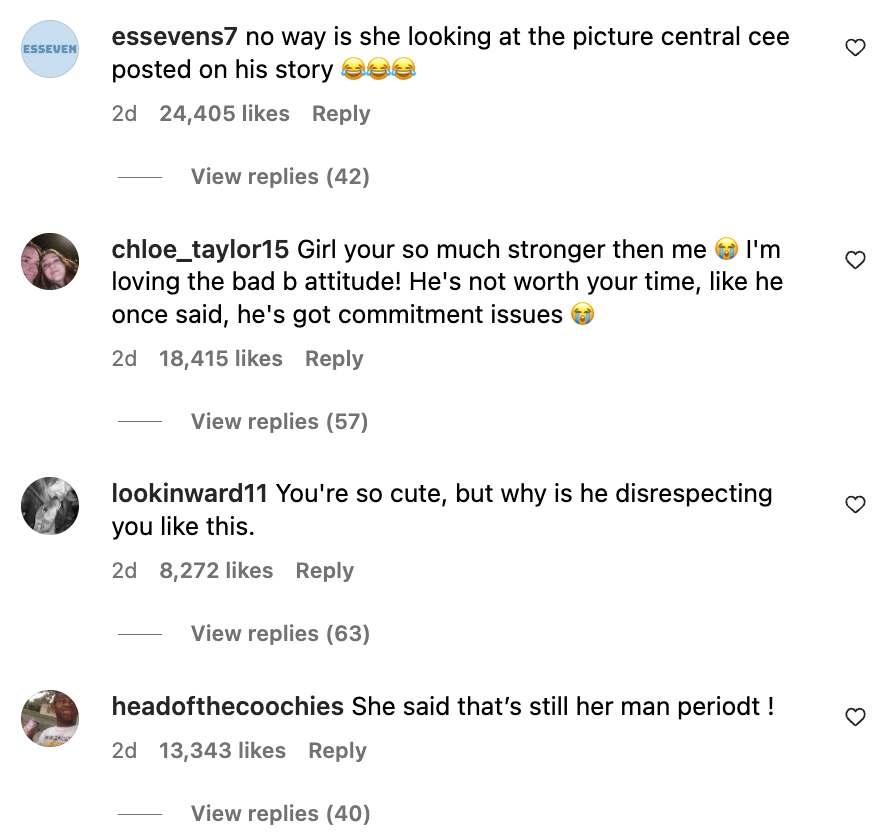 Check back for updates.