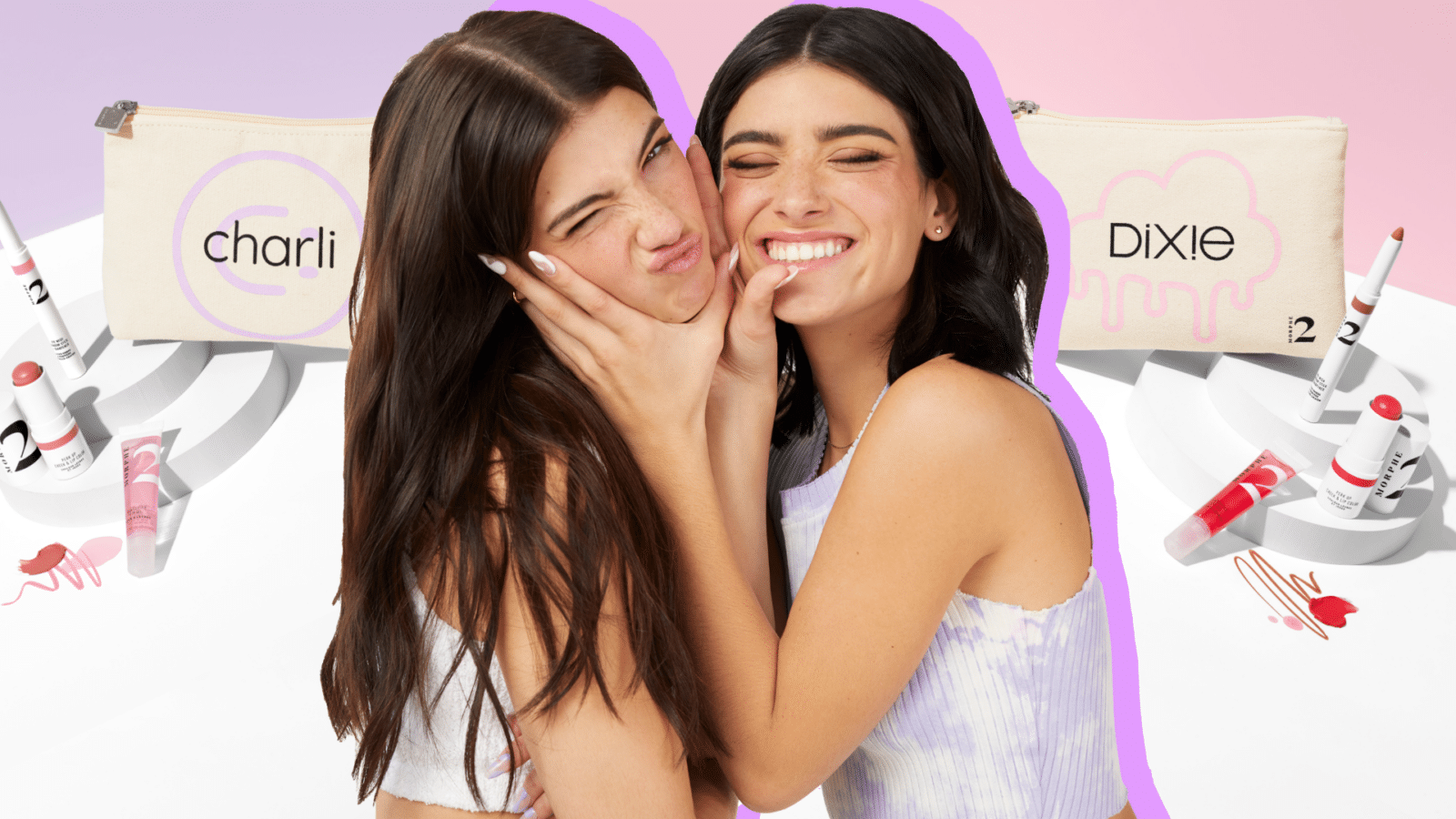 You'd be hard-pressed to find someone who isn't fascinated by Charli and Dixie D'Amelio.
With a combined following of nearly 165 million on TikTok alone, the D'Amelios' rise to viral stardom is one of the fastest in social media history. And though it might seem like a total fluke, we're not entirely convinced.
Despite being the most-watch sisters online, Charli and Dixie have maintained a strong sense of relatability— a factor that has fueled their success and kept them connected to their fans. From dancing in messy bedrooms to posting makeup-free selfies (usually alongside a giant iced coffee), the teenage sisters are a case study in turning unfiltered authenticity into opportunity.
It's been two years since Charli posted her first TikTok lip-syncing alongside a friend— Dixie joined six months later when Charli hit 1 million followers— and their influence now far transcends the confines of social media.
Over the past 18 months, 16-year-old Charli has danced in a Superbowl commercial, appeared on Jimmy Fallon, starred in a film, wrote a book, and created a signature coffee drink with Dunkin'. In the same vein, Dixie has worked with some of music's biggest names to release chart-topping singles and recently launched a talk show interviewing influencers and celebrities including Hailey Bieber. The 19-year-old has also solidified herself as a mainstay in the high-fashion industry, attending shows with Chanel, Prada, and Versace. But it doesn't end there— together, the sisters have launched a podcast, graced countless magazine covers worldwide, and partnered with huge brands, including their most recent collaboration with Morphe 2.
To say the D'Amelio sisters are a force to be reckoned with is an understatement. So when you're offered the chance to speak with them, it's the kind of opportunity you don't pass up.
Centennial Beauty had the privilege of sitting down to ask Charli and Dixie all our pressing questions. Here are the internet's most famous sisters on finding confidence, how they stay grounded, and their biggest beauty muse.
After a whirlwind couple of years online, Charli and Dixie are settling into a new phase of their careers. While the powerhouse sisters are focused on their respective projects and interests, they still prioritise opportunities where they can work together. "What we like most is getting to work together on collaborations," they tell us. "It is a big part of why we like working with the Morphe 2 team."
After working with Morphe 2 throughout 2020 on creative direction for the sub-brand, Charli and Dixie are gearing up for another collaboration with the cosmetics giant, releasing curated bundles of their favourite go-to products from the range. "My set includes Eye Wish Shadow Stick in Bubblegum, Perk Up Cheek & Lip Colour in Rosy Wishes and Glassified Lip Oil in Mirror Mirror," Charli tells us. "My set includes Eye Wish Shadow Stick in Lucky Penny, Perk Up Cheek & Lip Colour in Hibiscus Hottie and Glassified Lip Oil in Flutter," says Dixie.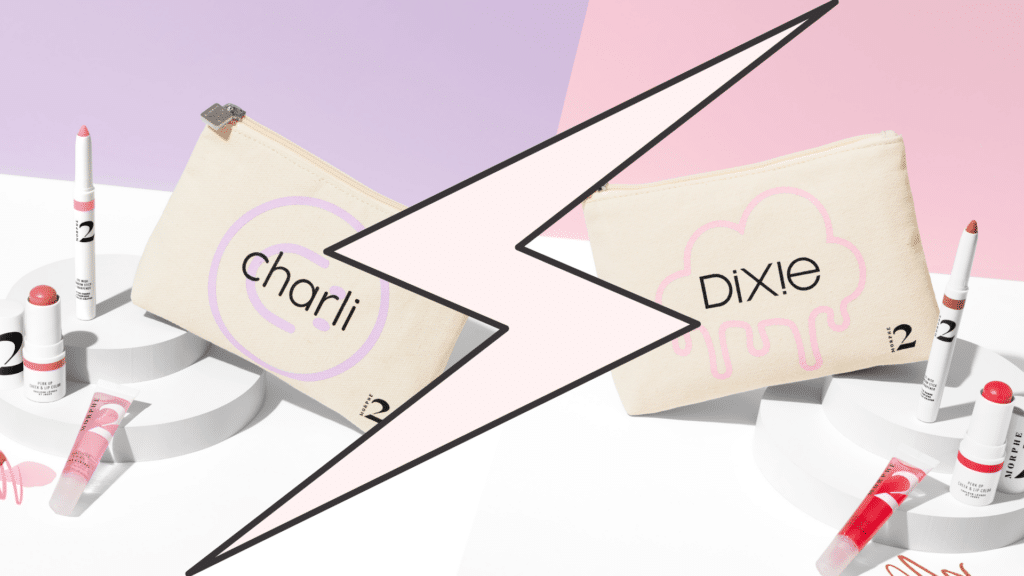 Though they frequently show up bare-faced on social media, collaborating with a beauty brand is a natural fit for the teens who have been experimenting with makeup for years.
"My love for makeup began as a little girl," Charli says. "I think I was 5 years old! My mom would do my makeup for dance competitions."
"Mine much later, I started getting interested in makeup around high school," Dixie explains.
Growing up, the Connecticut natives say they turned to their mother and grandmother for beauty inspiration. "Our grandma on our dad's side is very chic. She is still a muse for us. And our mom came from the modeling world and we learned so many tricks and tips from her," they say. Charli adds that she favours "soft pink shades" for makeup, while Dixie says she opts for neutrals.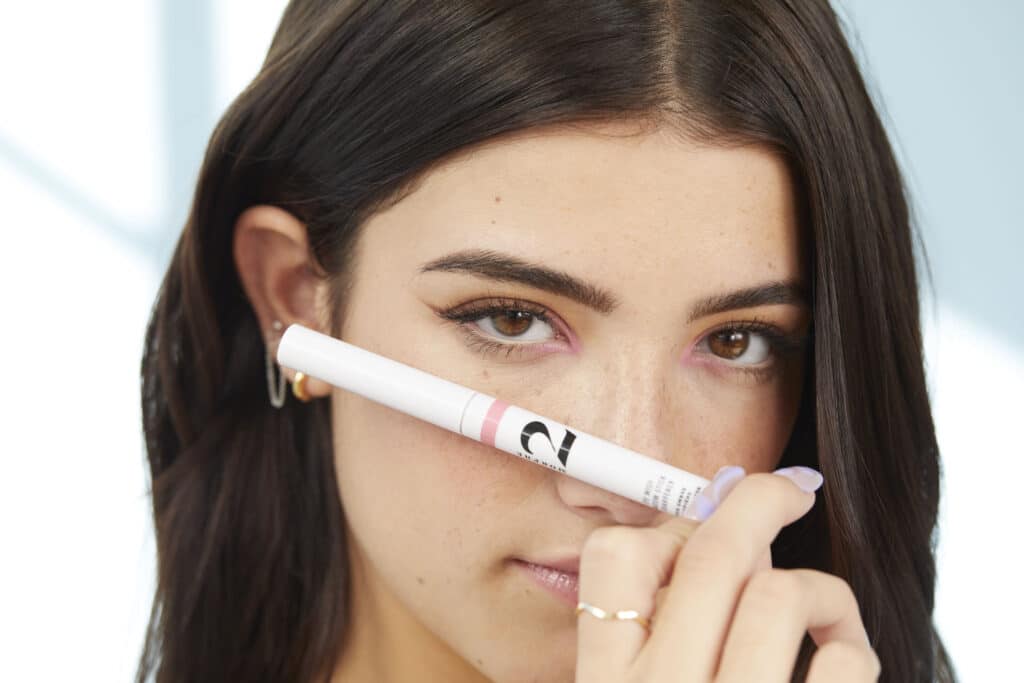 Despite the opportunities they've been awarded, skyrocketing to viral fame at such a young age (by accident, no less!) has come with its challenges. "We're normal teenage girls who get criticized for almost everything we do which can really affect our confidence levels," they tell Centennial Beauty. "I think being in the spotlight has helped with our confidence a lot but of course we have our off days."
Charli and Dixie make it a point to note that confidence is something that every teen struggles with, famous or not. "It's hard being a teen no matter what," they say. "Whether you are in the public eye or just being judged by people at school, it's a challenge for all teens in some way to deal with the ups and downs of friendships and relationships."
The girls explain that on their off days, they feel lucky to have such a supportive network around them, including their parents Heidi and Marc, saying, "We have definitely grown closer since we are experiencing a change of life together. We have each other's backs and knowing we can always lean on and turn to each other is very comforting."
"Our family has grown a lot closer which is amazing too," they add.
In November 2020, the entire D'Amelio family faced harsh criticism following a vlog posted to their YouTube channel as part of a now-defunct series, 'Dinner with the D'Amelios.' Charli and Dixie came under fire for what fans called "bratty" and "ungrateful" behaviour, including a comment Charli made about wishing she had hit 100 million TikTok followers "one year after hitting a mil".
The backlash was swift and intense— Charli lost over 1 million followers in 24 hours and both teens received a barrage of hateful messages and death threats.
"We all need to be conscious of the things we say because it can really affect others," the girls say on what they've learned from dealing with negativity online. "As a society, we need to be more careful with our words and make sure we are treating people with kindness… We're definitely still learning and growing and will continue to do so."
Amongst the chaos of their high-profile lifestyle, the D'Amelio sisters remain refreshingly relatable, insisting, "There are things that don't change. We still make our beds, we still need to clean our rooms, and we are still like most teens."
But of course, there's no denying these past two years have been nothing short of remarkable. "When I stop and think about it, I'm like 'Whoa, this is so crazy!'," Charli says. "I don't even know how this happened."
On their future plans, the girls are tight-lipped for now. "I just live day-by-day and I'm excited for everything," Dixie says.
Charli & Dixie's Go-To Faves kits + Morphe 2's new Eye Wish Sticks will be available for purchase from April 23rd. Morphe 2 Cheek sticks will be available for purchase from May 12th.