@bellapoarch
Updated: November 9th, 2022.
TikTok queen Bella Poarch has filed for divorce from her secret husband.
According to TMZ, the influencer was married to a man named Tyler Poarch for four years. The couple got married in January 2019 and Bella has seemingly kept him off her social media platforms, even prior to posting her first TikTok video in April 2020.
Though Bella has kept her personal life mostly under wraps, fans were shocked to find out that the TikToker-turned-singer has been married for the entirety of her social media career, flooding her comment section with questions.
Today, Bella took to Instagram to address the discourse around her soon-to-be ex-husband, posting a short statement apologising for keeping her marriage a secret.
"I will address my divorce when I am ready to speak about it. In the meantime, please respect mine and Tyler's privacy," she writes. "My team will be taking over my socials and posting certain obligations that need to be fulfilled."
Bella also revealed that she is taking a break from social media during this stressful time.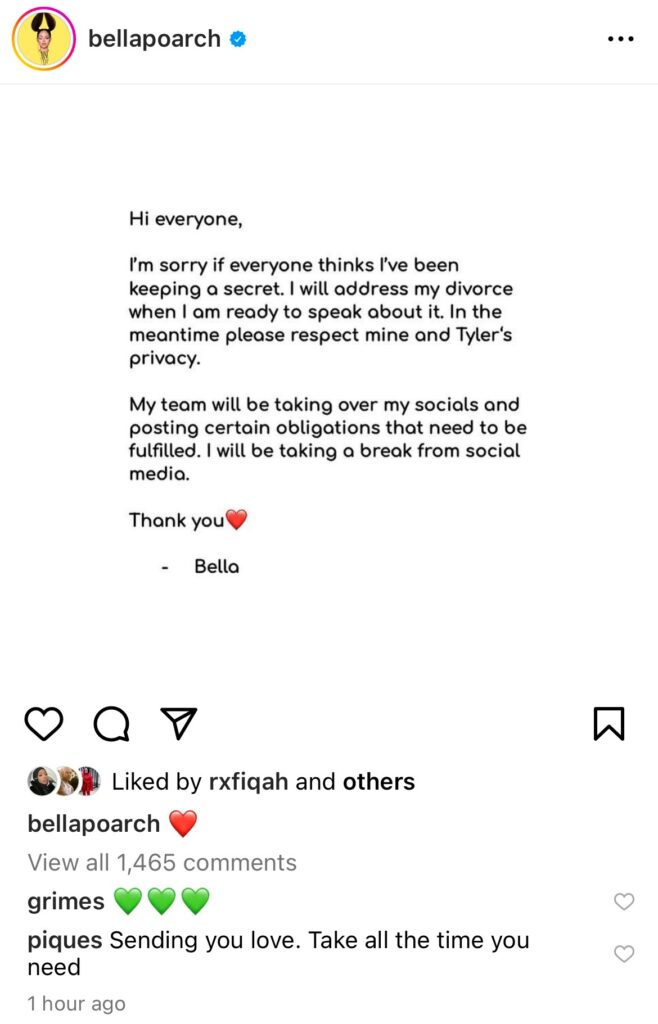 After finding viral fame in mid-2020 for her quirky rendition of Millie B's 'M to the B' — which became the most-liked video on TikTok within a matter of weeks— Bella solidified herself as a creator to watch. Known for her childlike facial expressions coupled with seamlessly timed lip-syncing (usually on superzoom), Bella quickly captivated millions, carving out a space for herself amongst TikTok's top creators.
In May 2021, Bella released her debut single 'Build A Bitch,' about the pressures women face under the patriarchy to look and act perfect. A dark play on the popular children's franchise Build-A-Bear, Bella's first single was arguably the most successful musical debut from a TikTok star to date, debuting at #147 on the global Spotify charts and raking in nearly 40 million views on the music video in its first three days.
Despite her popularity, there is still an air of mystery around the star which adds to her appeal— including theories that her legal name is Taylor Nariee and questions around her real age. Famous Birthdays alleges Bella was born February 8th, 1997, but she has yet to confirm.
Given her penchant for privacy, it's surprising Bella addressed her soon-to-be ex-husband. Still, we are wishing all the best for the TikTok star as she begins this new chapter.