Former Trash channel creator Anna Campbell has been accused by former ex-girlfriends of abusive behaviour and inappropriate conduct with minors.
In a video posted this week, Taylor Pendergraff, Kaylee Jade, and YouTuber Natalia Taylor— who posted the video to her 2.2 million followers— have come together to tell their story of allegedly surviving highly abusive relationships with the 28-year-old creator.
TW: Reporting on sexual assault, abuse, and addiction.
"We are survivors," the women start in unison.
Throughout the video, the women detail their shared experience of allegedly being sexually, emotionally, physically, and mentally abused by Anna. They claim that Anna taught them how to use hard drugs, frequently sexted minors as young as 12-years-old, and threatened suicide to prevent them from speaking out against her alleged abuse over the years. They all say Anna still harasses them both publicly and privately to this day.
ICYMI, Natalia and Anna had a very public relationship, even creating a YouTube channel together called 'Natana.' Around this time, Natalia withdrew from her own channel and fans became concerned for her well-being as she was losing weight rapidly and appeared to be checked out in Natana channel vlogs.
Natalia was eventually hospitalised following a drug-induced psychotic episode while attending Michigan's Electric Forest festival with Anna.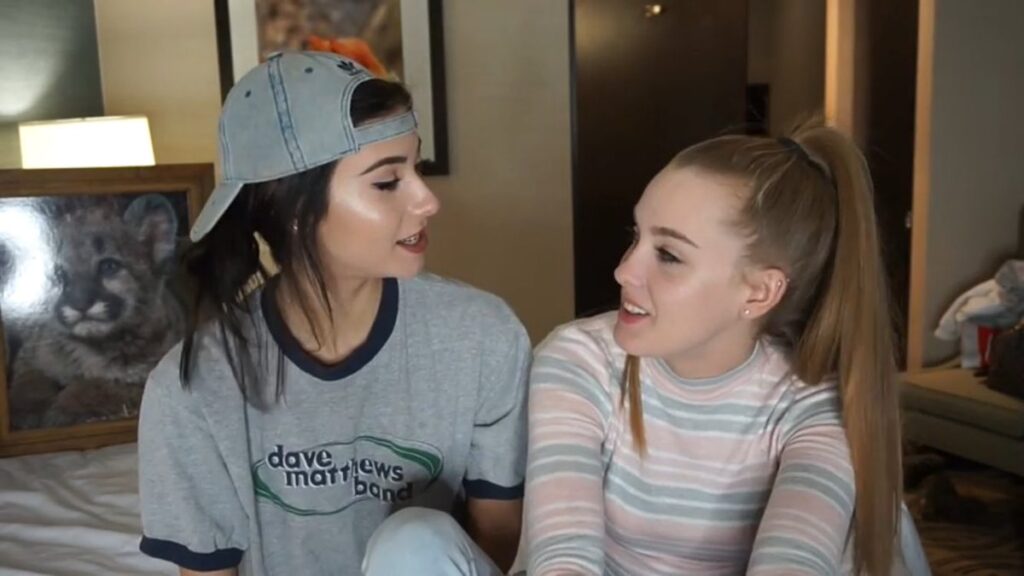 Later in the video, Kaylee reveals that Anna allegedly "sold" her body on Anna's OnlyFans. "Anna Campbell exploited by body for her OnlyFans," she says. "It was never her. It was always my body that she sold on her OnlyFans for her thousands of subscribers to see my body."
Both Natalia and Taylor mention creator Ally Hardesty in their stories, implying she was allegedly complicit and sometimes contributed to Anna's abuse.
The women finish by saying they made the video to represent "Mads, Drew, and any other young fans included in the AA and NN group chats" and they stand by the other influencers affected including Marina Joyce, Andrea Russett, Leah Marie Johnson, Kahlen Barry, and Sierra Watts.
This is not the first time that Anna's allegedly dangerous behaviour has been exposed. Commentary channels have been reporting on Anna for years, some going as far to dub her the "most dangerous YouTuber" on the platform. In September 2020, Anna was forced to address allegations that she groomed minors and sent them nude photos in a group chat after a TikTok from an alleged victim went viral.
Anna has since responded to Natalia, Taylor, and Kaylee's video, claiming the stories are "made up" and she plans to "fight" the allegations.
It is terrifying to open up about past trauma, and we commend the women for coming forward despite Anna's powerful platform.
If you or someone you know has been a victim of sexual misconduct of any sort, please call the Australian National Sexual Assault Support line at 1800 737 732.