@itsmetinx
https://www.instagram.com/p/Cb7ulHArpoj/
The internet's "big sister" Tinx is facing backlash after Reddit exposed past tweets from the social media star sharing fatphobic and xenophobic views.
Tinx, real name Christina Najjar, shot to viral fame in recent years for sharing pop culture opinions, sisterly advice, and her signature "rich mom" cultural analyses on TikTok.
Though not the most-followed creator on the app, the L.A.-based influencer has quickly transcended the confines of internet stardom largely due to her unique ability to connect with her followers.
Unlike other creators who focus heavily on growth, Tinx built her loyal fanbase by prioritising the followers she currently has— interacting with them in the comments and DMs, doing frequent Q & As, and truly making them feel a part of her journey.
It's this accessibility that has helped turn Tinx into a full-fledged mononymous star with A-list opportunities.
Now, some fans are attempting to grapple with the shattered illusion of their fave following resurfaced tweets that came to light earlier this month. The tweets were first posted in the subreddit r/tinxsnark and later amplified by journalist Sophie Ross via Substack, Twitter, and her appearance on the So Bad It's Good podcast with Ryan Bailey.
Resurfaced tweets from 2012-2014 show Tinx calling women "fat", including Kim Kardashian and Lindsay Lohan. In 2020, the influencer retweeted and liked several tweets expressing xenophobia against Chinese people related to COVID-19.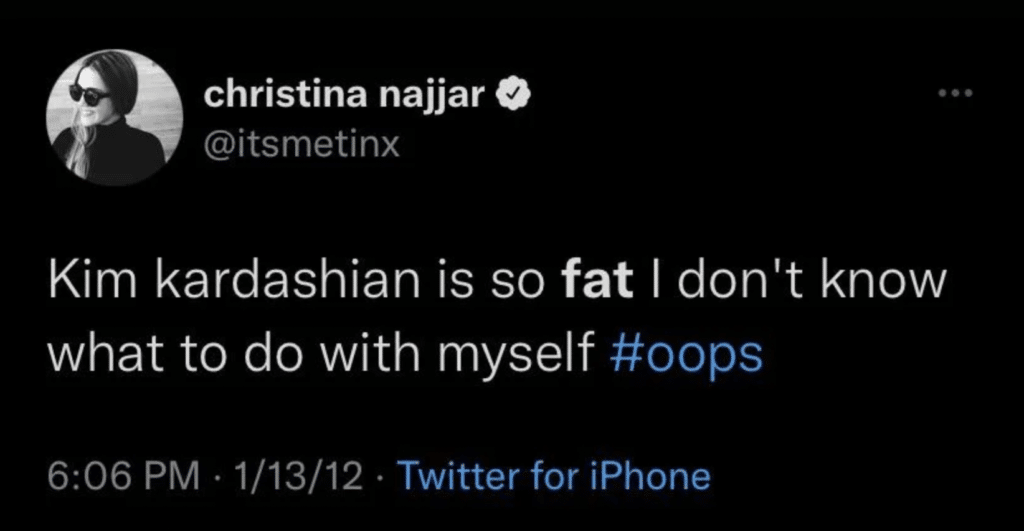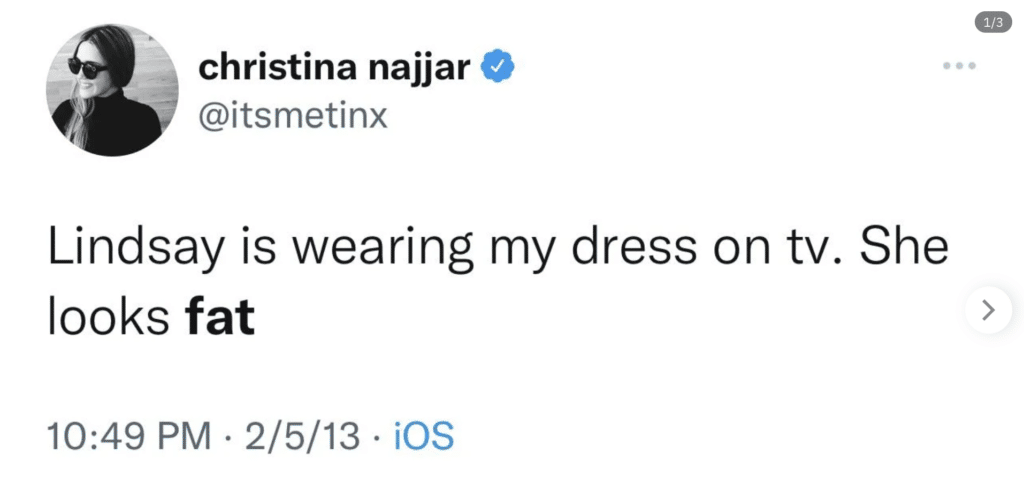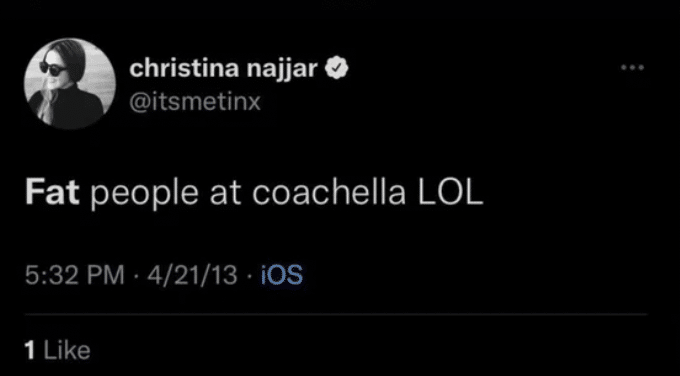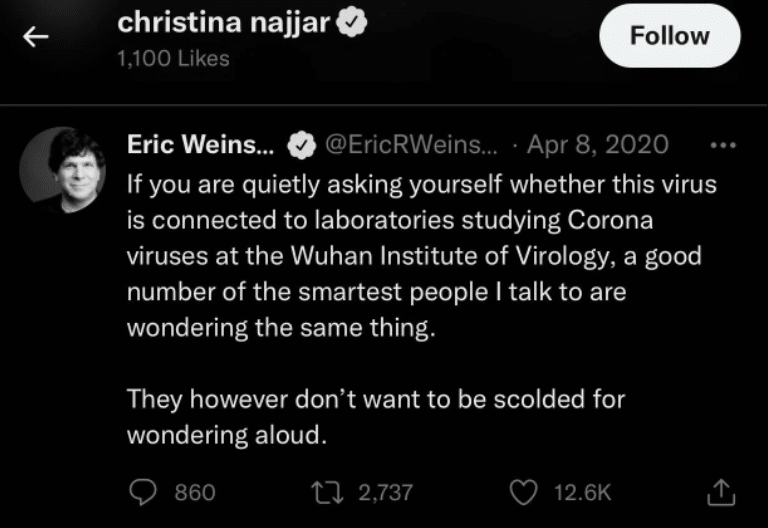 While most of Tinx's problematic tweets date back nearly 10 years, the sentiments expressed are in stark contrast to her online persona now, where she often preaches about body positivity, self-love, and women supporting women. Some feel Tinx has also led her followers to believe her views are more progressive and liberal than her Twitter activity indicates.
As news of Tinx's resurfaced tweets gains more momentum, the creator is beginning to face consequences. Several former listeners of her highly popular podcast, It's Me Tinx, have left one-star reviews over the past week and are directing fans to the subreddit. People have also taken to the creator's TikTok comment section to notify fans of her past tweets.



Some users in the subreddit also say they have considered contacting Tinx's sponsors.
Now, 24 hours after the backlash initially surfaced Tinx has addressed the tweets in a notes apology posted to her Instagram grid. She explains she is "beyond embarrassed" and "[wants] to take accountability," sharing that her "truly nasty, mean, horrible tweets" were a result of personal insecurity. She continues, acknowledging that she was mean spirited but is a "work in progress".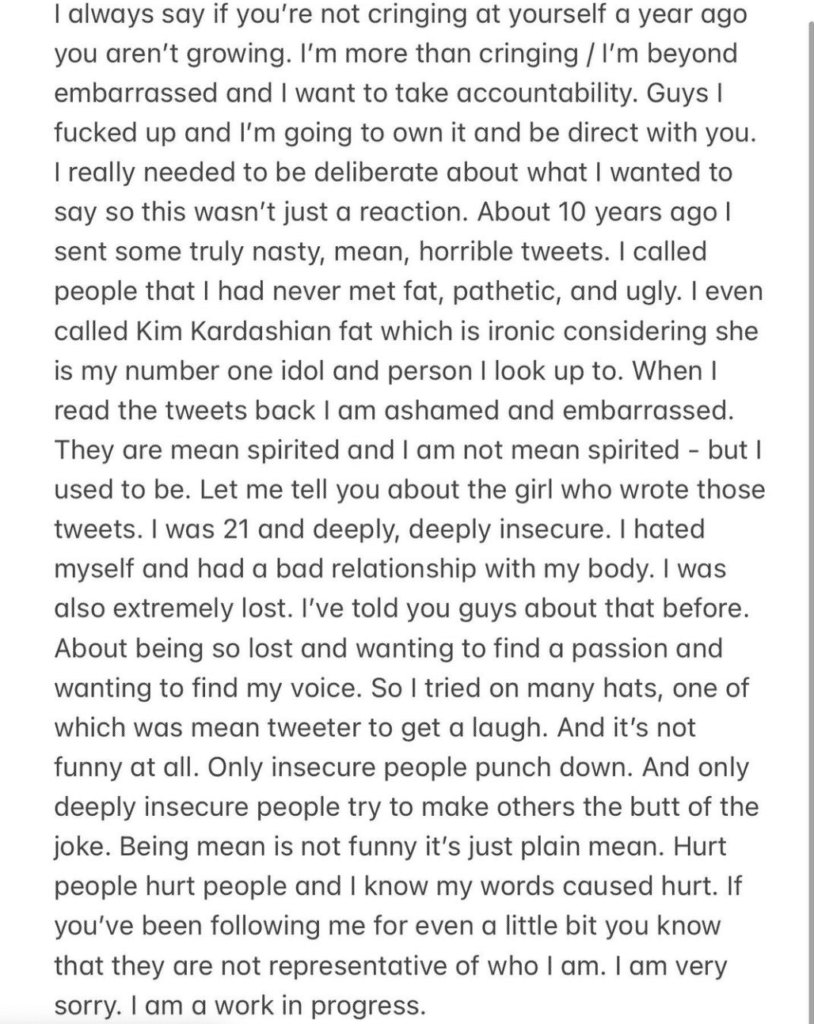 While most of Tinx's fans and followers seem satisfied with the apology, imploring people to prioritise accountability and growth over "cancellation", others called for her to address the xenophobic comments liked and shared on Twitter in relation to COVID-19— which was not addressed in her initial statement.
Unexpectedly, a day later, in a scheduled "Ask My Anything" on her Instagram, Tinx responded to the statement "please just address the 2020 tweets" by explaining: "In 2020 I was in the same scared and wildly disruptive place we all were. I was confused, frustrated, depressed and anxious scrolling the internet looking for any type of reprieve or explanation…it isn't a satisfying answer to say "I wasn't thinking clearly" when I liked those tweets, but it is the truth." She continues, saying she is "horrified" to have potentially contributed to the anti-Asian sentiment rife in the US but Western countries more broadly at the beginning of and throughout the COVID-19 pandemic.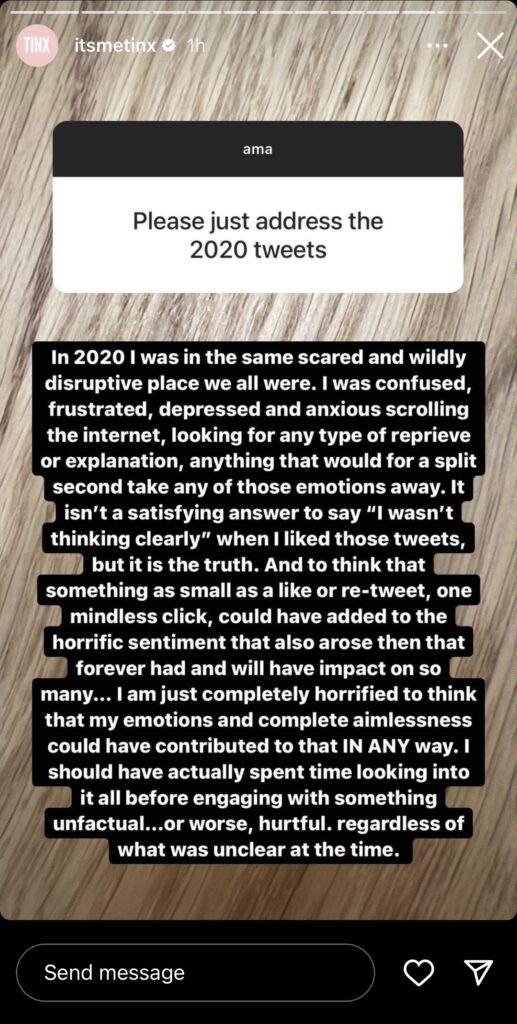 Tinx has currently lost around 3,000 of her 480K Instagram followers and gained around 300K on TikTok, taking her from a following of 1.2 to 1.5 million. Time will tell if she will face further consequences or if her following and partnerships will hold steady.