@oliviarodrigo
https://www.instagram.com/p/CSNgU_wp6-s/
https://www.instagram.com/p/CTFnOPdL9k4/
Ever since Olivia Rodrigo blessed us with her chart-topping debut SOUR, the singer-songwriter has been embroiled in controversy over the album's musical inspiration and creative design.
Olivia and her team were first called out by rock legend Courtney Love for recreating Hole's 1994 Live Through This album cover as promotional material for SOUR's June 29th virtual concert. Both images feature a smiling prom queen in a diamond tiara holding a bouquet of flowers with mascara tears running down her face.
The lighting, colour scheme, and production quality of both images have also drawn comparisons.
In a since-deleted Instagram post, Courtney Love shared a side-by-side of the images with the caption, "Spot the Difference! #twinning".
She continued on Facebook, writing, "Stealing an original idea and not asking permission is rude. There's no way to be elegant about it. I'm not angry. It happens all the time to me. But this was bad form."
Olivia responded to the dig on Instagram, commenting: "love u and live through this sooooo much". The 18-year-old later told GQ Magazine that she was "flattered" Courtney Love knows she exists.
Around the same time as the Courtney Love drama, Olivia copped heat over claims she lifted a guitar riff from Elvis Costello's 1978 song 'Pump it Up' for her latest single 'brutal'.
Elvis Costello himself nipped this contention in the bud via Twitter.
"This is fine by me," the legendary artist wrote in reference to Olivia allegedly using his riff. "It's how rock and roll works. You take the broken pieces of another thrill and make a brand new toy. That's what I did."
He finished by including references to Bob Dylan's 1965 'Subterranean Homesick Blues' which inspired 'Pump it Up' as well as Chuck Berry's 1956 'Too Much Monkey Business' that influenced Bob Dylan's song.
Weeks later, Olivia and her label were forced to give writing credits to Taylor Swift, Jack Antanoff, and St. Vincent after fans cried plagiarism over similarities between Olivia's 'deja vu' and Taylor's 'Cruel Summer'.
Though it remains unclear whether the Evermore artist took action to ensure writing credits, Olivia has been vocal about Taylor's influence on her music— even going as far as to call her the "best songwriter of all time".
"I've always looked up to Taylor since I was literally five years old," Olivia told NME back in May. "Obviously I think she's the best songwriter of all time, but she's so business-savvy and she really cares about her career in that regard too – that's been really inspiring for me to watch somebody take control of their career and their life like that."
Interestingly, Taylor already had a writing credit on SOUR from the start for '1 step forward, 3 steps back'.
"We interpolated 'New Year's Day,' which is Taylor's song from Reputation," Olivia said in an interview with Zach Sang. "I came up with the '1 step forward' concept, and I sort of wrote a verse and a chorus… I was in the car on a road trip, and when I got home, I decided to sing it over the chords of 'New Year's Day.' I think they're really beautiful chords. I was lucky enough to get that approved, and it's on the record now."
Now, the teen has been pressured once again to give retroactive writing credits on SOUR.
Following months of discussion over the similarities between Olivia's 'good 4 u' and Paramore's 2007 hit 'Misery Business', the band's frontwoman Hayley Williams and former guitarist Josh Farro were given writing credits in late August.
Hayley responded to the update via Instagram story, writing, "our publisher is wildin rn".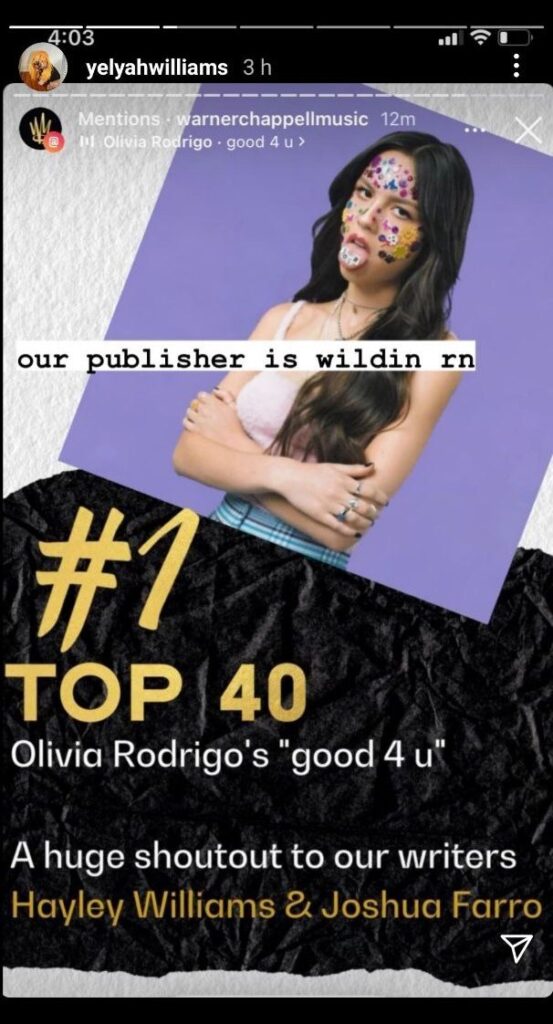 A source close to the situation told NME that Paramore had been in talks to receive credits prior to the album's release. "The teams have been in touch prior to the song's release and the production credits have now been updated to include an interpolation of 'Misery Business,' alongside Rodrigo and the track's producer, Dan Nigro," they said.
Maroon 5 frontman, Adam Levine, also weighed in after news of Paramore's credit. On August 27th, the artist took to Instagram stories to defend Olivia, asking people to have a "little more compassion and understanding."
"Music is a creative thing and I just hate to see it crushed," he said. "When you take someone who's a newer artist, she's doing things that kind of emulate the ones from generations removed, I don't know how bad that is, I think that's kind of a cool thing."
Despite the controversy, Olivia seems to be thriving in her new role as Gen Z pop icon, refusing to engage in the online discourse and taking it all in stride.